HANGZHOU, February 23, Geely Auto launched its new Galaxy series with the first model Geely Galaxy L7 SUV. Geely also unveiled a new logo for the Galaxy series and a prototype of the Galaxy Light coupe pure EV. The new series will focus on premium long-range hybrid and pure electric vehicles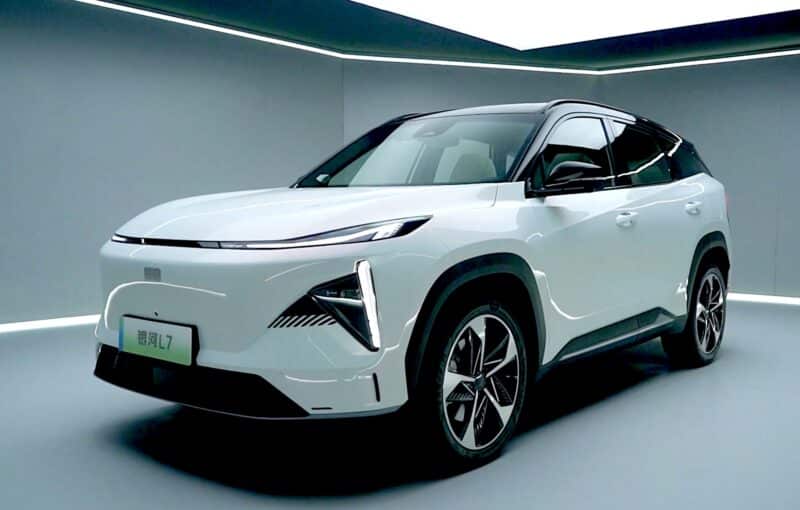 Galaxy L7 is a plugin hybrid (PHEV) SUV and started presales today; deliveries will begin in Q2 of this year. The second car of the Galaxy series – the L6 PHEV sedan – will start deliveries in Q3 of this year. Jerry Gan, CEO of Geely Auto, also announced that Geely's Galaxy would have two model lines – L for PHEVs and E for pure EVs. The first car of the E series will be E8 and will deliver in Q4 2023.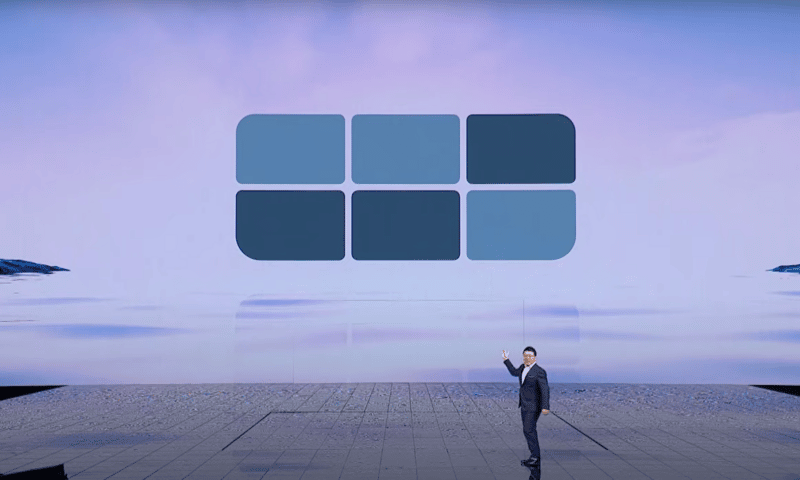 The L series PHEV vehicles are based on Geely's E-CMA platform, co-developed with Volvo. Interestingly, the platform can support PHEV, EREV, and even pure EV setups. It underpins, for example, Geely's Xingyue L Hi-P, which offers all three variants. The E pure EV series is based on the derivation of the SEA platform, which Geely uses inside its Lotus or Zeekr EVs.
Rebranding
Geely Auto also announced the consolidation of many of its brands and series – the Geometry independent brand will return under Geely as a Geometry series and, together with the Galaxy and Star series, will be the three main sub-brands of Geely. Geely Holding currently owns over ten independent car brands, including Volvo, Lotus, Lynk&Co, and Zeekr.
Galaxy Light concept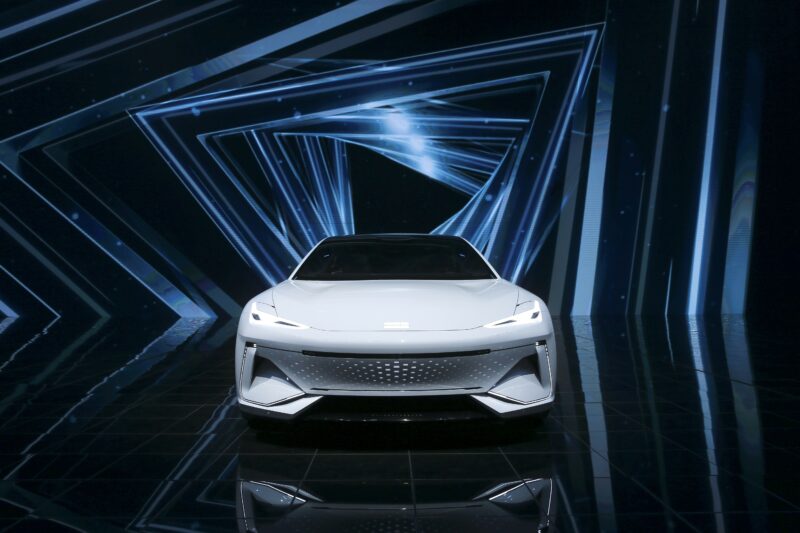 Galaxy light is a large-sized EV coupe with a drag coefficient of less than 0.19. The production version should be unveiled at the end of the year. It will be equipped with lidars, radars, and even satellite receivers as Geely's subsidiary Geespace aims to have 72 satellites in orbit by 2025. The concept car is missing physical rearview mirrors, and door handles, supports NFC unlocking, and even has a drone port in the rear where UAVs can land and charge. It will be interesting to watch which features will make it to production.

Galaxy L7
Galaxy L7 is a PHEV SUV, and Geely highlighted they focused on safety and cruising range in this car. It adopts Aegis battery safe system, which, together with battery management system BMS 3.0, adds eight protection layers for battery safety. L7 is a compact SUV with a size close to BYD Song Plus or Honda CR-V. The dimensions are 4700mm x 1905mm x 1685mm, and the wheelbase is 2785mm.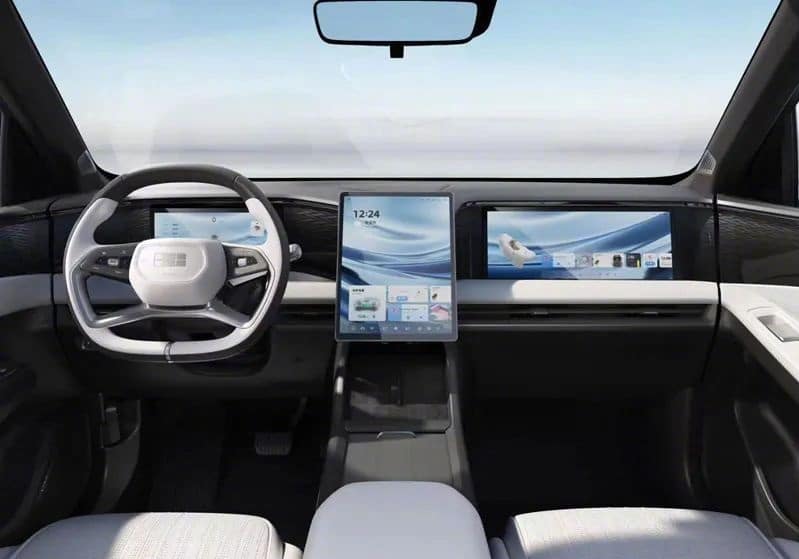 The interior features four large displays: a 10.25″ instrument panel, a 13.2″ central control screen, a 16.2″ co-pilot screen, and a 25.6″ HUD screen.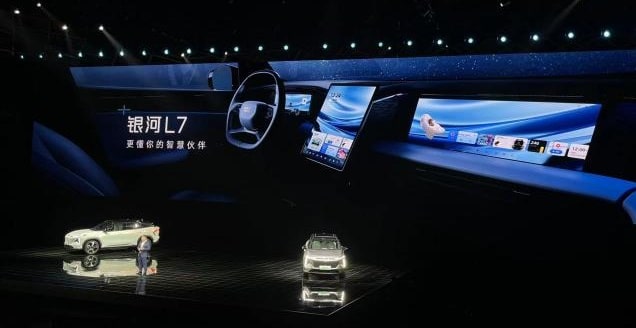 Galaxy L7 has Qualcomm Snapdragon 8155 chip and a new Galaxy N-OS operation system. Geely claims the application speed, voice command, and wake-up speed were significantly improved.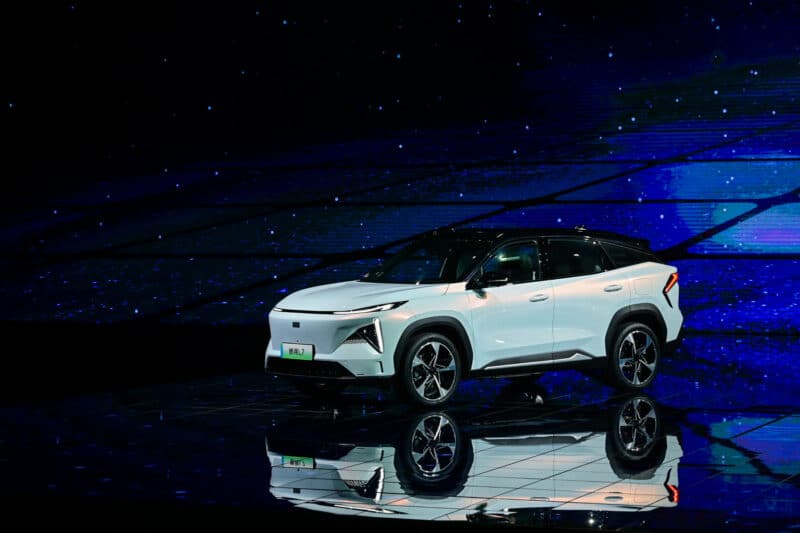 The car will be equipped with a hybrid powertrain NordThor Hi-X 8848 (8848 is the height of Mt. Everest in meters, suggesting that Geely's powertrain is the top), which has 287 kW power and 488 kW of power in the performance version. The thermal efficiency is 44.26%, ranking first among mass-produced hybrid engines, according to Geely.
The car's top speed is 200km/h, it can accelerate 0-100km/h in 6.9 seconds, and according to Jerry Gan, it has 20% better acceleration than other PHEVs in its class. WLTC consumption is 5.2 liters/100 km, and Galaxy L7 can drive with the full tank and full charge up to 1370 km under CLTC conditions. The car is equipped with a 3-speed DHT electric gearbox.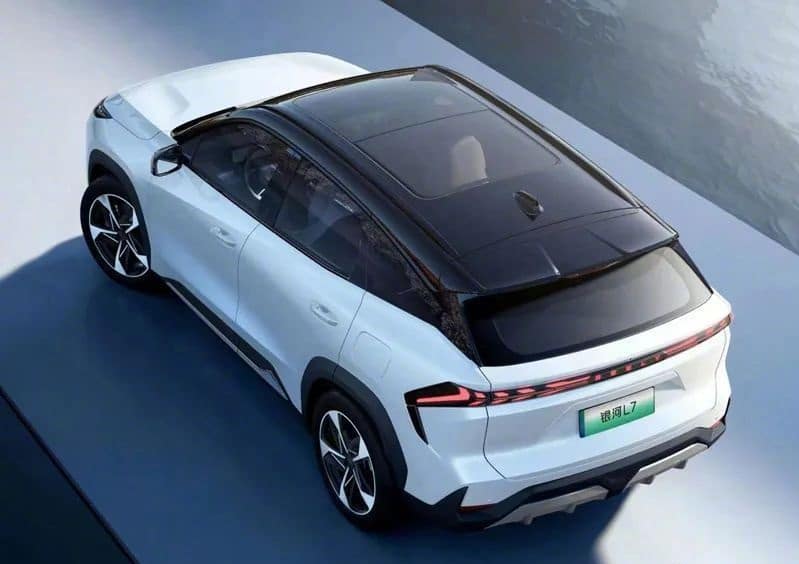 L7, as a mid-size SUV, will compete with BYD Song Plus, Wey Macchiato, and Latte from GWM in China. No word about availability in other markets outside China, however Chen Zheng, vice president of Geely Auto, also mentioned during the conference that Geely's cloud and privacy security related to the driver's data respects the highest privacy standards, including European GDPR, hinting possible expansion targets for Galaxy.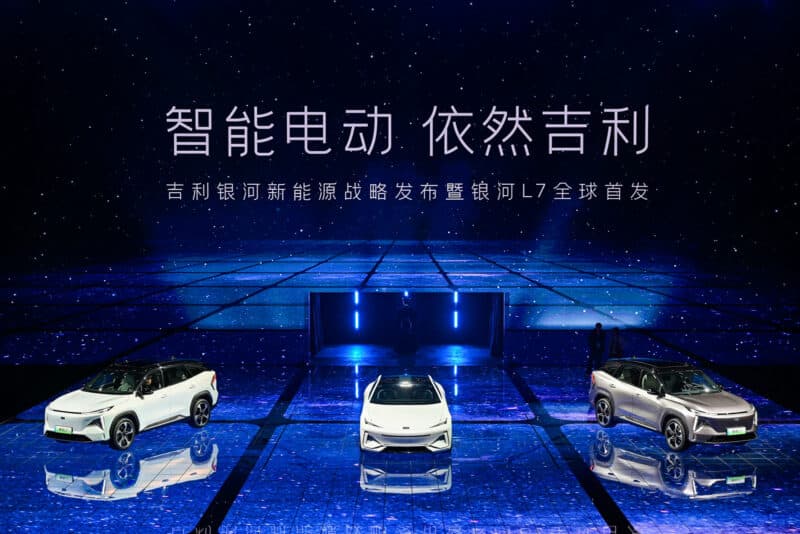 The presales started today, and you can place your preorder for a deposit of 599 yuan ($86), which will turn into 5999 yuan ($860) upon purchase. The price will start at 200,000 yuan ($29,000).
| | |
| --- | --- |
| Geely Galaxy product name | Delivery |
| E series (EV) | |
| Galaxy E6 | Q3 2024 |
| Galaxy E7 | Q2 2024 |
| Galaxy E8 | Q4 2023 |
| L series (PHEV) | |
| Galaxy L5 | Q2 2024 |
| Galaxy L6 | Q3 2023 |
| Galaxy L7 | Q2 2023 |
| Galaxy L9 | 2025 |
Geely Galaxy product planning

Editor's comment
While announcing a new series and seven new vehicles in two years (4 cars from the PHEV L model line and three cars from the EV E model line) is a typical Geely's and Li Shufu's (Geely's founder) megalomania, it seems Geely Auto also reasonably consolidate some of its series and brands into three main series under Geely Auto, which will bring more efficiency and less confusion. Also it was expected that Galaxy would be a pure EV brand, now it seems it is more likely Geely's answer to the success of BYD's DM-i and Dongfeng's Blue Core iDD hybrid cars in China.
Galaxy Light Gallery: