The mysterious BYD's MPV was spied online in China. It looks like BYD works on the cheaper version of the Denza D9 that became successful in the domestic market. It can be launched in 2023 with a price range of 250,000 – 350,000 RMB (36,000 – 50,500 USD). Let's get to know this vehicle better.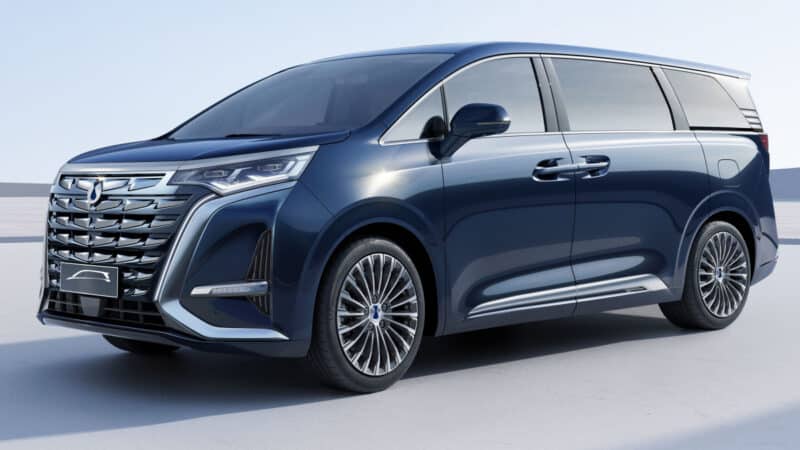 The Denza D9 is an MPV, developed by BYD. It was launched last year and became a huge success, despite a quite high price tag. From January to March, Denza sold over 13,500 D9s. Nowadays, it seems like BYD is getting ready to launch another MPV that will be sold under the BYD brand. It will be cheaper than the D9.
BYD new MPV spy shots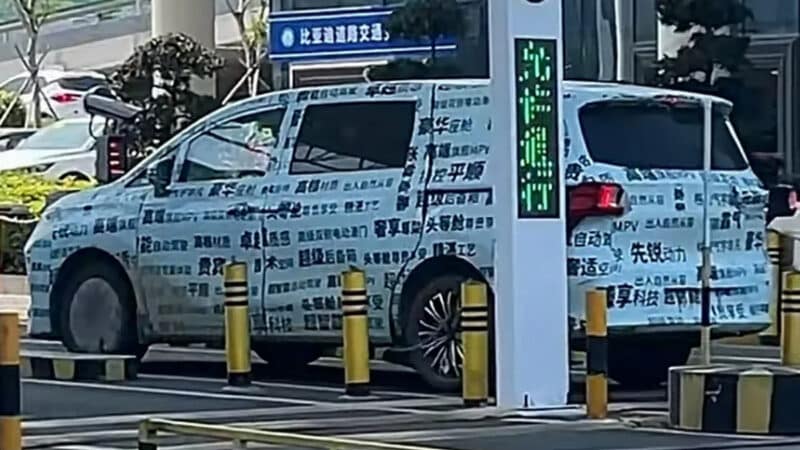 As we can see in spy shots, the new BYD MPV's exterior design stays in line with the Denza D9. These vehicles have similar proportions, slanted A-pillars, rear sliding doors. But they do have some differences in exterior design. First of all, the new MPV has got different taillights, a smaller roof spoiler, and a bit sloppy roofline.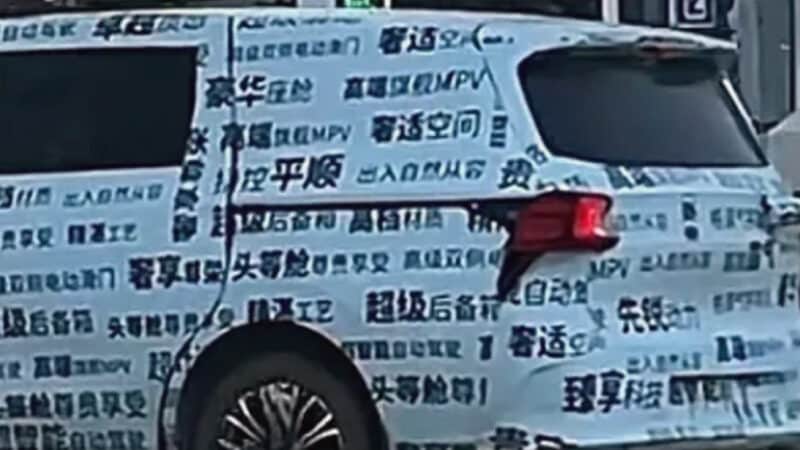 This MPV is wrapped in camouflage with different hieroglyphs on it. We can highlight some of them like '超级后备箱' (Super trunk), 高级MPV (Advanced MPV), 豪华座舱 (Luxurious interior), etc. Most of the mentioned phrases sound like a pure PR-speech. But we can get some insights about this MPV. It seems to have a trunk capacity above average in class. Moreover, it will have some high-end features.
Bearing in mind these vehicles look really close to each other, the new MPV can also have the same dimensions as the D9. But, from our point of view, it will be a bit smaller than the D9. We will remind you that the D9's exact dimensions are 5250/1960/1920 mm with a wheelbase of 3110 mm. The new SUV will use the same platforms as the Denza D9 (e-platform 3.0 for the EV version and DM-I for the PHEV). So its EV version will have up to 374 hp, and the PHEV one will have up to 292 horses. As for the range, it will be 600 – 1,040 km depending on the powertrain.
BYD's new MPV name and launch date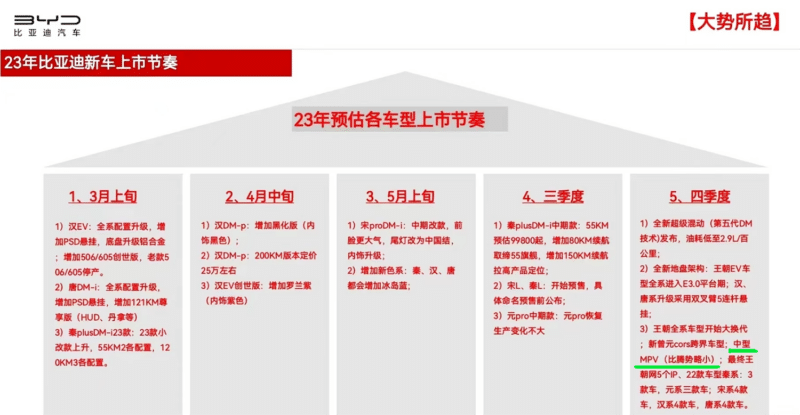 According to the leaked BYD's presentation, the new MPV will become a part of the BYD's Dynasty series. Taking it into account, we can speculate a bit about what its name will sound like. There are 10 most important Chinese dynasties: Shang, Zhou, Qin, Han, Sui, Tang, Song, Yuan, Ming, and Qing. As we can see, all the vehicles from the Dynasty series use names from this Top 10 (BYD Tang, BYD Han, BYD Song, BYD Qin, BYD Yuan). So it looks like the new BYD's MPV can be named after one of these dynasties: Shang, Zhou, Sui, Ming, and Qing.
Back to the presentation, it also reveals that the new MPV will be launched in China in Q4 2023. As for the price tag, it wasn't mentioned. But according to sources from the Chinese media, it will cost about of 250,000 – 350,000 RMB (36,000 – 50,500 USD).
Editor's comment
Nowadays, we can see how the MPV market develops in China. More and more automakers launch their vehicles in this segment. And BYD isn't an exception to the rule. They have already successfully launched the Denza D9. And now they are working on another. If the new MPV will meet the expected price range, it can also become a huge success. Moreover, later this MPV can hit the overseas markets.
Source: Weibo