Edit April 6, 23:37 – previous version of the article included incorrect information about 89% growth instead of 840% growth.
On April 5, German Federal Transport Authority published vehicle sales data based on insurance registrations for March 2023. Nio sold 122 electric vehicles, up 840% from the previous month. The cumulative deliveries in Germany are 520 cars since the official market entry last October.
281,361 passenger vehicles (PVs) were registered in Germany in March 2023, up 16% from the same month last year. 15% of new registrations were pure electric cars, meaning 44,125 EVs were registered. 6% of all new registrations were plugin hybrids, meaning 16,776 PHEVs were registered.
Among other Chinese brands, Geely's Lynk&Co achieved the most significant growth of 356% and registered 429 cars. Since January, their cumulative registrations have reached 1,115 units. Lynk&Co offers only one vehicle on the German market – Lynk&Co 01 SUV – for purchase or under a subscription model. The 01 is manufactured in Geely's plant in Yuyao, Ningbo, about two hours drive south of Shanghai.
Lynk&Co is followed by MG Roewe, a former British brand now under a state-owned automaker SAIC. MG registered 2,010 cars, up 270% from the same month last year. Another brand under Geely – Polestar – registered 756 EVs, up 32%.
BYD had a lousy month in Germany and registered only 7 EVs, while another Chinese startup Aiways registered 18 EVs. Tesla registered 8,703 EVs.
Netherlands
In the Netherlands, Nio registered 15 EVs in March – 6 units of ET7 sedan, 4 units of EL7 SUV, and 5 units of ET5 mid-size sedan, which carry lots of hopes for Nio's EU sales as in China, it accounted for 70% of all Nio sales last month.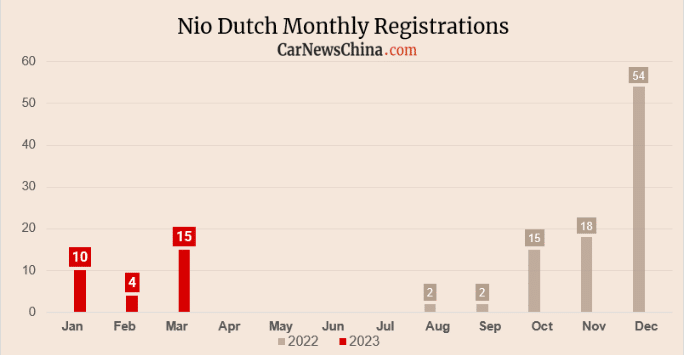 MG registred 512 cars on Dutch market
142 units MG4
143 MG5
154 MG ZS
55 and 18 units of MG EHS and Marvel R, respectively
Lynk&Co registered 1,003 units of their only car Lynk&Co 01. BYD registered 138 EVs, most of them were Atto 3 SUVs. Xpeng registered 0 vehicles.
For comparison, VW ID.3 and ID.4 registered 504 and 401 units, respectively, and Tesla registered 3,160 EVs.
Norway
In Norway, Nio registered 93 cars in March, up 285% MoM. The registrations consisted of the following:
17 units Nio EL7 SUV
33 units Nio ES8 (first generation NT1)
2 units Nio ET7 sedan
41 units Nio ET5 mid-size sedan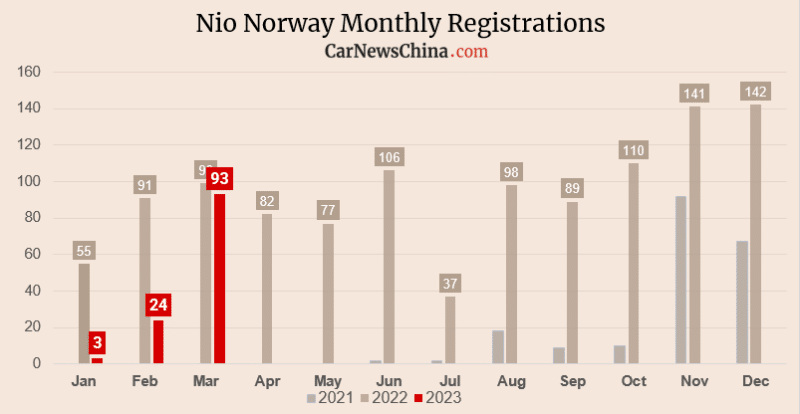 Good to see ET5 is getting traction in Norway; that is a big hope for Nio sales in Europe. In China, Nio delivered 10,378 vehicles last month.