German Federal Motor Transport Authority published vehicle sales data based on insurance registration for February 2023. The report revealed that Nio registered 13 cars, while BYD registered 7 EVs. Nio registered only one car the previous month, and its cumulative registrations since last August are 512 cars. Nio officially entered the German market in October. In total, 206,210 vehicles were registered in Germany in February, 2.8% up from the same month last year.
Germany registered 32,475 pure electric vehicles in February, up 15% YoY. Plugin hybrid cars sold 11,916 units. Among imported brands, Tesla was a clear growth winner with +29,7% and 7,711 registered EVs.

Looking at the other Chinese brands on the German market, BYD is down 86% in February as in the previous month they registered 50 cars, Lynk&Co registered 276 vehicles which is 33% down from the last month. Another Chinese EV startup, Aiways, didn't register any cars (in January, it was five cars).
Netherlands
Looking at the neighboring Netherlands, the situation in February was better for Chinese EVs, considering it is a much smaller market. BYD sold 85 cars – deliveries were driven by Atto 3 (Yuan Plus in China), which sold 84 units, and BYD Han sold 1 unit. Hongqi registered 11 cars – all were electric E-HS9 models. Hongqi is nicknamed "Chinese Cadillac" as it is a government brand focusing on luxurious cars for diplomats and officials. Geely's Lynk&Co sold 1,098 units of its only available model Lynk&Co 01 PHEV. Nio registered four vehicles.
For comparison, US carmaker Tesla sold 725 cars in February in the Netherlands.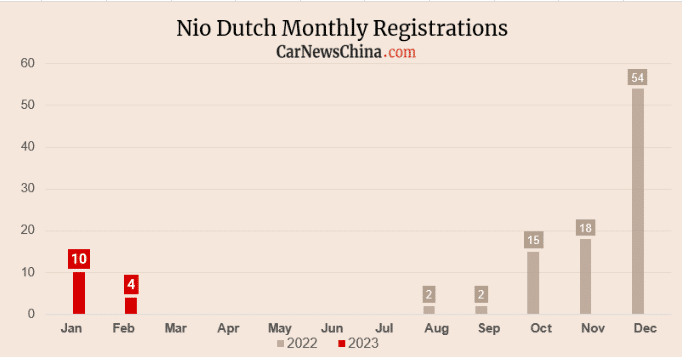 Nio's strategy in Europe
Unlike in China, in Europe, Nio offers a subscription and standard purchase options. If you choose the buy option in Germany, you could have your EL7 SUV with a 100 kWh battery for 97,900 EUR and the ET7 100 kWh sedan for 93,900 EUR. ET5 mid-size sedan 100kWh will start at 72,900 EUR. All the cars can also be purchased without a battery, reducing the price by 21,000 EUR. If you buy a car with a battery, you can't use the BaaS (Battery as a Service), meaning you can't use battery swap stations.
Nio currently operates 12 battery swap stations (PSS) in Europe; two are in Germany (Zusmarshausen and Hilden), with the plan to have 120 PSS by the year's end. In China, Nio operates about 1300 PSS intending to have over 1700 by the year's end.
Nio, strive to enter more European countries based on their 25 countries by 2025 plan, including Italy, Spain, France, and Switzerland. UK entrance is also approaching as Nio deployed their real estate team there and actively sought locations for their PSS. In June, Nio will also launch ET5 Kombi in Europe, making it the first Nio car to debut overseas. The US entrance should happen by 2025, according to Nio.
As companies president announced, Nio is also preparing a European first small car brand codenamed Firefly, which will launch in 2024. Another brand, codenamed Alps, will start deliveries in 2024 China and offer entry-level EVs starting at 200,000 yuan ($29,000).
Nio's situation in China
In China, Nio experienced a significant increase in sales compared to the same period the previous year. The company sold 12,157 electric vehicles in February, a rise of 98.3% YoY. Additionally, this figure represents a 43% increase from their sales in January. February sales comprised 5,037 premium electric SUVs and 7,120 premium electric sedans – mainly mid-size sedans ET5, the main motor of Chinese sales.
Nio ET5 will start deliveries in Europe later this month.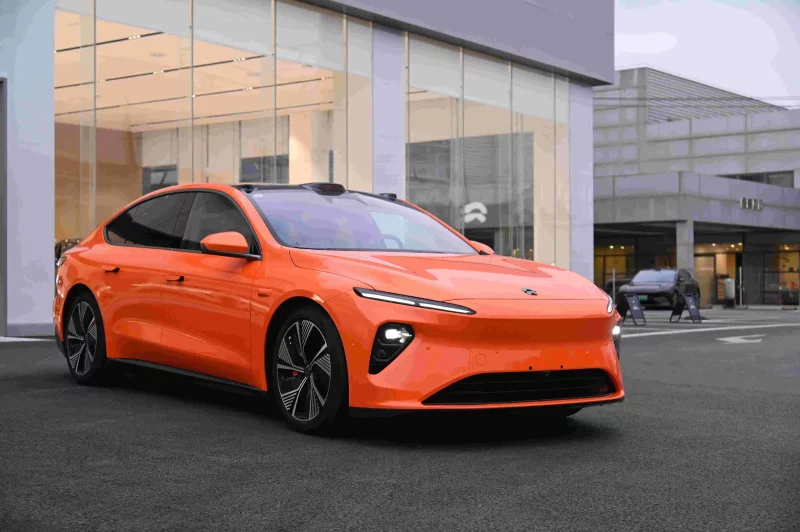 BYD in China
Shenzhen-based BYD showed impressive growth in the sales of new energy vehicles (NEVs) in February in China. The company's total pure EVs and PHEVs sales for February reached 193,655 units, representing a significant increase of 90% compared to February 2022. Passenger cars accounted for 191,664 of these sales, with the remaining vehicles being buses and trucks.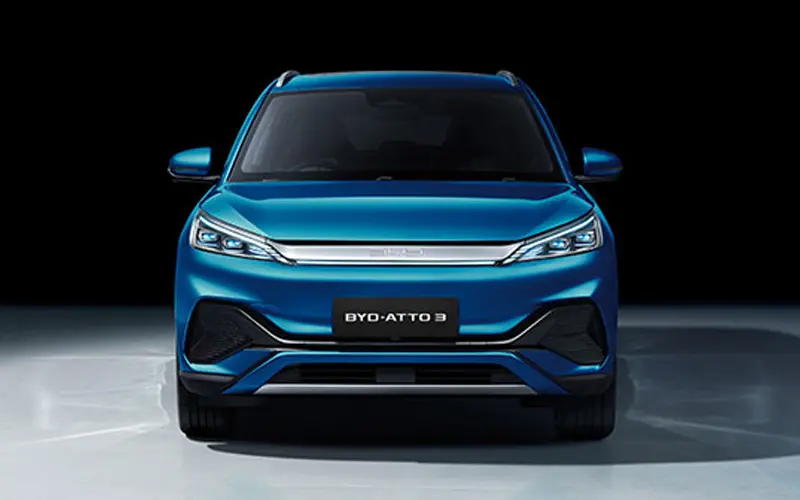 Pure EV sales for BYD in February reached 90,639 units, up 80% year-on-year, representing 47.3% of the total NEV sales. Meanwhile, PHEV sales for the same period reached 101,025 units, up 98% compared to last year, accounting for 52.7% of the total NEV sales. Additionally, BYD sold 15,002 EVs overseas in February, up 11 times YoY.
BYD launched the premium car brand YangWang and its off-road SUV U9 in January, and another SUV brand – codenamed "F" – will launch will follow later this year.
Editor's comment
The EU market is challenging. Xpeng knows it very well as they entered 2022, silently withdrew, and re-entered last month. With its conservative customers, Germany is even more complex than the rest of the Union. I'm sure other Chinese startups are watching very closely to learn from the mistakes and experiences Nio, Xpeng, and others gain. Also, the macroeconomic situation, inflation, and geopolitical instability play their part, and it will be interesting to watch how Chinese brands will navigate through this perfect storm in Europe. Still, Nio didn't use its main trump – almost half of the Chinese sales are run by ET5 sedan – their cheapest car. ET5 will start deliveries this month in Europe – is cavalry coming?