Hongqi E001 sedan had its public debut at Shanghai Auto Show. It is the first car under the Hongqi New Energy Vehicle (NEV) brand. E001 sits on a new EV-dedicated FMEs platform and will offer two options with 600 km and 800 km ranges.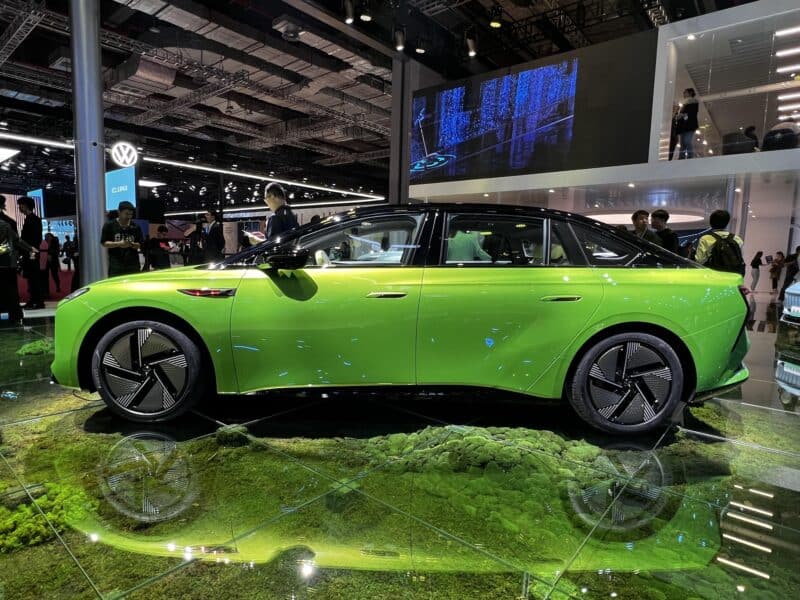 Hongqi NEV brand launched in January when Hongqi also revealed its global strategy. They plan to enter Europe, namely Germany, Norway, Sweden, Netherlands, and France. Hongqi already sells its electric E-HS9 limousine in Norway and Netherlands.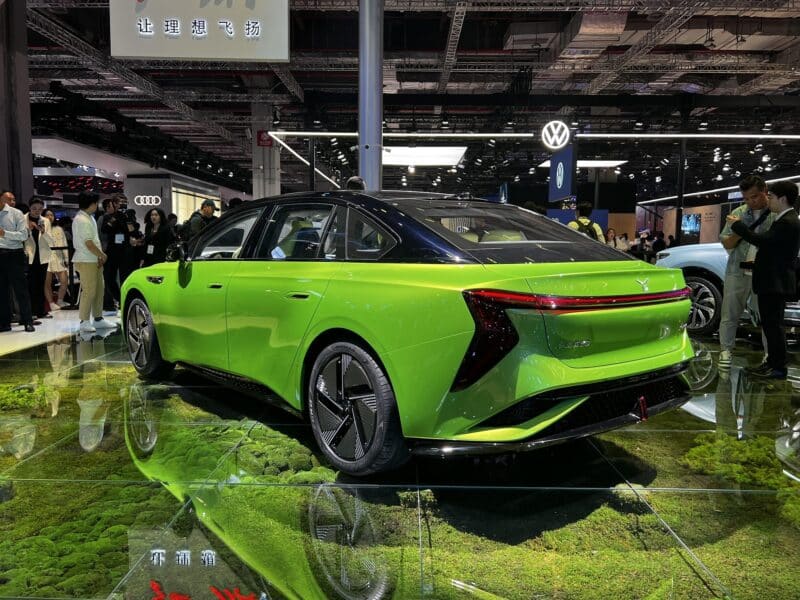 At the January conference, Hongqi announced four subbrands. We already mentioned "Hongqi NEV"; three others are "Hongqi Energy Saving," "Hongqi Top Level," and "Hongqi Supercar." They plan to sell one million cars in 2025, with 500,000 NEVs. In 2023 the company plans to sell 1.5 million vehicles, primarily NEVs.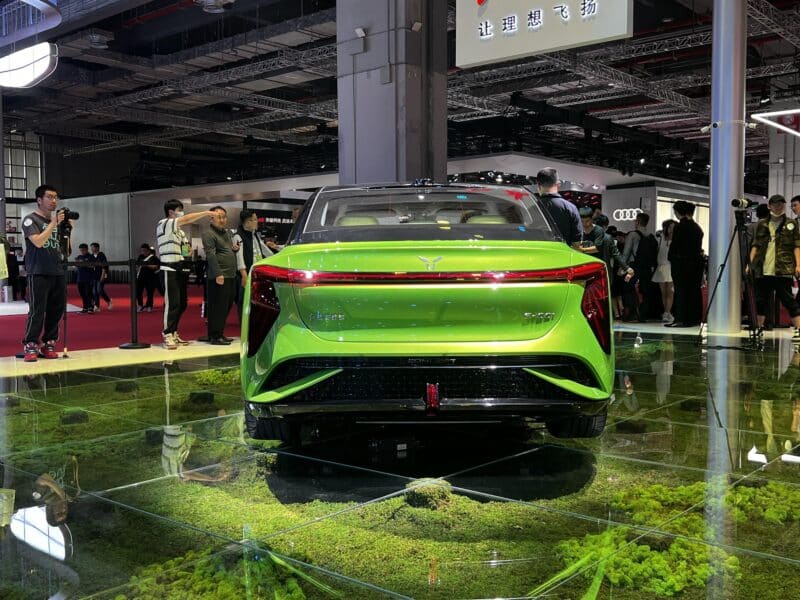 Hongqi NEV announced it would launch three new models – the E001 sedan, E202 SUV, and E702 flagship sedan concept, all pure EVs. The first two were publicly revealed today in Shanghai.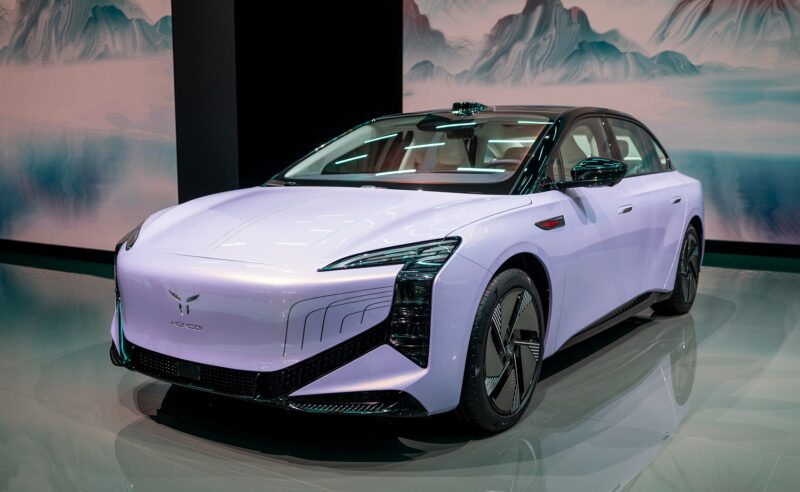 Hongqi E001 sedan will have two motors with a combined power of 455 kW and a peak torque of 756 Nm. Acceleration 0-100km/h in 3.9 seconds. Battery size wasn't revealed yet, but it will be Cell-to-Pack (CTP) technology, and the Long-range version will have an 800 km CLTC range, and be able to battery swap in 60 seconds, according to Hongqi.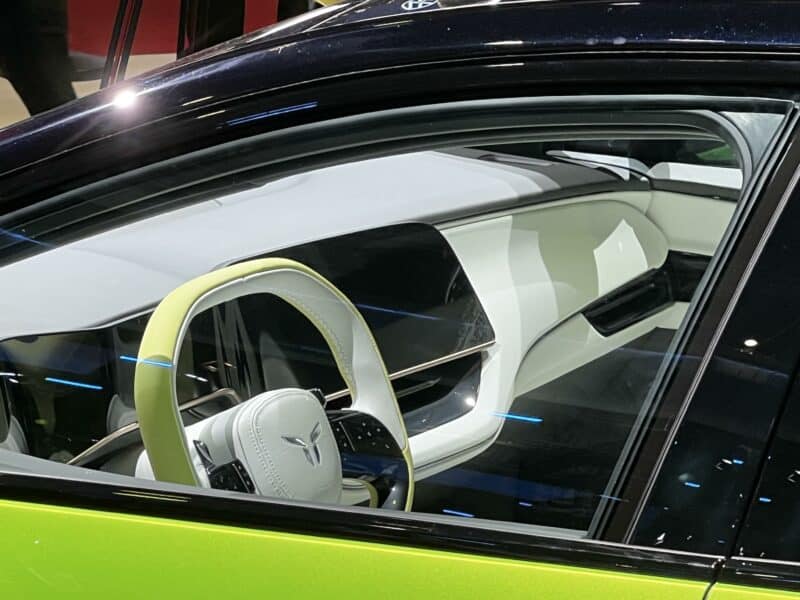 You find a long curved 6+15.5″ screen, AR-HUD, and in-house developed FAW.OS inside the car.
The E001 will be able to charge 350 km in 5 minutes, supports 30 kW wireless charging, and Hongqi is also preparing a 1000 km range version.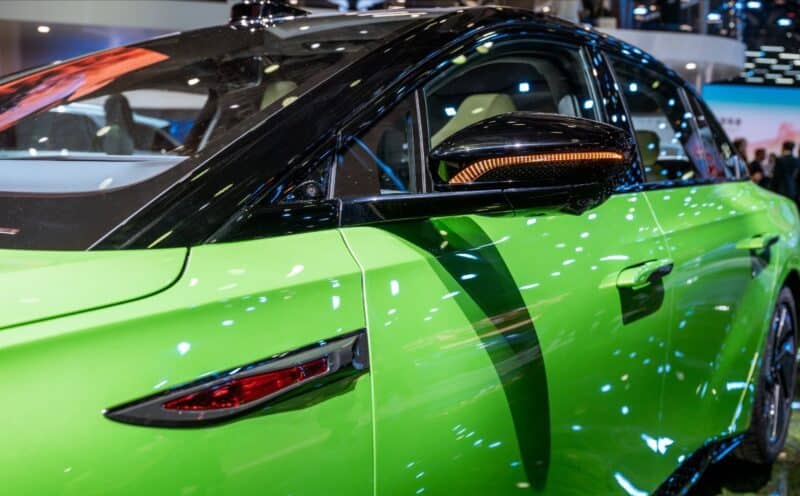 The price wasn't revealed yet, but the Long Range also started preorders for a deposit of 199 yuan. In China, they call it blind orders. Hongqi offers various benefits for early buyers who place blind orders, such as a lifetime warranty and free lifetime maintenance. The 20% of top subscribers will also receive more privileges, Hongqi said without specifying more details.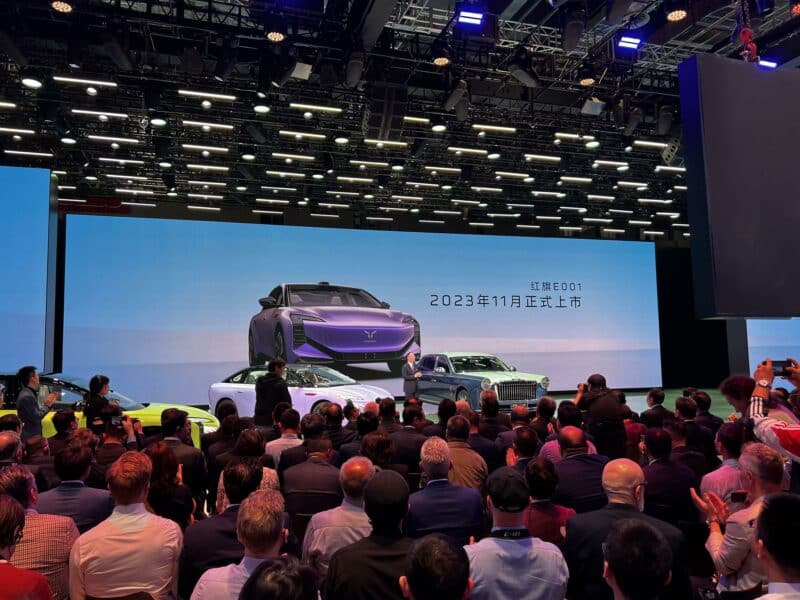 Editor's comment
Hongqi is a luxury marque owned by state-owned FAW. The brand is called Chinese Rolls-Royce for its vast and expensive ultra-luxurious limousines. I prefer to call it Chinese Lincoln – as it is a government brand favored by diplomats and government officials. It was established in 1959, and Hongqi cars were driven even by Mao. Some models feature their names written in Mao's handwriting on their bodies. At least, Hongqi claims so. Hongqi means "red flag" in Chinese.
At Shanghai Auto, Hongqi presented a massive push toward EVs. Almost all cars at their booth were new, showing how fast they flipped their model lineup. Hongqi E001 will go on the market in November this year.