The GAC Trumpchi E9 MPV was launched in China with a starting price of 329,800 RMB (47,000 USD). It has a 136-km electric range, three screens in the center console, 16 Yamaha speakers and L2 driving assist system. In the domestic market, it will rival the Denza D9 from BYD and some other high-end MPVs. Let's get to know the Trumpchi E9 better.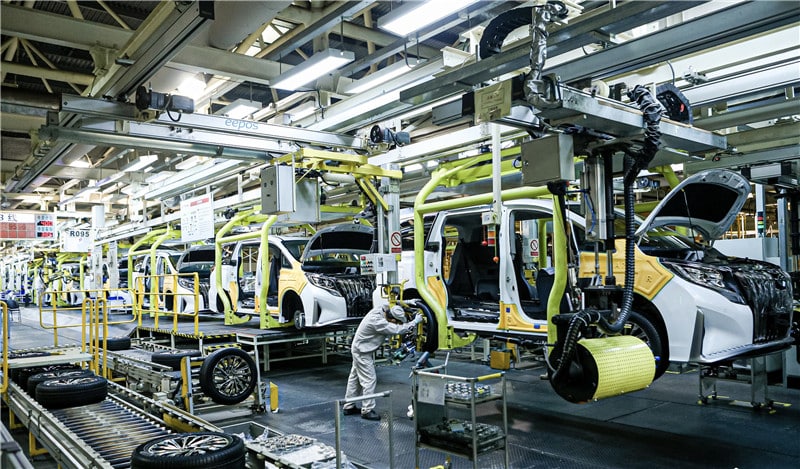 First of all, we will remind you that Trumpchi is a brand under GAC Group that was launched in 2010. Speaking of GAC, it is one of the biggest Chinese automakers that manufactures Toyota, Mitsubishi and Honda cars. Among these Japanese automakers, GAC's relations with Toyota are probably the warmest. At least, GAC developed its PHEV powertrain called THS. Trumpchi vehicles are manufactured in Guangzhou, China. Currently, its model line comprises 13 vehicles. Today, Trumpchi has launched the E9 PHEV MPV.
GAC Trumpchi E9 exterior and dimensions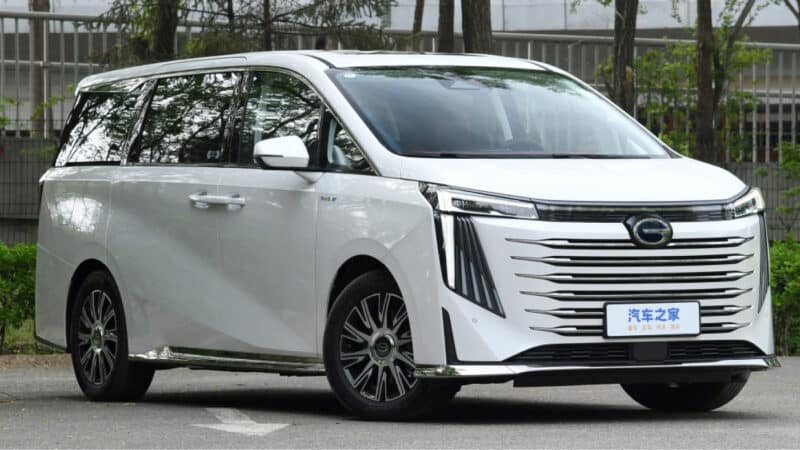 The GAC Trumpchi E9 is an impressive MPV with wing-shaped headlights, a frameless grille, a high hood line and an LED strip in the back that connects two vertical taillights. Moreover, the E9 has a special version called "Grandmaster Edition". It has an enormous chrome-plated grille that occupies almost all the front end. It looks irrationally, needlessly, but very cool.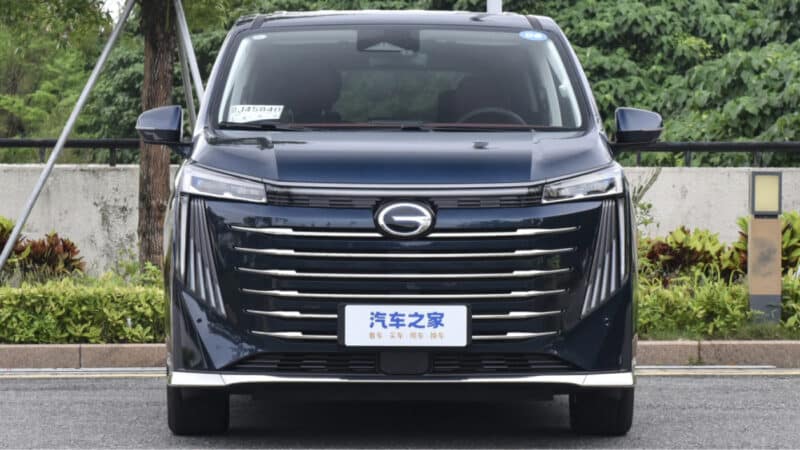 Basically, the Trumpchi E9 is based on the other GAC's car called M8. So, these cars' dimensions are quite similar. The E9's length, width and height are 5193 mm (5212 mm for the Grandmaster Edition), 1893 mm and 1823 mm, respectively. As for the wheelbase, it is 3070 mm. For clarity, the E9 is 248 mm longer, 43 mm wider and 67 mm lower than the Toyota Alphard. All trim levels of the E9 got 225/60 R18 wheels. And they can be equipped with an electromagnetic suspension to enhance driving comfort.
GAC Trumpchi E9 interior and powertrain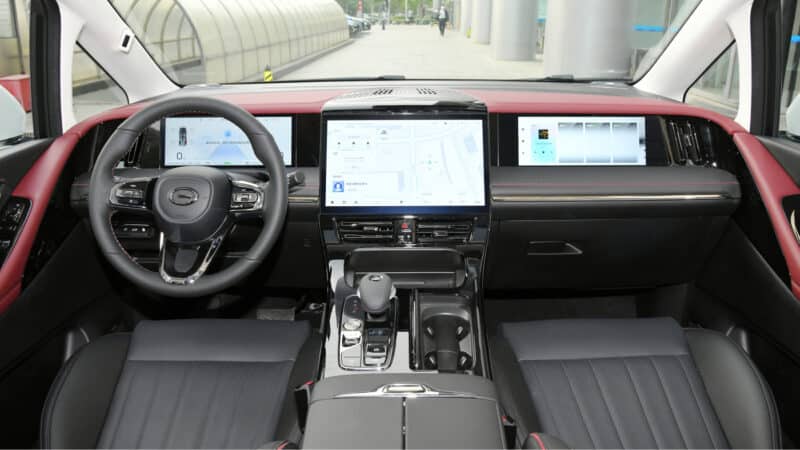 Inside, the Trumpchi E9 has three screens in the center console. Diameter of the main monitor reaches 14.6 inches while the instrument panel and the front passenger screen are both 12.3-inch. The second row of the Trumpchi E9 has two captain chairs. Each of them has its own 5-icnh touch screen integrated in armrest. By using it, passengers can adjust their seats. And, in case they are bored, there is a 15.6-inch screen in the ceiling. So, the E9 got 6 screens in total. Moreover, it has got a Yamaha sound system with 16 speakers. The third row is pretty basic with three seats.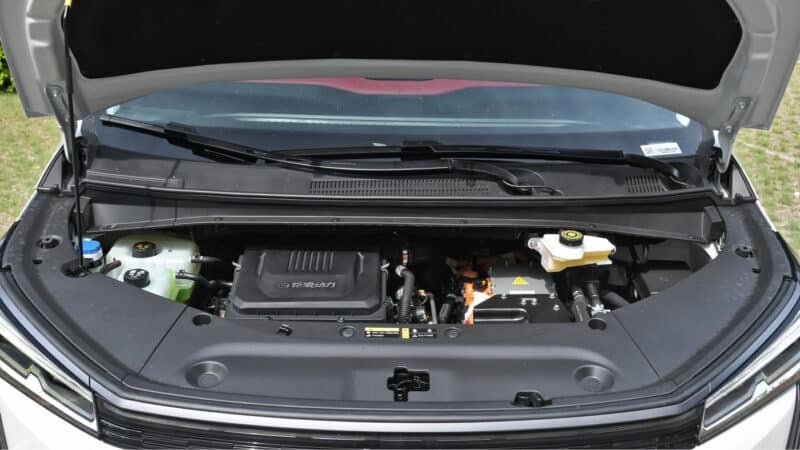 Speaking about the powertrain, the E9 has a 2.0-liter turbocharged petrol-powered ICE under the hood that generates 190 hp and 330 Nm. It is paired with an electric motor for 182 horses and 300 mm by the 2DHT transmission. The total output of this powertrain reaches 373 hp and 630 Nm. So, it can speed up from 0 to 100 km/h in 8.8 seconds. As for the battery, it is ternary (NMC) for 25.57 kWh. In EV mode, the E9 can drive up to 106 km on a single charge. As for the PHEV mode, its range reaches 1,032 km (WLTC). You can charge the battery with DC charging in just 30 minutes. As for the fuel consumption, it is 6 L/100km.
GAC Trumpchi E9 prices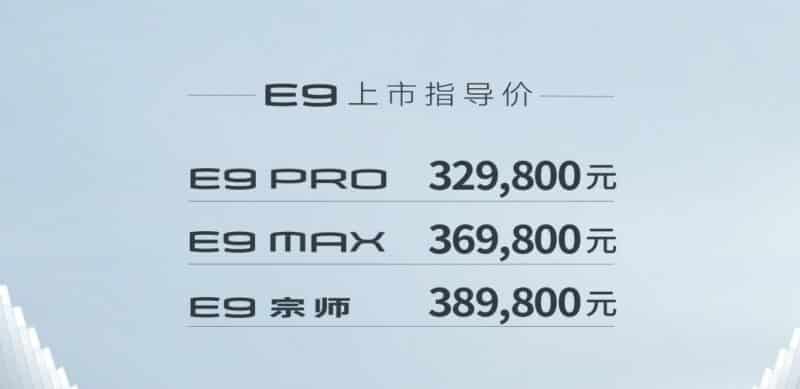 Now, we are ready to talk about the price range of the GAC Trumpchi E9. The entry-level car costs 329,800 RMB (47,000 USD). It is already equipped with ADAS driving assist system, round-view camera, heated and ventilated front seats and heated, ventilated and massaged middle row seats. So, it has got really impressive equipment. As for the second trim level, its price tag is 369,800 RMB (52,770 USD). It has a front passenger screen, a screen in the ceiling, a heated steering wheel and electromagnetic suspension. As for the Grandmaster Edition, its price tag is 389,800 RMB (55,625 USD). This spec got an autonomous parking system and adjusted exterior.
Editor's comment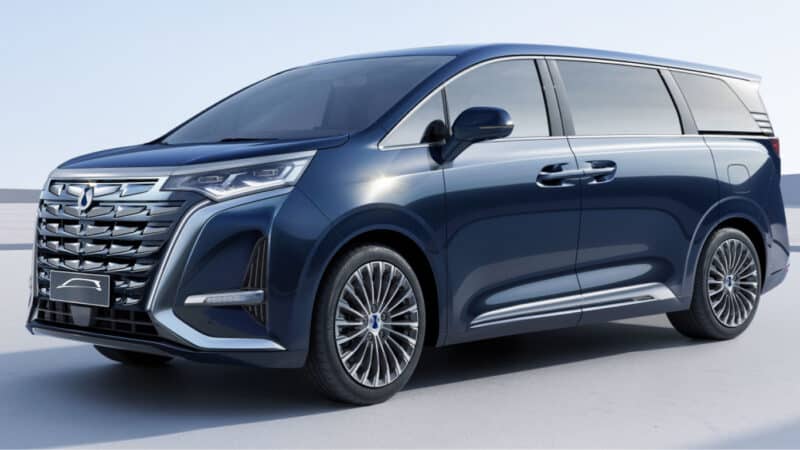 The GAC Trumpchi E9 will rival the Dongfeng's Voyah Dream (Dreamer), SAIC's Maxus Mifa 9 and BYD's Denza D9. Among these competitors, the Trumpchi E9 probably has the most high-end interior. Moreover, it has the lowest fuel consumption (aside from the all-electric Mifa 9). On the other hand, the E9 hasn't got 4WD. But in China, for-wheel drive isn't essential, especially for an MPV that will cruise only on the city roads. So, the Trumpchi E9 got all chances to become one of the bestselling NEV (New Energy Vehicle) MPVs in China.
Source: Trumpchi, Trumpchi Weibo, Autohome