The Voyah Dreamer MPV was officially launched in China. It has an extra-wide price range of 369,900-689,900 RMB (55,490-103,500 USD). The Dreamer is the fastest production MPV on sale in the world when it comes to zero-to-hundred acceleration. Deliveries of the Dreamer with seven seats will start in Q3 this year.
Voyah Dreamer Specs and Interior
The Voyah Dreamer is a huge MPV with dimensions of 5315/1985/1820 mm and a wheelbase of 3200 mm. Worth mentioning, this MPV sits very close to the ground, almost like a sports car. Speaking of numbers, the Dreamer's ground clearance is 125 mm. It has seven- (2-2-3) and four-seat (2-2) layouts.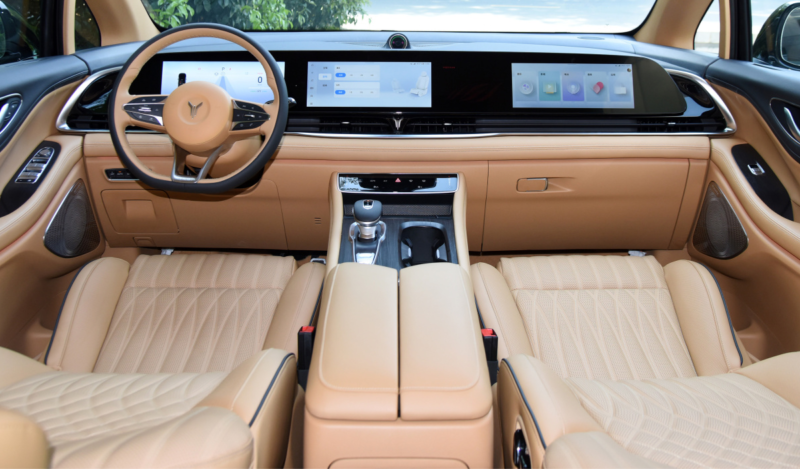 The Dreamer goes with the triple screen set-up at the front, and heated, ventilated, and massage first- and second-row seats as standard! A top-end DYNAudio sound system is available in more expensive trim levels. The MPV has the L2 autonomous driving system, but not on the base versions. The cheapest Dreamer goes only with cruise control, driver availability detection system, ABS, EBD, etc. As for the L2 system, it is capable of automatic and remote parking, automatic emergency braking, lane-keeping assistance, etc.
We can see in the images that there is plenty of room in the second row of the Voyah Dreamer. And it is only the seven-seat version! Behind the third row, the Voyah MPV got an impressive 427 liters of trunk space.
Voyah Dreamer Powertrain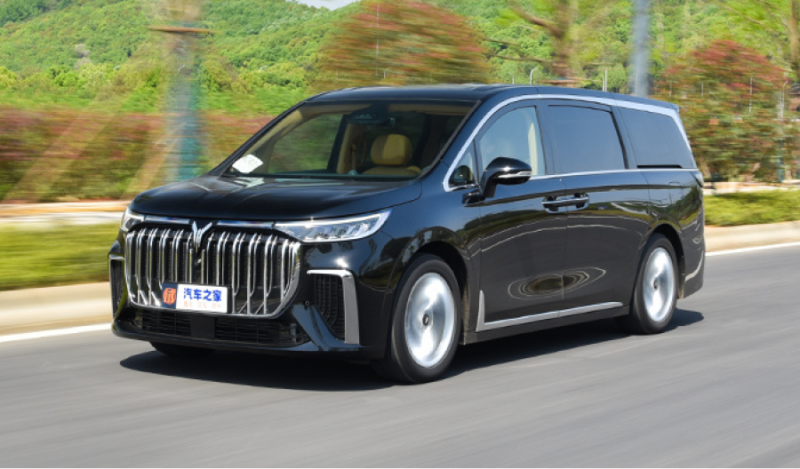 The Dreamer has EV and EREV (range-extender) versions. The first one has twin electric motors with a combined power of 320 kW (435 hp) and 620 Nm. With them on board, the Dreamer with a standard battery can speed up from zero to hundred kilometers per hour in just 5.8 seconds. The MPV with an extended battery is a bit slower, with an acceleration time of 5.9 seconds. The EREV version has two motors with a lower output of 290 kW (394 hp) and 610 Nm. Its zero-to-hundred acceleration takes 6.6 seconds. All versions of the Dreamer have a top speed of 200 km/h.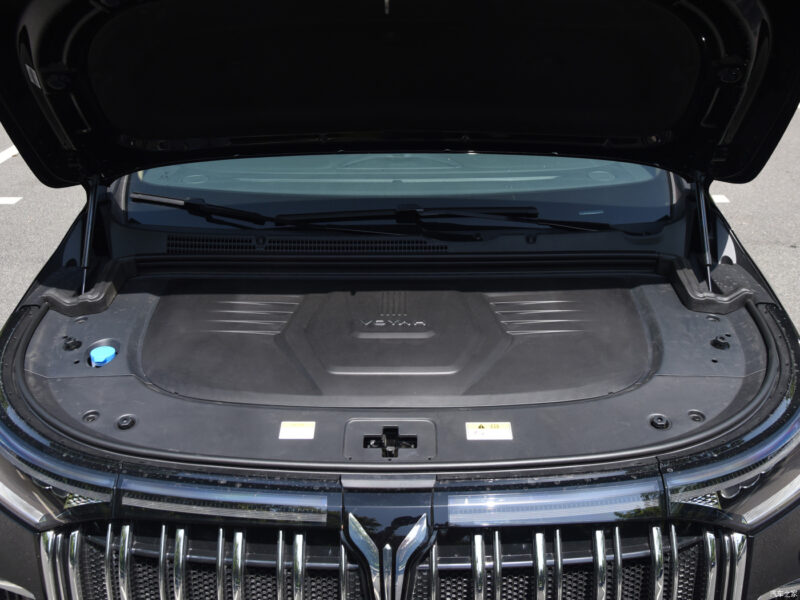 The EV Dreamer in standard has the 82-kWh ternary (NMC) battery with a claimed range of 475 km (CLTC). There is also a version with an extended range. It has an NMC battery of 108.7 kWh. With it on board, the Dreamer can run up to 605 km (CLTC). The EREV version has a 25.57-kWh ternary battery and DFMC15TE2 1.5-liter turbocharged four-cylinder petrol engine for 136 hp. This ICE only powers the battery. The EREV Dreamer has an all-electric range of 82 km (CLTC). With a range-extender, it can run up to 750 km (WLTC).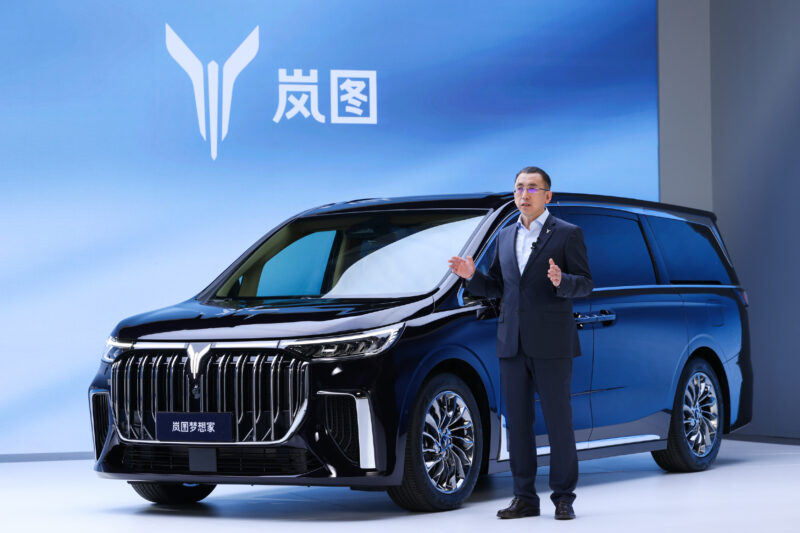 At first glance, it's strange that the Voyah Dreamer with a range-extender on board has got only 145 km of extra range compared to the EV one. The thing is, Voyah stated different cycle conditions. The EV version has CLTC (China Light-duty vehicle Test Cycle) range, while the EREV version's range has WLTC (Worldwide Light-duty Test Cycle). WLTC comprises higher average and maximum speed, longer acceleration time ratio, etc. So WLTC is much more accurate. It is odd that Voyah decided to use different measurement systems. The CLTC is available for EREVs. For example, the Li Auto L9 with range-extender has a CLTC range of 1315 km.
Voyah Dreamer Price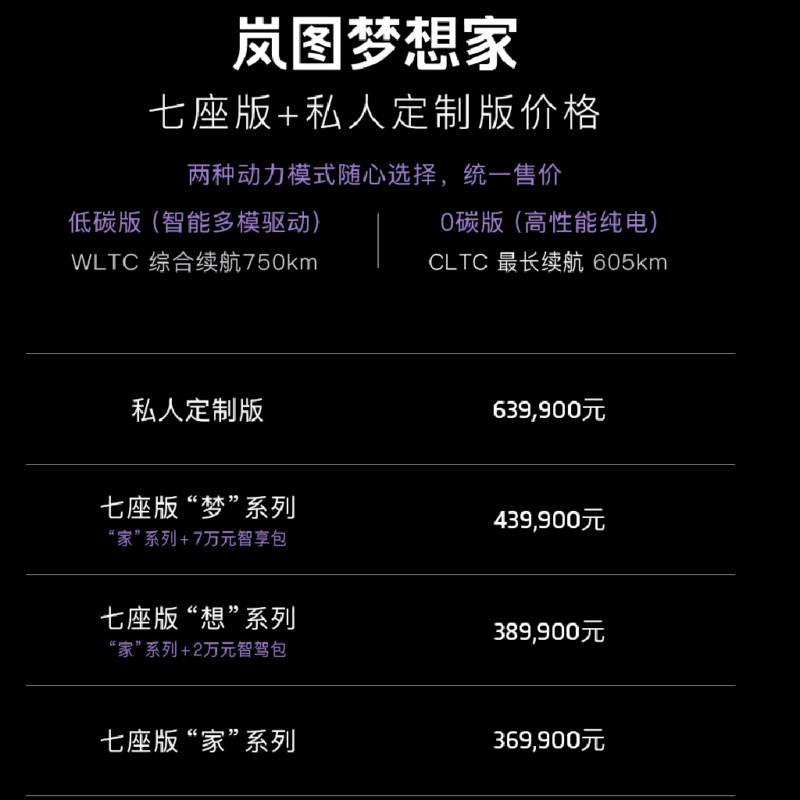 The Voyah Dreamer with seven seats has three series: Family, Think, and Dream. They start from 369,900 RMB (55,490 USD), 389,900 RMB (58,490 USD), and 439,900 RMB (65,990 USD) respectively. EREV and EV versions of the Dreamer have the same price tag, except the MPV with an extended battery pack, it is 50,000 RMB (7,500 USD) higher. As for the four-seat version of the Dreamer, it starts at 639,900 RMB (95,990). And the version with a bigger battery costs 689,900 RMB (103,500 USD).
Deliveries of the Voyah Dreamer with seven seats will start in Q3 2022. The MPV with four seats will get to its customers later. The Dreamer will go head-to-head with the likes of upcoming premium electrified MPVs from Zeekr, Denza, and Hongqi. We will keep an eye on further information about the Dreamer, so stay tuned!
Source: Autohome, Voyah Weibo