On June 6, Li Auto released a leaderboard of the Top 10 NEV startup brands sales for Week 22 – W22 (May 29 – June 4). The sales data is derived from weekly insurance registration information in China and only includes New Energy Vehicle (NEV) startups. The figures are rounded.
As usual, Li Auto lead the pack, which might also be why they keep publishing the data. The Beijing-based automaker sold 6,600 cars in Week 22, down 7% from the previous one. Li Auto only sell EREVs (extended-range electric vehicle), which means the EV features a small ICE that is not connected to the wheels but works as a generator for the battery.
The second place goes to budget maker LeapMotor which sold 3,400 EVs, down 5.5% week-on-week (WoW). Third is another budget EV maker Hozon Auto with their Neta brand – 2,900 units, up 38% WoW. Neta is one of our favorite underdogs – fair enough quality for a reasonable price, and they keep expanding without notice – they sell their EVs in Malaysia and Thailand, where they started building a plant in March.
Fourth place goes to BYD's premium brand Denza which sold 2,400 cars. Well-known, US stock-listed EV duo Xpeng follows them with 2,100 and Nio with 1,700 sold units.
For Nio, it is a fourth week of slight growth since it fell to 1,100 sold units in W18. Nio started delivery of the second generation of their best-seller ES6 on May 24.
Xpeng is preparing for the delivery start of their most important vehicle G6 entry-level SUV.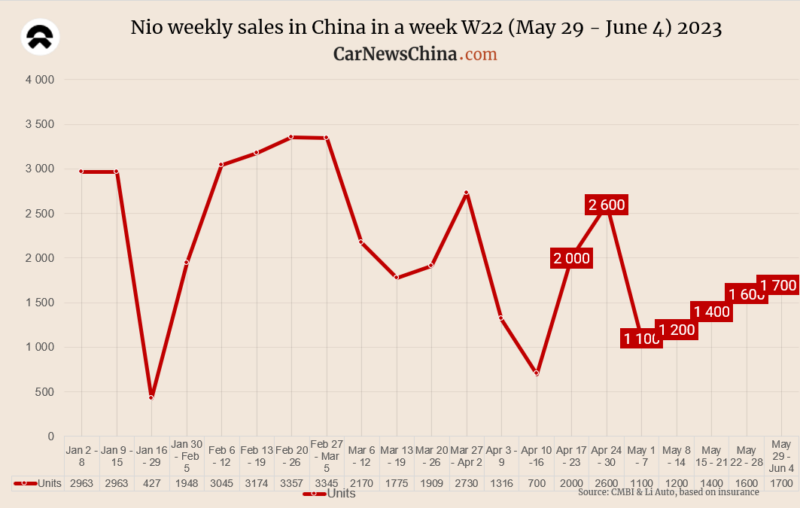 Deepal (Chinese name Shenlan), a brand under state-owned Changan and battery maker CATL, sold 1,600 units of its SL03 sedan, -5% WoW, and Huawei Aito is slightly up to 1,400 units.
The second car from Deepal – the S7 SUV – started preorders in May, so their weekly numbers will likely significantly increase once deliveries start.
Moreover, Li Auto published the data for premium PV brands, so we learn that Tesla registered 14,500 EVs in China, 13% up from the previous week.