The Deepal S7 NEV (New Energy Vehicle) SUV from Changan, Huawei and CATL hit pre-sales in China with a starting price of 169,900 RMB (24,250 USD). It has the same size as the Tesla Model Y. As for the powertrain, it can be BEV, EREV (range extender) or even FCEV (hydrogen). Let's get to know the Deepal S7 better.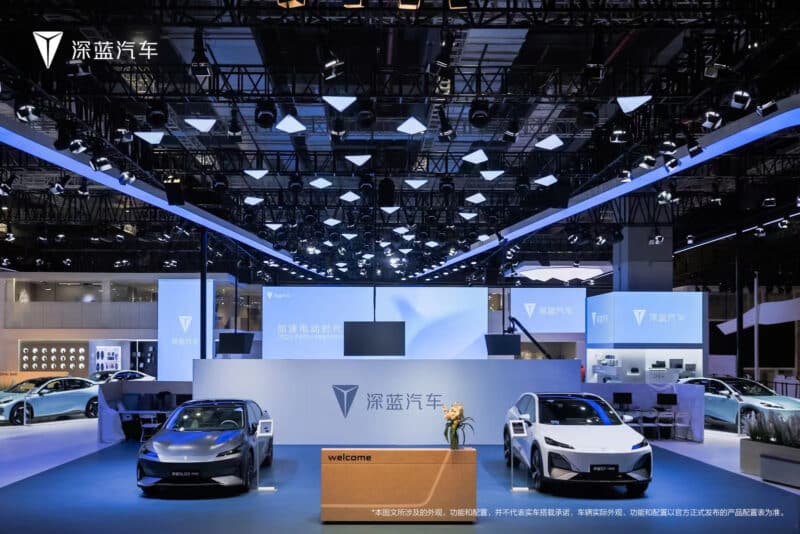 First of all, we will detail a bit the Deepal brand (previously known as Shenlan). It is a project that Changan, battery maker CATL and technology giant Huawei jointly run. Speaking about its market niche, Deepal stands right between Changan and Avatr brands. Previously, it was known as Changan Deepal. But later, Deepal got rid of the Changan mentioning in its name. Currently, Deepal sells only one model, which is the SL03 sedan. In April 2023, 6,028 units of the SL03 were sold domestically. This number isn't quite impressive, so Deepal needs a boost. And the S7 SUV is finally here to give the SL03 a hand.
All you should know about Deepal S7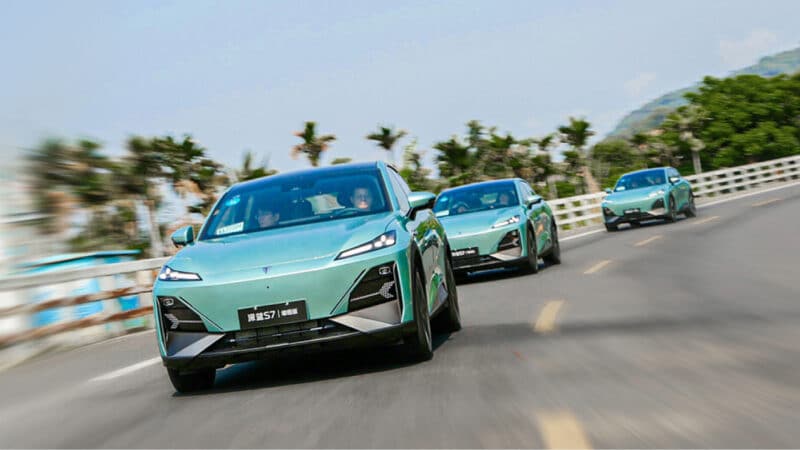 First, we should mention that the Deepal S7's exterior design clearly stays in line with the brand's first model, the SL03. Basically, it looks like the SL03's SUV version. It isn't a surprise since even Bertran Bach, design director of Changan Auto, mentioned that the S7 became one of the fastest projects he designed with his team in Turin, Italy. Worth mentioning that it seems to be the last Bertran Bach's project for Deepal, since he now concentrates on a new brand under Changan called Qiyuan (code name is OX).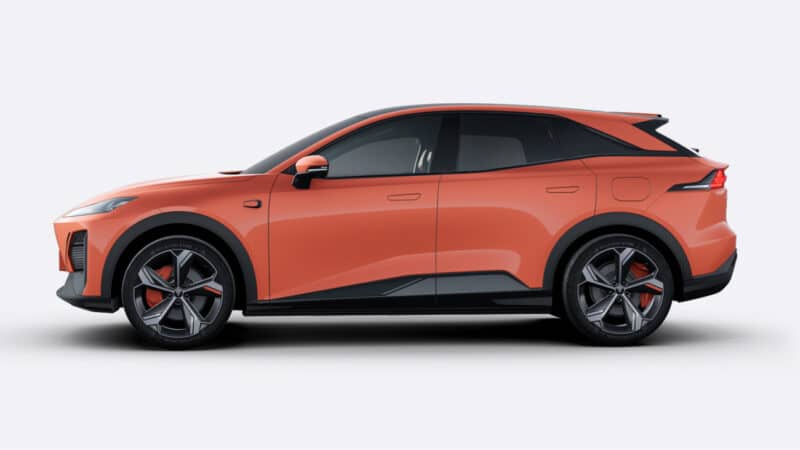 So, the exterior of the S7 hasn't got a lot of unique features. But it is still a quite attractive vehicle with thin headlights, a sporty front bumper, an aerodynamic shape with a low beltline, some gloss plastic trim and a single taillight unit. Speaking of size, the S7 is almost equal to the Tesla Model Y. Its dimensions are 4750/1930/1625 mm with a wheelbase of 2900 mm. So, it is 9 mm wider and 1 mm higher than the Y, with a 10-mm longer wheelbase. Thanks to an aerodynamic shape, its drag coefficient is 0.258 Cd. It is a bit worse than the Model Y's 0.23 Cd.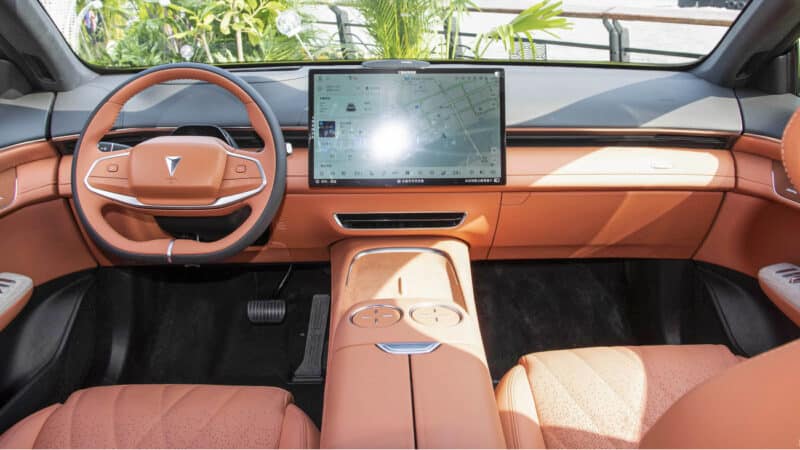 The interior of the Deepal S7 got a large 15.6-inch floating main screen that can turn 15 degrees left and right. Qualcomm Snapdragon 8155 chip powers the interactive system. What is quite interesting is that the front passenger sun visor has an optional touch screen. The third screen for the passenger is an ordinary thing in China. But we haven't seen a layout like this before.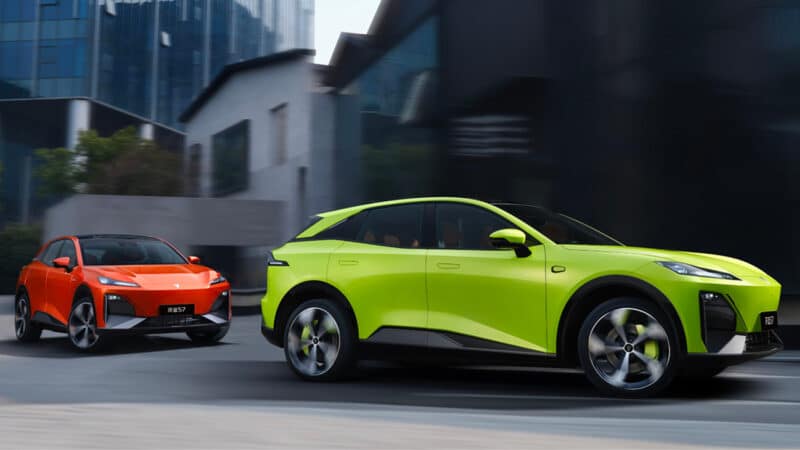 The Deepal S7 stands on the EPA1 platform, just like the SL03. As mentioned, its powertrain has three options. The first one is all electric with two optional electric motors for 160 kW (218 hp) or 190 kW (258 hp). As for the EREV version, it has an electric motor for 175 kW (238 hp) and a 1.5-liter naturally aspirated ICE for 70 kW (95 hp) that only powers the battery. As for the hydrogen version, there it wasn't detailed yet.
Deepal S7 pre-sales prices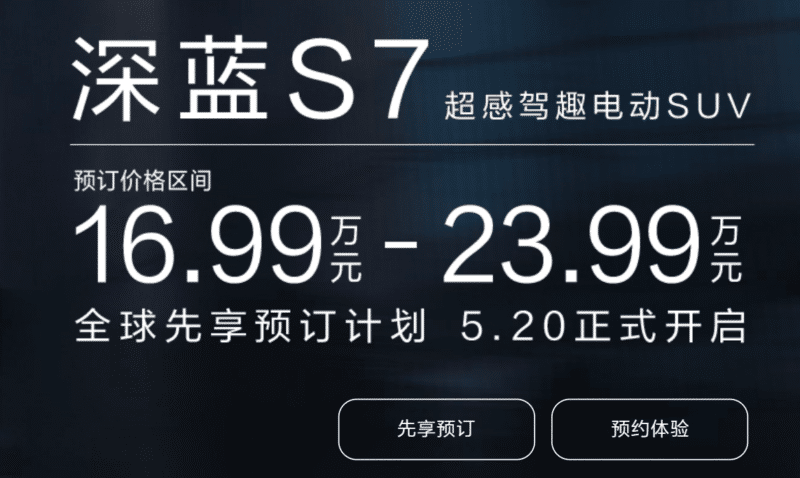 Finally, we are ready to talk about the Deepal S7's pre-sales prices in China. They are 169,900 – 239,900 RMB (24,250 – 34,250 USD). For clarity, the Tesla Model Y price range in China is 263,900 – 369,900 RMB (38,515 – 52,785 USD). So, the Deepal S7 looks like a bargain. But of course, when we talk about Tesla, we should keep in mind the brand power in China. Other competitors of the S7 are BYD Song Plus, Lynk & Co 01 PHEV, Leapmotor C11 and other vehicles. And, for example, the BYD Song DM-i costs seemingly less than the Deepal S7. First clients who order the S7 will enjoy a three-year benefits pack that includes free maintenance once a year and some other features.
Editor's comment
As we can see, the Deepal S7 is an interesting vehicle with catchy exterior and a reasonable price tag and powertrain. But we still don't know details about its battery and range. So it is unknown if the S7 will be able to effectively rival lots of competitors in the Chinese market, including Tesla Model Y, BYD Song Plus and Leapmotor C11. Anyway, we will keep an eye on it, so stay tuned!
Source: Deepal, Deepal Weibo, Autohome