The all-new Hongqi HS7 has finally hit pre-sales in China, six months after it got the production permission from the local regulator. The HS7 is a three-row SUV with a 2-liter ICE for 252 hp, AWD and a starting price of 259,800 yuan (36,500 USD). Let's get to know it better.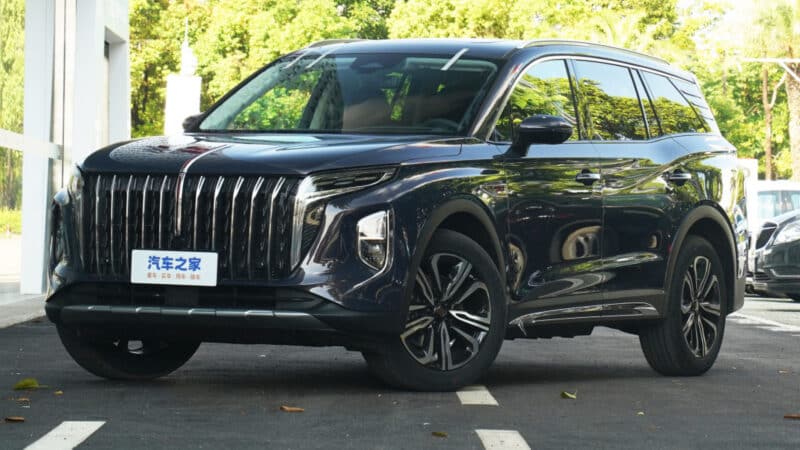 We will remind you that the HS7 was previously known as HS6. It looks like Hongqi wanted to position it between the HS5 and the old HS7. But in the end, they decided to present this vehicle as the next generation of the HS7. It is the right decision since its past-gen was launched in 2019. In the rapidly developing Chinese market, it is an unacceptable idleness. Anyway, now we have the all-new HS7. And it can surprise you.
Basics on Hongqi HS7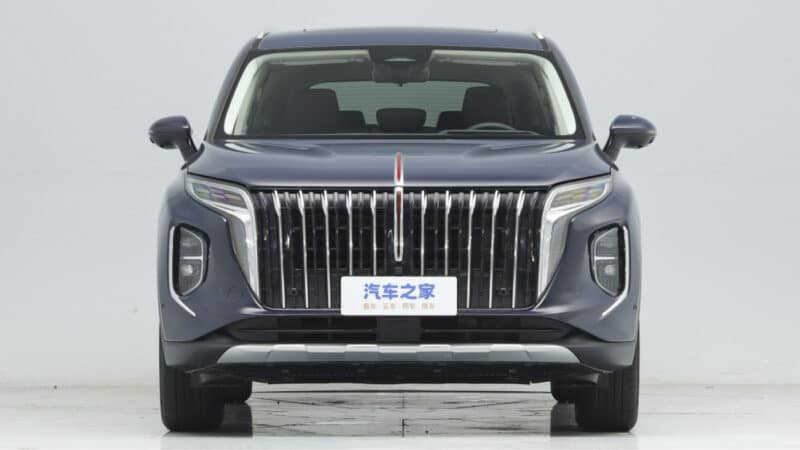 The Hongqi HS7 continues the brand's design language with a giant rectangular-shaped radiator grille and signature Hongqi running lights that sit right next to the grille. As for the headlights, they are integrated into the front bumper. The HS7 has also got a high hood line with a thin red strip that is an essential part of almost every Hongqi car. From the side, the HS7 has classy proportions with a relatively high beltline. Its door handles and side view mirrors are traditional. From the back, we can highlight a single taillight unit, fake exhaust, and a sporty roof spoiler.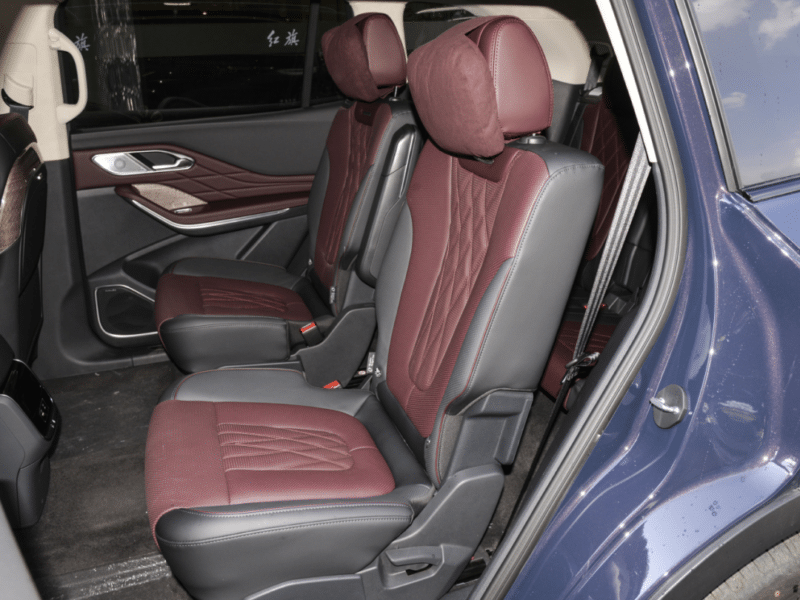 Speaking about dimensions of the Hongqi HS7, they are 4995/1960/1760 mm with a wheelbase of 2920 mm. For clarity, the HS7 is 147 mm longer, 35 mm wider and 30 mm higher than the Toyota Highlander. So, it is a relatively big. It isn't a surprise that it has three rows of seats inside. But it is interesting that you can buy it with 7 (2 + 3 + 2) or 6 (2 + 2 + 2) seats inside. The six-seat version gets two captain chairs in the second row with power adjustments. As for the third row, it is quite basic. But passengers here have enough leg room and cup holders.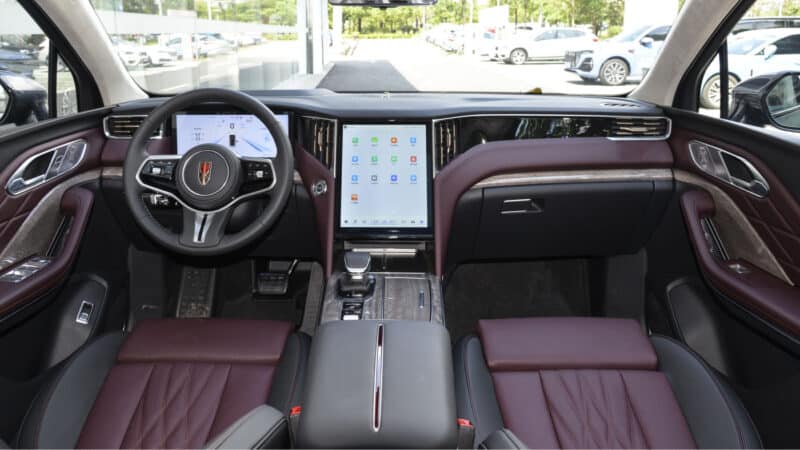 The center console of the Hongqi HS7 is also finished in the brand's latest design language. It has a 12.3-inch portrait-oriented main screen and an LCD instrument panel with the same diameter. The HS7 also has a three-spoke round steering wheel. As for the center tunnel, it has two wireless charging pads, a hidden compartment with cup holders and a retractable gear selector.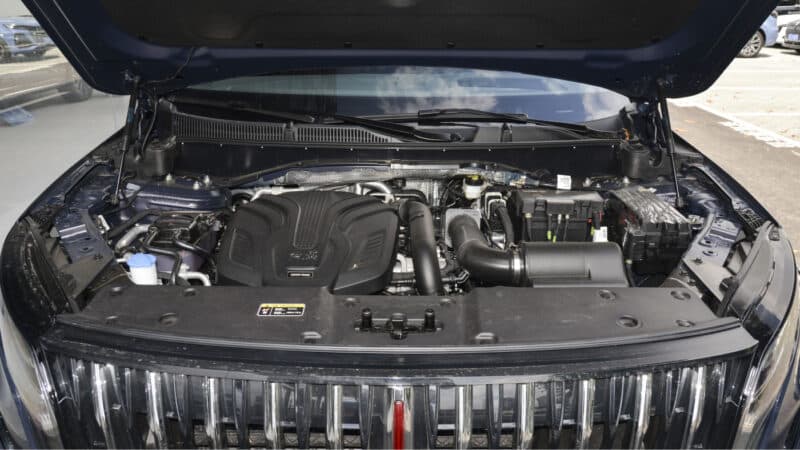 Now it's time to speak about the powertrain of the Hongqi HS7. It goes with the 2-liter CA4GC20TD-35 engine mated with a 48V belt starter generator. So, in fact, it is a mild hybrid. The power output of this ICE reaches 252 hp. As for the peak torque, it is 380 Nm. It works in pair with the 8AT. Speaking about the drive type, the HS7 can be both FWD and AWD car. With front-wheel drive, it can speed up from 0 to 100 km/h in 8.5 seconds. As for the all-wheel drive version, it is a bit slower, with an acceleration time of 8.8 seconds. So, the HS7 seems like nothing but a solid family daily driver.
HS7 price range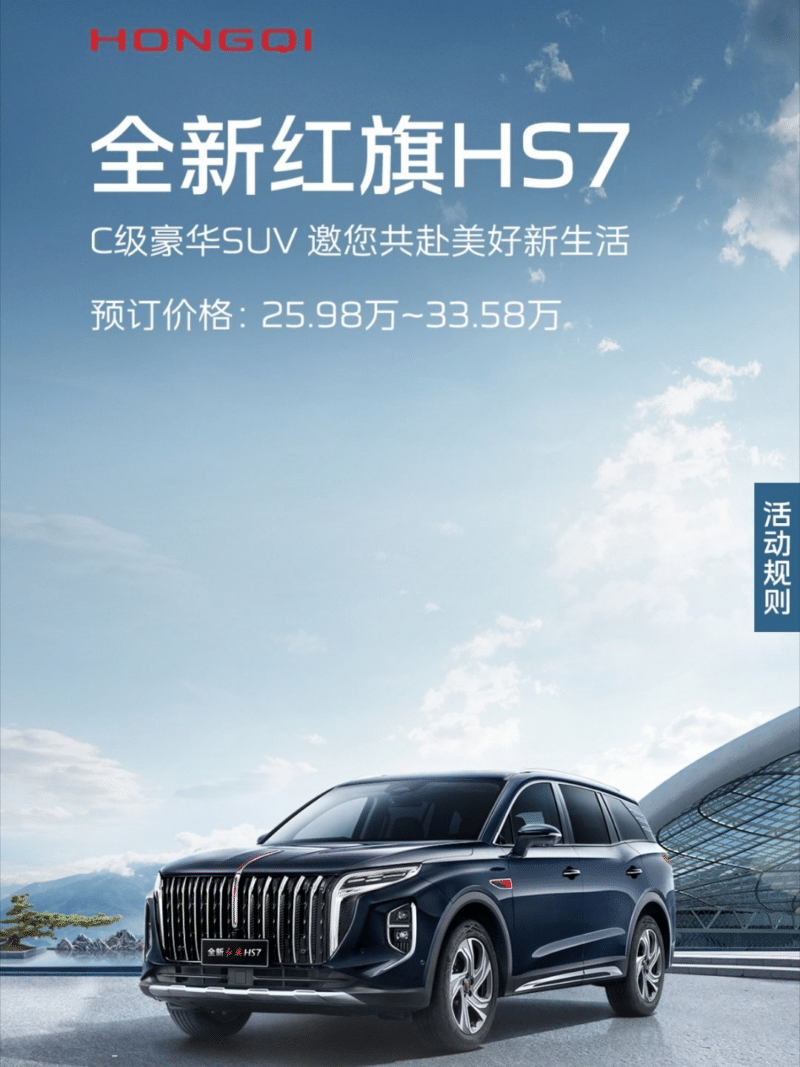 The Hongqi HS7 is available for reservations at four trim levels. Hongqi even shared their prices. It means we do know that this vehicle starts from 259,800 yuan (36,500 USD). The basic version has 7 seats and FWD. As for the top-trim level, it is available for 335,800 yuan (47,200 USD). For this price, Chinese customers will get the HS7 with AWD. What is interesting, they can choose 7 or 6 seats without price adjustments. Moreover, the top-trim level will get L2 driving assist system, adjustable suspension, round-view camera, and Dynaudio sound system with 12 speakers.
For now, potential customers can book the HS7 for 1,777 yuan (250 USD) and enjoy some benefits such as 5,000-yuan (700 USD) discount, free maintenance for 4 years or 100,000 km, lifetime free warranty (for the first owner only), etc. So, Hongqi really pushes hard to attract the attention of the Chinese customers. We will keep an eye on this vehicle, so stay tuned!
Source: Hongqi Weibo, Autohome