BYD announced a collaboration with Coca-Cola FEMSA and unveiled a customized all-electric truck explicitly designed for the needs of the bottling company.
The new e-truck was designed for the specific needs of Coca-Cola FEMSA in Mexico and will go through an eight-month testing phase starting in October. The development began in 2021 when the two companies started cooperating to create electric cargo trucks designed for the beverage giant's needs.
The new e-truck's fast-charging battery can power up in just 1.5 to 2 hours, and the vehicle offers flexibility with configurations of 8, 10, or 12 pallets. The sturdy frame can carry a maximum of 14 pallets, meeting Coca-Cola's safety standards.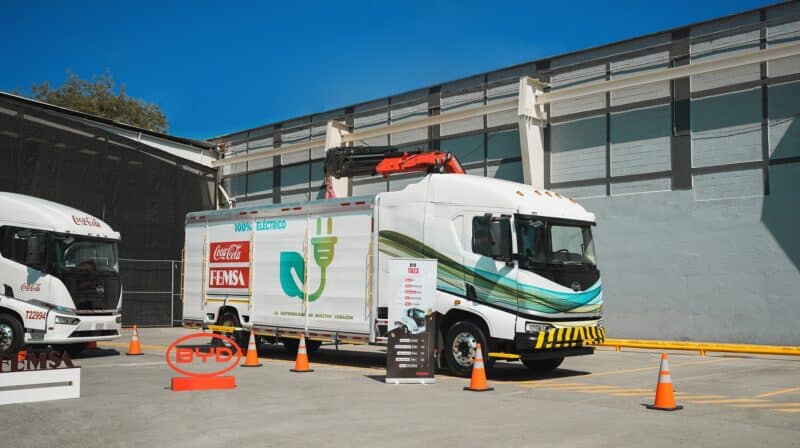 Stella Li, BYD America CEO, shared her perspective: "At BYD, we see technology as a crucial ally in our mission to protect the planet. We think that advances are what lead us to create complete solutions for zero emissions and non-pollution, making the world cleaner and greener."
FEMSA is a bottling firm with HQ in Monterey, Mexico. It is the fifth-largest Mexican company, and Coca-Cola FEMSA is their subsidiary, owning 48%, while Coca-Cola owns 28%. The remaining 24% is listed on the stock exchange. Warren Buffet, an early BYD investor, is also a shareholder in Coca-Cola.
Shenzhen-based automaker pushes EV offensive in Mexico on all fronts. This week, the company launched its entry-level hatchback BYD Dolphin, which joined the already rich BYD Mexico portfolio: the Han sedan, Tang SUV, and Yuan Plus SUV launched in March.
BYD has six dealership stores in Mexico and plans to have 50 by the end of the year and expand its presence into 32 states across the country.
But it is not just Mexico. BYD is pretty active with its electric vehicles in Latin America. In 2021, they delivered the largest all-electric truck fleet to Group Mondelo, a beer production company that is part of InBev and owns Corona.
In August, BYD delivered ten pure electric double-decker buses to Santiago, the capital of Chile. Moreover, passenger EVs don't stay behind. Yesterday, BYD Dolphin had its public debut in Bolivia, and last month, BYD Seal sedan joined the company's lineup in Brazil as its 6th EV in the country. On September 23, BYD sold 603 BEVS and PHEVs in one day in Brazil. Yesterday, Brazil removed the tax exception on EV imports.