The Zeekr 007 electric sedan from Geely has hit pre-sales in China. It has up to 870-km range, 636 hp, and a starting price of 229,900 yuan (31,730 USD). It speeds up from 0 to 100 km/h in 2.84 seconds. The 007 is equipped with a LiDAR sensor and Qualcomm's 8295 chip.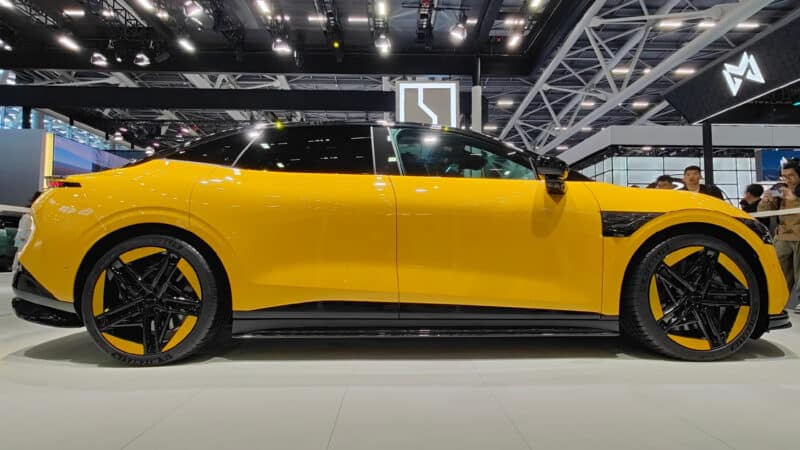 Zeekr 007 exterior and interior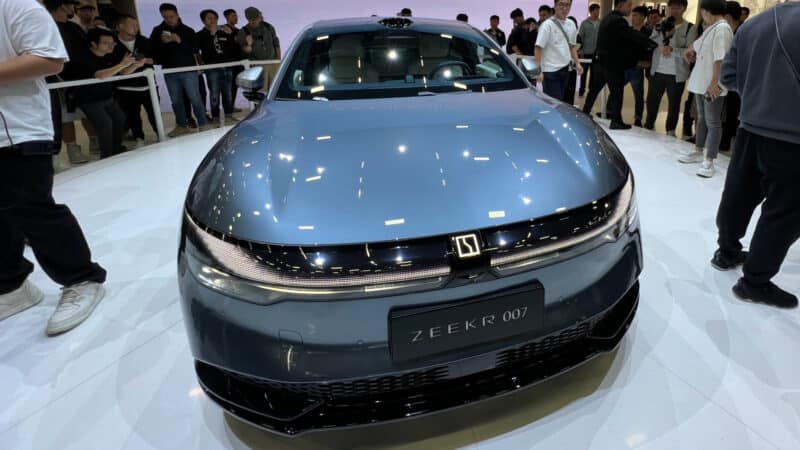 The Zeekr 007 is a mid-size electric sedan with dimensions of 4865/1900/1450 mm with a wheelbase of 2928 mm. It adopts the brand-new design language made by Stefan Sielaff. Its main feature is the Zeekr Stargate 90-inch interactive light in the front end. It can project customizable images and text. The 007 has buttons instead of door handles and a LiDAR sensor on the roof.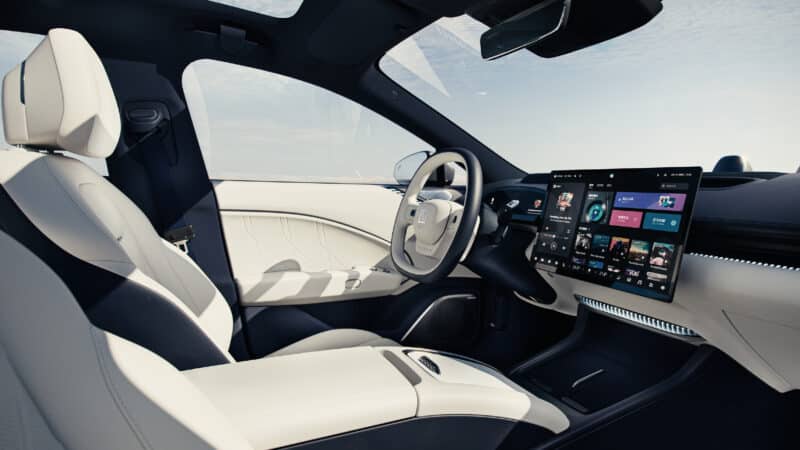 Inside, the Zeekr 007 has a 15.05-inch screen powered by Kr GPT AI and a Snapdragon 8295 chip from Qualcomm. Its steering wheel has two spokes and a fuzzy shape. The gear selector sits on the steering column. Behind the wheel, we can see an LCD instrument panel and a 35.5-inch AR-HUD. The 007 also has a 7.1.4 acoustic system that supports 21 speakers.
Zeekr 007 features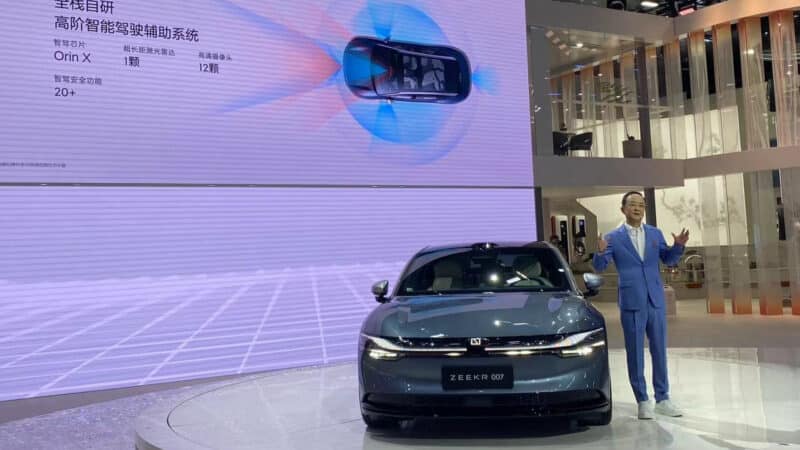 Another feature of the Zeekr 007 is the advanced driving assist system. It comprises over 20 active safety functions, thanks to a LiDAR, 12 cameras, and an Nvidia Orin-X chip. The Zeekr 007 is equipped with the NZP high-speed autonomous pilot assist. This system can operate in every corner of China.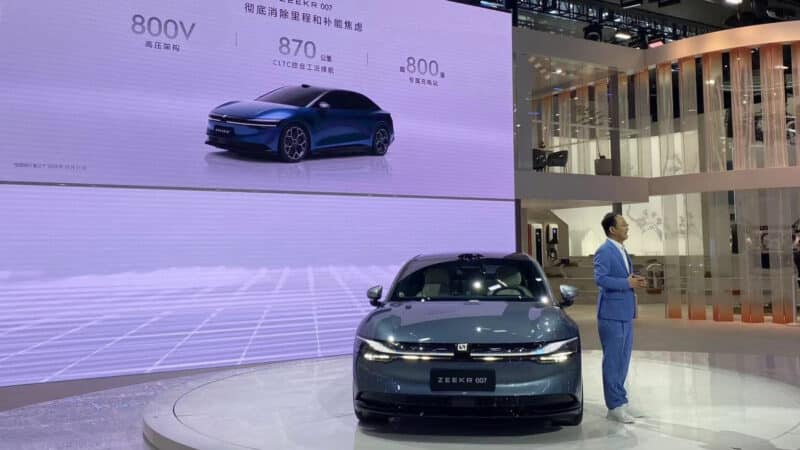 The Zeekr 007 stands on the PMA2+ platform derived from the SEA architecture. It adopts a high-voltage 800V platform that allows this sedan to charge 610 km in 15 minutes. The 007 has a double-wishbone suspension on the front axle and a multi-link one in the rear.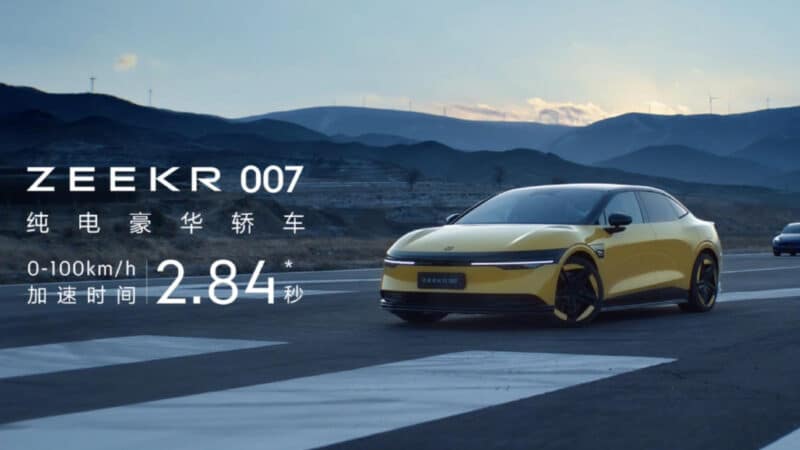 The entry-level 007 has a single e-motor in the rear axle for 415 hp (310 kW). It speeds up to 100 km/h in 5.4 seconds. The 4WD version has two e-motors for 636 hp (475 kW), suitable for zero-to-hundred acceleration in 2.84 seconds. The 007 has two range options: 688 km (CLTC) and 870 km (CLTC).
Zeekr 007 pre-sales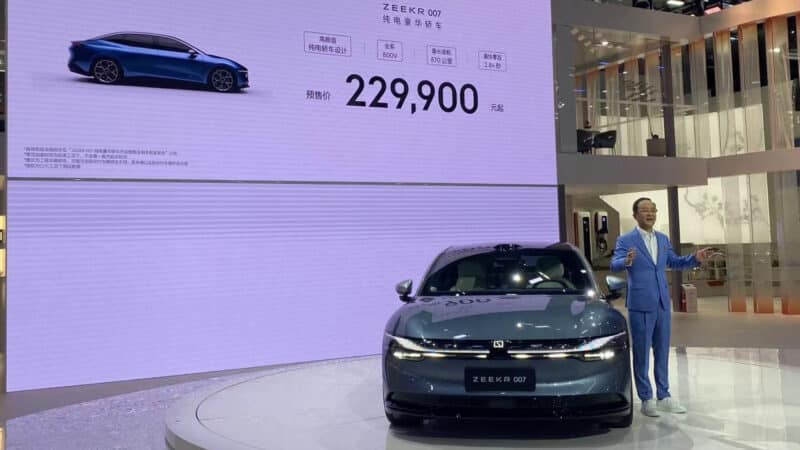 The Zeekr 007 has officially started pre-sales at 229,900 yuan (31,730 USD). Customers who book this vehicle now for 1,000 yuan (138 USD) will get a 6,000 yuan (828 USD) discount after the sales launch. As a result, the final price of the Zeekr 007 will reach 224,900 yuan (31,040 USD). With this price tag, the Zeekr 007 will rival the BYD Han EV, Rising F7, Aion Hyper GT, and Neta S. For the vehicle of this level, the Zeekr 007 starts really low. Over 5,000 people have booked the Zeekr 007 after the pre-sales launch.
Source: Zeekr Weibo, Autohome, Weibo