BYD Automotive cannot stop throwing sedans at the market and why would they, the F3 and F6 are selling like hot rice. This new G3 will slot right in between those two cars, it is based on the F3 but is more luxurious in look and feel.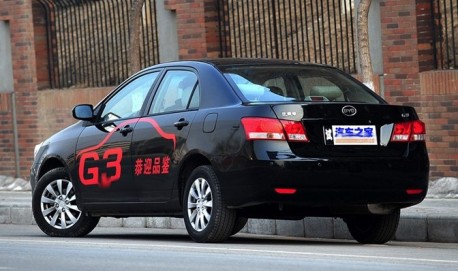 The G3 comes with a 1.5L Mitsubishi engine and BYD's own 1.8L. Price from 56.800 rmb to 76.800 rmb. Not much, BYD's come cheap, some say the factory doesn't make much profit because it only cares about winning market share. Warren wouldn't mind I guess, he can wait for a while and the stockprice went way up anyway.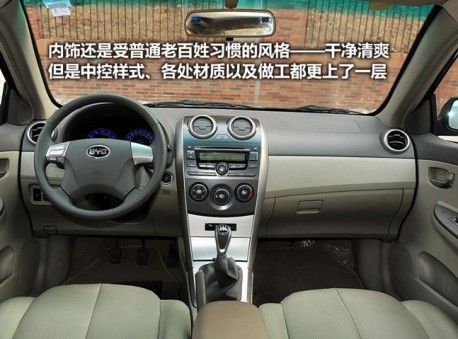 The dash still loox cheap but the colors do their very best to make the atmosphere a bit better. The chairs try very hard with that great looking  fakeleather, it is almost Bentlyesque. It might be another hit for BYD it they can explain why the car fits in their line up. So far, they can't: BYD forgot to mention the G3 on it's website. Bu hao bu hao…
Flagyl, an antibiotic used to treat various infections in the body including those of the skin, areas of cancer, pelvic cavity, brain abcesses, leg ulcers, pressure sores, gum, osteomyelitis, and necrotizing pneumonia. Generic Metronidazole, a medicinal composition of Flagyl, disrupts the function of DNA in sensitive anaerobic bacteria and protozoa. Medicine is used effectively in preventing infection after surgery, particularly after childbirth. It is also used to treat bacterial Vaginosis, urogenital Trichomoniasis, and amoebic dysentery.
buy flagyl online

Generic Metronidazole in Flagyl, belongs to the antibiotic class of drugs called nitroimidazoles, and is used to treat infections caused by anaerobic bacteria [which do not require oxygen to survive] and micro-organisms called protozoa. Metronidazole, is thought to damage DNA synthesis in susceptible bacteria, thus preventing the functioning of existing bacteria and the prohibition of further development.
Flagyl, was found to be extremely effective when used in the prevention and treatment of infections after gynecological surgery, such as fever or sepsis Birthing, which can occur after childbirth, or Giardiasis, which is an intestinal infection. This medicine is equally effective in treating sepsis [blood poisoning], brain abcesses, pneumonia Necrotizing, osteomyelitis [bone disease], pelvic abcesses, peritonitis [abdominal infection] Bacterial Vaginosis [vaginal infection caused by bacteria] Urogenital Trichomoniasis [sexually transmitted Genital infection], and amoebic dysentery [protozoal infection]. Medicine helps to cure dental disease, ulcerative gingivitis [gum inflammation and ulcers], and infected by bacteria leg ulcers as well as bedsores.
flagyl online

Generic Flagyl is an oral drug, although for serious infections, Metronidazole run intravenously at the beginning, followed by oral treatment. The dosage may vary according to the infection, as in the consideration of infection of the brain abcesses, when a large dose should be given. The medicine is given according to the disease and the patient should be taken as advised by Dr.. It is recommended that medicine is not chewed, but swallowed with plenty of water, it can be taken regardless of meals. Even if you feel better soon, all treatment must be taken, because antibiotics often help to make one feel better quickly, but if the course is finished, you risk the return of the infection. While on this treatment and for at least 48 hours later, you should not consume alcohol, or you can try a lot of discomfort, nausea, vomiting, abdominal cramps, headache, in addition to flushing.
Before your doctor puts you to Flagyl, tell the doctor about all the diseases from which you suffered and all medications [prescription, OTC], dietary supplements, herbal products you are taking and if you have any known allergies, especially to Metronidazole
buy flagyl