A very nice 1:43 model of a Beijing Beijing-Hyundai taxi, found it for 3 US dollar in the supermarkt in my street. The colors are fine, wheels as the real thing and scale well done. But the panel gaps are a bit on the wide side and Beijing Taxi's don't have blackened windows. Nevertheless, considering the price a nice addition to my collection.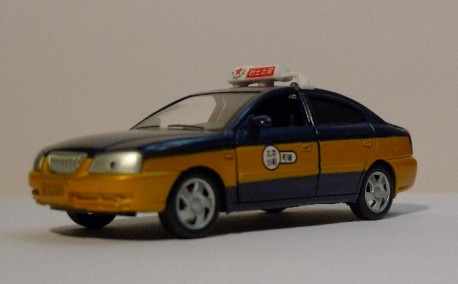 No Hyundai 'H' on the front, Chinese toy makers don't like to pay for copyrights. They see that as a waste of time when there are so many more toys to be made.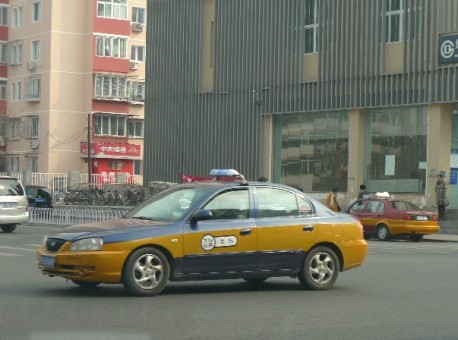 A real Beijing-Hyundai taxi. The join venture also makes a new Elantra but this old one still rolls from the line as a cheap alternative for fleets. Beijing has approximately 15.000 taxi's, most of them this Elantra and the rest are VW Jetta's and Citroën Fukangs. A brand new 'taxi-Elantra' costs around 15000 USD but 99% of taxi drivers lease their cars from a taxi company.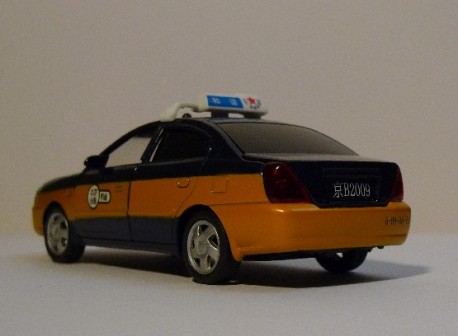 Left on the plate the character 京, 'jing', from 北京, Beijing. Beijing means 'Northern Capital', China's capital changes many a times trough it's history, there is a city called Nanjing as well, that meanse 'Southern Capital'.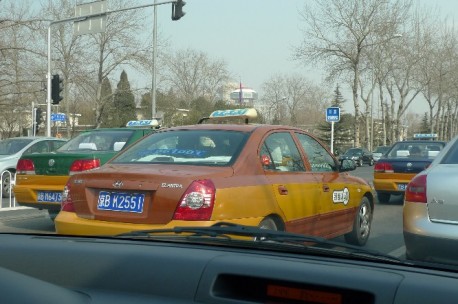 A lone Elentra surrounded by two Jetta's. Picture taken from my girlfriends' Chang'an-Suzuki Swift passenger seat.  On the right a FAW-Audi A6.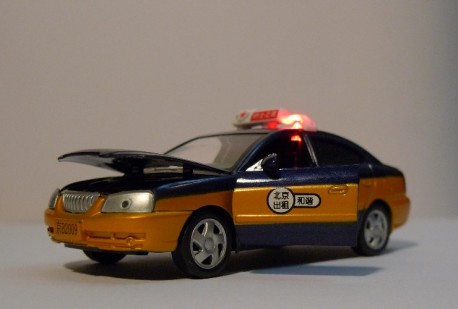 A grood toy makes noise and flashes light, so the Chinese toymanufacturers think. When opening one door the car makes engine noises, like starting it, and the light on the top flashes red. When opening the other door the car makes horn noises, like 'tuut tuut!'