Warren Buffet and Bill Gates Visited two BYD plants in Guangdong province, one in Huizhou and one in Shenzhen. Buffet denied rumors he wanted to sell his 10% share in the battery, auto and busmaker. Gates presence might indicate another American billionaire wants a stake in BYD…
Buffet attended a BYD-dealer event today and will visit BYD's electric bus factory on Thursday. Since last week's announcement of Buffet's visit BYD's shares on the Hongkong stock exchange have gone up 20%. Buffet should come more often.  More on the story from Xinhua:
"SHENZHEN, Sept. 27 (Xinhua) — Billionaire investor Warren Buffett reaffirmed his support in Chinese electric carmaker BYD Auto here Monday after media reports suggested he might reduce his stake in the company.
"BYD is the right choice for me," he said while speaking to nearly a thousand BYD car dealers at the dealers annual meeting in China's boom town of Shenzhen. Buffett described the company as "a young and promising company experiencing dynamic growth" and "a leader in innovation and technology".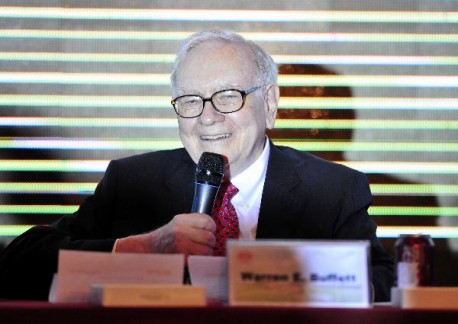 Buffett's visit came amid market rumors suggesting he might reduce his stake in the Chinese carmaker after his investment in BYD has risen six-fold. Buffett's Berkshire Hathaway group bought 10 percent of Hong Kong-listed BYD (short for "Build Your Dreams") for 230 million U.S. dollars tow years ago. That stake is now worth as much as 1.7 billion U.S. dollars.
Reuters on Friday quoted Andrew To, sales director at Tai Fook Securities, as saying Buffett might break the news he plans to sell down his stake in the company during his visit, since the company's stock value is well off its peak of last October and the returns on his investment are impressive enough.
However, BYD issued a statement Saturday saying reports on Buffett's possible stake reduction were not true. Buffett said he was honored to be in BYD to celebrate its production of the one millionth car, and he would "come back for the 10 millionth car".
Established in 1995, BYD sold more than 400,000 vehicles in 2009, sustaining a 100-percent growth rate for the fifth straight year. Further, it reported a more-than-50-percent rise in sales revenue and profits in the first half of this year. The Shenzhen based battery-turned-auto maker is not only pioneering China's electric car industry, but also does research and development on solar energy. The company's development strategy matches Buffett's investment tastes.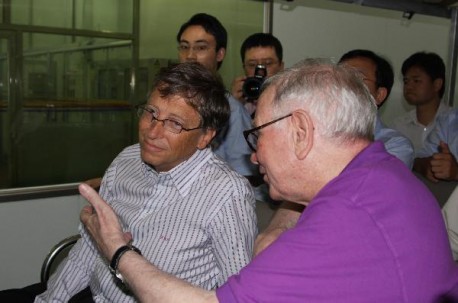 Buffett said he was "totally amazed" in a test drive on BYD's pure electric E6 model with Bill Gates last May, which now serves as taxis in Shenzhen. The E6's smooth performance in Shenzhen had "heightened BYD's spirit of green technology and vehicle development," Buffett said. "I truly believe that BYD will play a leading role in the future," he added.
Buffett attended a number of events on Monday, including a ceremony to celebrate BYD's signing of a deal to build electric charging stations with China Southern Power Grid. He is also scheduled to visit BYD's plants in the cities of Shenzhen and Huizhou on Tuesday and then leave for Beijing on Wednesday, where he will co-host with Bill Gates a charity banquet to meet about 50 wealthy Chinese.
His China trip will end in Changsha, capital of central China's Hunan Province, where he plans to visit BYD's electric bus production base. Wang Jianjun, a sales manager of BYD, said Buffett's China visit shows the tycoon's confidence in BYD. China is the world's largest auto market, and it is grappling with oil shortages and air pollution. The Chinese government attaches importance to developing non-fossil-fuel-powered vehicles, as evidenced by a number of preferential government policies for electric car makers.
Huang Yonghe, chief analyst with China Automotive Technology & Research Center, said Buffett's China visit is expected to reaffirm his confidence in BYD and very likely he would increase his investment in similar sectors in China. BYD's stock price has risen more than 20 percent on the Hong Kong Stock Exchanges over the past week, boosted by the news of Buffett's China visit. It added 4.4 percent Monday to close at 57.6 HK dollars (7.4 U.S. dollars)."