HONG KONG – Warren Buffett's support for BYD Co is proving no solace for investors, as analysts rate the Chinese automaker the lowest among global peers.
Hong Kong-listed BYD has the lowest consensus rating among the world's largest automakers, according to data compiled by Bloomberg. BYD shares are rated "sell" by 13 of 22 analysts who follow the stock, "hold" by seven and "buy" by two others, giving the Shenzhen-based company a score of 2 out of a possible 5.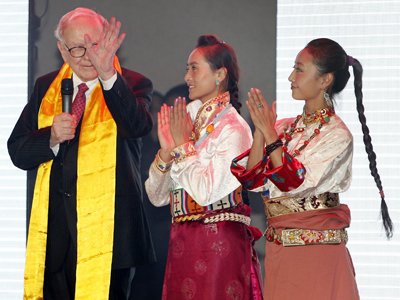 South Korea's Hyundai Motor Co's 4.91 rating is the highest among manufacturers with market values of at least $3 billion.
BYD's shares have plunged 49 percent this year, the third-worst performance on the 40-member Hang Seng China Enterprises Index.
The company's vehicle sales declined for 11 straight months through June.
It said in a preliminary earnings statement on July 12 that first-half profit may have dropped as much as 95 percent amid slowing demand and rising competition. Buffett's Berkshire Hathaway Inc agreed in September 2008 to pay HK$1.8 billion ($231 million) for about 10 percent of BYD through its MidAmerican Energy Holdings Co unit.
"BYD may not be able to meet our 2011 sales forecast – which is already one of the most bearish on the street," Adrian Chan, analyst at Credit Suisse Group AG, wrote in a report on Aug 17. "BYD continues to be highly vocal about its new-energy ventures, including solar and electric vehicles. Despite all the talk and billions of yuan being spent in capital expenditure, revenues from these businesses remain negligible."
Chan cut his share price estimate for the automaker, whose name stands for "Build Your Dreams", to HK$9.80 and confirmed an "underperform" rating – a "sell" on the Bloomberg scale.
BYD stock closed 3.92 percent lower at HK$19.98 on Friday, compared with the average 12-month stock target of HKS$21.38 of 17 analysts.
Berkshire paid HK$8 a share for its stake. The record high was HK$85.50 in October 2009.
The two "buy" recommendations are more than 11 months old.
BYD will report first-half earnings on Aug 23. Buffett, chairman and chief executive officer of Berkshire, didn't respond to a request for comment emailed to his assistant, Carrie Kizer.
On July 2, Berkshire Vice-Chairman Charles Munger, who visited China last year with Buffett, said that BYD has the ability to recover from its missteps.
John Lee, the automaker's company secretary, said in an Aug 17 interview: "For the past two years, BYD suffered difficulties, but I think we can overcome them soon."
Via: ChinaDaily.