Well, we told you so. This is the new Beijing-Hyundai Shouwang sedan. Shouwang is a sub-brand from the Beijing-Hyundai joint venture. The brand debuted with a flashy BHCD-1 concept car at the Guangzhou Auto Show in December. But sure that wasn't the real thing. This is the real thing, as expected based on the current Beijing-Hyundai Elantra which will be replaced next year. An old platform for a new sub-brand yet again.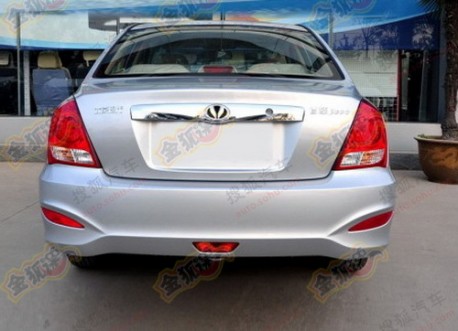 On the right of the back the name of the car seems visible, bigger:

The characters are 'Shouwang', the numbers look like '5222' but I am not sure, it seems a name too weird. But impossible it ain't, it is a weird car and this whole sub-brand thing is even weirder.
Anyway and how. The Shouwang will be available with and old fashioned, and old, 1.4 patrol engine from the current Elantra. However, there will also be a pure EV variant. All we know now is that it will have a max speed of 120 km/h and a curb weight of 1440kg.
The Shouwang will debut at the Beijing Auto Show in April. It will be listed sometime in late 2012, but likely only with the patrol-engine, the EV will follow later and then still nobody will buy it, no matter how much subsidies the Chinese government is throwing at it. The most important reason: you can't charge it, nowhere at all.