Yesterday was another party day for CarNewsChina.com, for the first time us little website was quoted on the mighty Detroit News, the newspaper for carpersons working at Ford and GM, and for their families.
The story of course was about the JAC 4R3 Ford F150 clone which we made famous late last month. At this moment, almost 24 hours after it was published, the story is still the Most Popular on DetroitNews.  And even better, DetNews actually called Ford to see what they had to say about the 43R.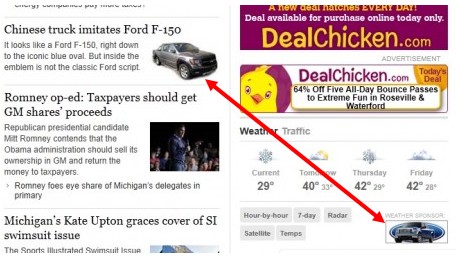 Haha.
DetroitNews talked to Mike Levine, a Ford spokesman and CarNewsChina reader (hello!). He said:
"We're aware of it and we're investigating. We're just trying to get an idea of what's going on with the vehicle and haven't decided what our next steps might be. We don't know if it would be legal action; we're just investigating our next steps."
That is indeed likely the best thing to do now. After all, at this moment the 4R3 is nothing more than a prototype or a pre-production car. We have only seen one example so far. Things might change however if JAC starts mass-production but even then going to court in China won't be easy.
Ford has to prove the 4R3 is indeed a 1:1 copy and it has to prove that JAC knew about the F150. The court won't automatically assume it did because the F150 is not available on the Chinese market.
To be continued…