Rolls Royce is selling record numbers of cars in China. Well, they have to because the Rollers keep crashing like crazy. This is the third crashed Phantom we see in a very short time. Earlier on there were crashes in Nanjing and Jinghong. For today's fine accident we go to the great city of Wenzhou in Zhejiang Province.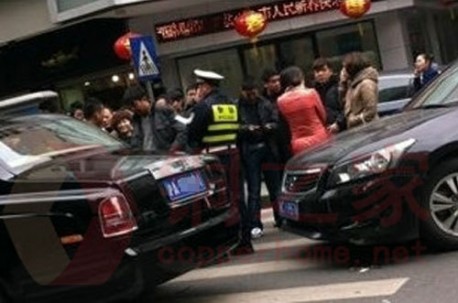 A Honda Accord, made in China by the Guangzhou-Honda joint venture, came around the corner and crashed in the rear of the Roller. Police decided the Honda's driver was to blame for the accident. Fortunately nobody got hurt and damage looked superficial. But nothing is superficial on a Rolls Royce… The damage:

The bodywork just before the rear wheel is slightly damaged and the alloy doesn't look too good. How much? According the the owner and the local Rolls Royce dealer repairs will cost as much as 2 million yuan or 317.000 USD. A new Rolls Royce Phantom costs 12 million yuan in China, 1.9 million USD. The poor driver of the Accord, a woman, was only insured for 200.000 yuan. She better start saving!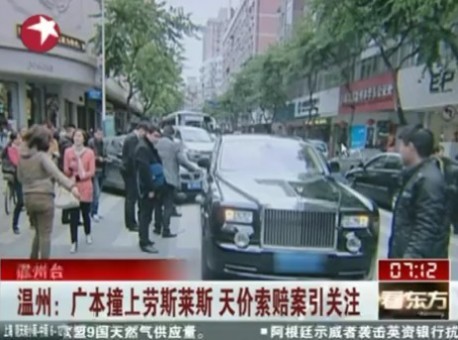 Wenzhou by la way, is where your lighter was made. And your nail-clipper, and your plastic spoon. Wenzhou indeed is famous for making all sorts of small household items. Wenzhou is also very famous for producing fake designer-brand bags in massive quantities, like that 'Gucci' you bought on the Silk Market in Beijing.
Local TV news about the crash with a very pretty Missy:
Via: PCauto.com.