Here we have a very fine Maserati Quattroporte in matte-black, seen on the streets of the great city of Jilin, Jilin Province. The Maser got a very cool license plate as well, with a lotta nines, nine is a lucky number in China. But there is something else funny with this plate proving wealth doesn't buy brains:

Pic ain't too big but clear enough; right under the numbers: Benz-star Mercedes-Benz Benz-Star. How smart is that? Not too smart indeed…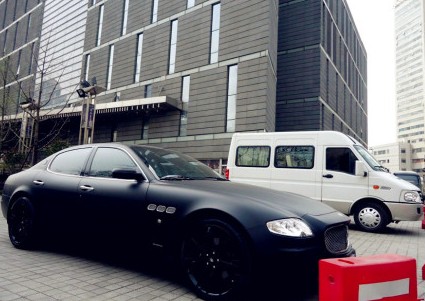 The Maserati Quattroporte costs between 2.2 and 2.6 million yuan in China, both the 4.2 and 4.7 V8 are available. It is slowly becoming more popular with those who don't want another fast Audi, BMW or, well, a Benz. Positioning however is still a bit difficult, not expensive enough for the very wealthy and too expensive for the rest of the country. Furthermore, the Maserati-brand isn't very well-known in China. Maybe that's the reason for that plate…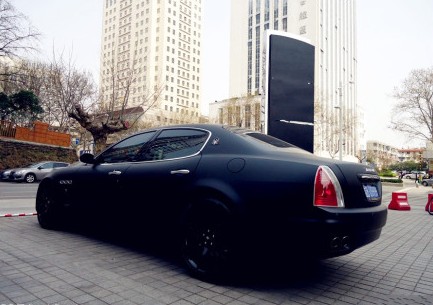 Matte-black loox very fine on this fine car, but we have seen even better Quattroporte's, see this pink one, or this one in gold, or this one sexed up by a Ferrari. Now back to that stupid owner. C-pillar: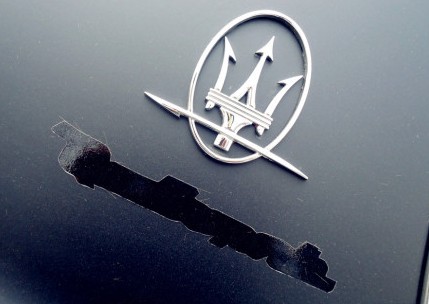 Who is this man trying to fool?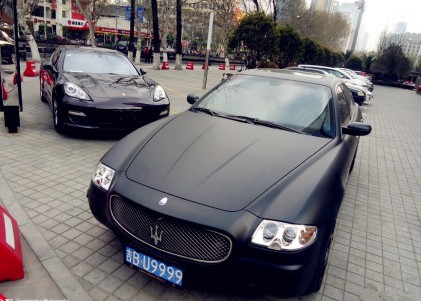 With another German friend, wonder what that Porsche has on its plates…
Via: Weibo.