A surprising find in a residential area in east Beijing. This is the Fiat Uno, a small hatchback made from 1983 until 1995. The fine red Uno on pics is a second-series example, made from 1989 until 1995, it was available in three-door or five-door. I remember the Uno (meaning 'one') very well, it was quite popular in Holland back in its days but in China the Uno is a rare thing. A few thousand were exported to China in the late 1990's but today 99% has been scrapped or died somewhere on the roadside.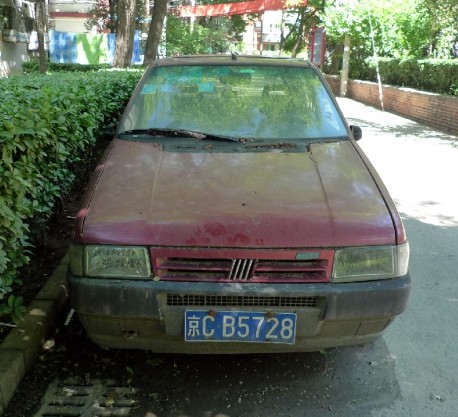 This Uno was in a rather sad state as well. Plastic parts of the body were rotting away, tires deflated, covered with mud and dust. Clearly not in use anymore, insurance sticker from 2010, but it still got its license plates, which are likely more valuable than the whole car.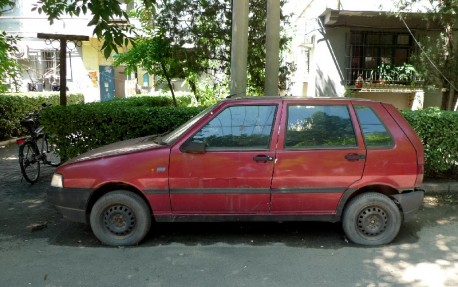 The Fiat Uno was powered by a long range of small 4-cylinder engines, ranging from 1.0 to 1.4 liter. The hottest power plant was the 1.4 Turbo i.e., with an output of 120hp and 161nm, good for a simply crazy 210km/h top speed. What powers, or powered, this red Uno in Beijing I sadly couldn't find out.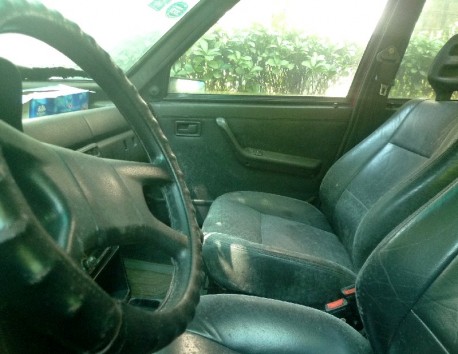 Interior not too bad for such an old and cheap car! Seats seem ok and nothing loox broken.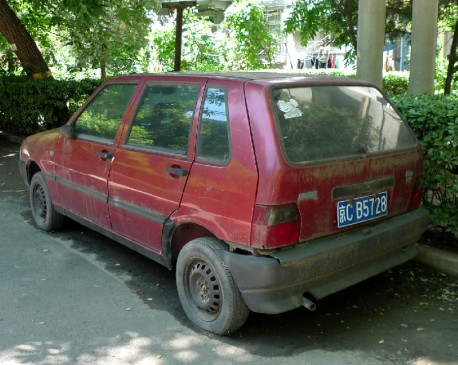 Rear bumper in bad shape. Will be hard to replace in China. Too bad, poor Uno…