Here we have a very black Nissan Cedric Y31 Brougham VIP, seen on a second hand car market in south-east Beijing. The huge seventh generation Y31 is the successor of the sixth generation Y30 (V-30) of which we saw a perfect white example earlier this month. Production of the Cedric Y31 started in 1987 and continues until today, now called YPY31 and mostly sold to taxi companies in various countries in Asia.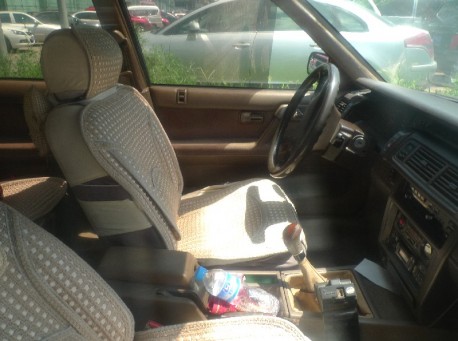 The Cedric Y31 was officially sold in China, mostly to the Chinese government, foreign funded companies and the tourism branch. All China-bound Y31's were black and in top-spec 'Brougham VIP'. Until a few years ago there were still many around, by then mostly in the hands of private drivers. These days however the Y31 gets more rare by the day, thanks to cash-for-clunkers schemes and ever stricter penguin-protection regulations. Prices on the second hand market are therefore going down fast!, a good one can be had for only 50.000 yuan. If you buy one now you might be able to enjoy it for a few years more… Parts are still plenty and very cheap.
Funky chrome strip around he head lights! Otherwise a rather straightforward design. The Cedric Brougham VIP was powered by a 3.0 V6, good for 153hp, mated to a 5-speed manual or a 5-speed automatic. The Cedric was also available with a turbocharged version of the V6 with a much more healthy 230hp. This black Beijing car has the naturally aspirated V6. Still good enough for a 180km/h top speed, if the engine is perfect.