A very souped up Toyota Supra seen in the great city of Dalian in Liaoning Province. The fast vehicle is made even faster with a body kit, racy low profile tires, seven spoke alloys, a crap load of stickers and Ferrari badges.
Front and back. The front badge is embedded in the Marlboro sticker, on the back and sides sits a separate badge. The Toyota Supra was faster than any Ferrari in its days, one wonders why the owner of this car doesn't have a Ferrari with Toyota badges, because that would make much more sense.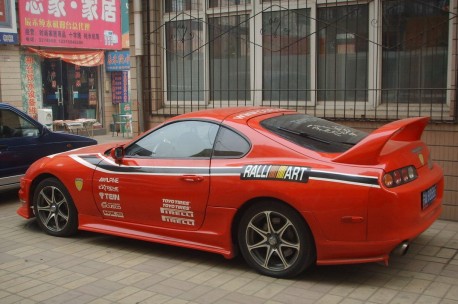 The Toyota MK IV Supra was made from 1992 until 2002, and it was sadly also the last Supra. Power came from a 3 liter six-in-line, over the years power went up from 220hp to 320hp. The Supra was never officially exported to China and is therefore a very rare car too see. We only met one other Supra in China before; a pimped racer back in August in Beijing .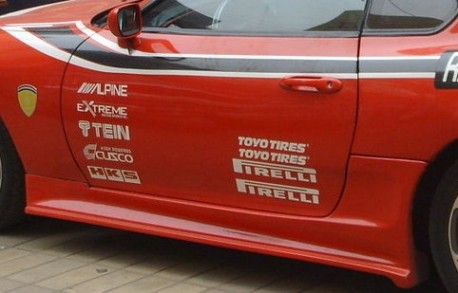 This Supra stands on Toyo and Pirelli tires. Ride will be messy.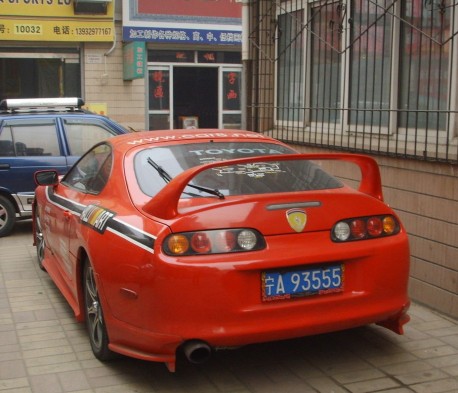 Large single exhaust pipe neatly 'integrated' in the body. Gigantic wing was a must-have for the Supra in the 1990's and gives the sportmachine a real road presence. Good car, very much approved!, but the Ferrari badges got to go…