This is by far the longest Lincoln Town Car we have seen in China until today. It measures at least ten meters and is made more pretty by two gigantic windows. This great but sorta strange car lives in the great city of Haikou, capital of China's tropical island-province Hainan.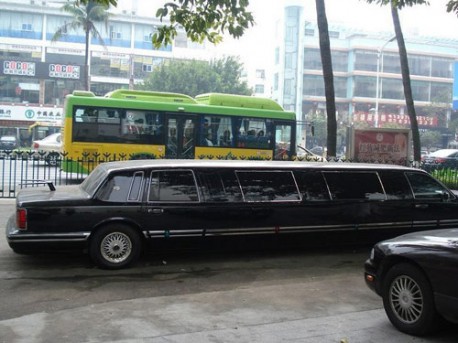 Note the typical 1990's TV antenna at the back! The second generation Lincoln Continental was made from 1989 until 1997, this limousine is based on the pre-facelift version that was made until 1995. The Town Car is based on the famous Ford Panther chassis that underpinned so many large sedans from Lincoln and Ford in the 1980's and 1990's. The sec-gen Town Car was powered by a 4.6 liter V8.
A few other interesting Lincoln Town Cars from China: stretched to the max, marriage, first-gen limo black, Hongqi CA7460 and orange.