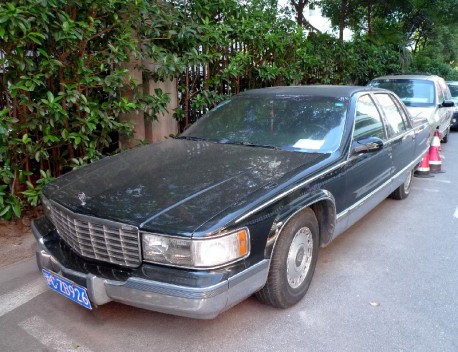 A beautiful black Cadillac Fleetwood Brougham sedan, seen close to a second hand car market in the great city of Shanghai. The 'Brougham' was basically an extra luxurious Fleetwood, which was a very luxurious car anyway.The Brougham-name was first used in 1977, this example in Shanghai is from the third generation, made from 1993 until 1996.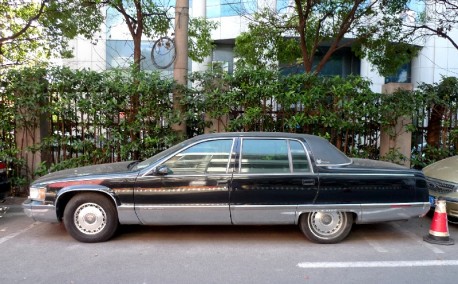 The Caddy was in near-perfect condition with deep-black paint and a undamaged vinyl top. Especially impressive were the alloys that looked like they were manufactured yesterday! The Fleetwood Brougham was powered by a 'LT1' 260hp 5.7 liter V8. The engine was derived from the Chevrolet Corvette and also powered the super fast seventh generation  Chevrolet Impala SS.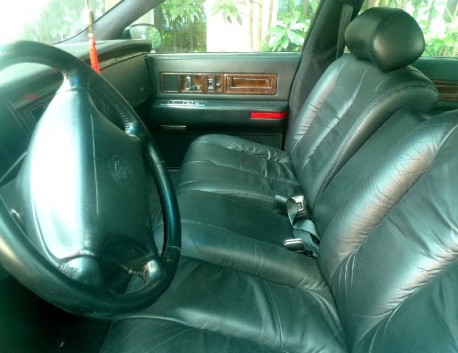 Leather was getting a bit old but a good clean up will fix most of that! Big sofa-like seats were very comfortable on any road, except in any corner. Plastics and wood still looked good. The Fleetwood was a big car, size: 5720/1980/1450, wheelbase was 3086. Big without any Shame!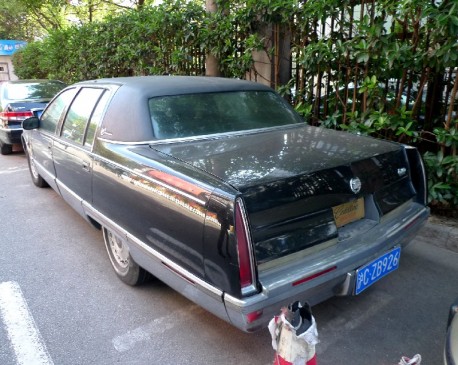 The Cadillac Fleetwood was never officially exported to China. Still, we continue to meet more: wedding car, blue, super stretched, Fleetwood Brougham, black Fleetwood sedan and the related Buick Roadmaster.