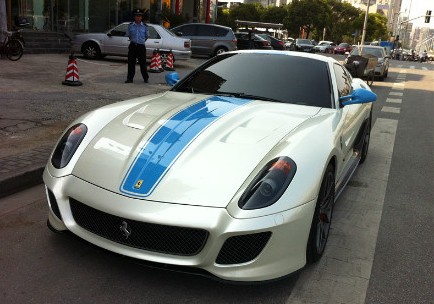 A very flashy Ferrari 599 GTO seen in the great city of Shenzhen in Guangdong Province. The supercar is painted in a beautiful combination of shiny white and shiny blue, and the blue mirrors especially are a fine touch.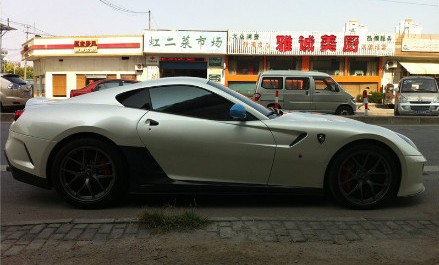 Ferrari badge next to air vent in yellow-on-black instead of the usual black-on-yellow. Alloys are matte gray and small rear window is darkened. All together a sorta mixed machine. Flashy on one side and stealthy on the on the other.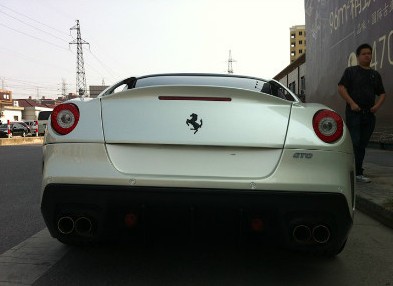 No blue at the back. The Ferrari GTO debuted on the Beijing Auto Show back in 2010, a year before China became the biggest market for Ferrari. Only 599 599 GTO's were produces and this white car is number six we see in China. Earlier on we met a red 599 GTO, a yellow 599 GTO, a special-edition orange 599 GTO, a white 599 GTO example and another red 599 GTO.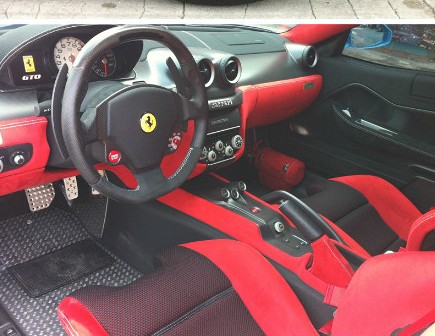 No white or blue, the interior is red and dark red. Very racy 'floormats'. Power comes from a 6.0 V12 with 670hp and 620nm, top speed is 325km/h and 0-100 is gone in 3.6 seconds. What an engine! Well, here it is: