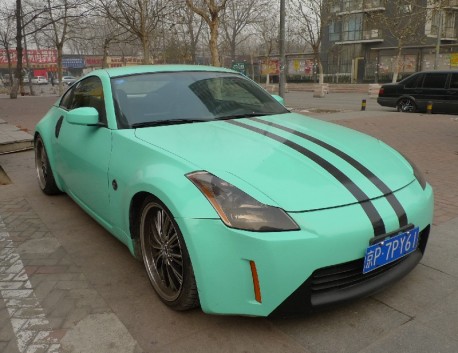 A very sleek Nissan 350Z painted in bluegreen, no wrap this time, seen in a faraway eastern corner of the Capital. The brilliant paintjob was ruined a bit by the duck tape racing stripes over the bonnet. The Nissan 350Z is further made more pretty by a slightly lowered suspension, huge racing tires and shiny alloys.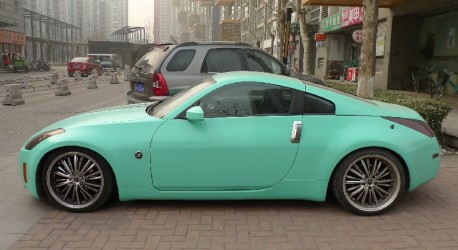 Bluegreen does the vehicle a lotta good. Nissan always used bright colors, like orange and red, for marketing purposes, but soft colors, like gray green and blue, are actually much better on this sleek sporty vehicle. The Nissan 350Z was never officially exported to China but the gray market brougt some over anyway. Earlier on we saw a Bling Roadster with a bodykit and an orange Nismo. The current Nissan 370Z will finally arrive as an official import in June.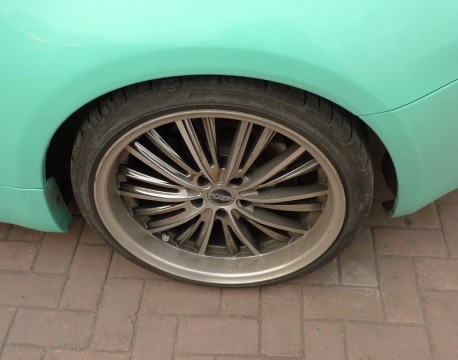 Fantastic alloys. I tried to count the spokes but got dizzy so I gave up. Who can do, better?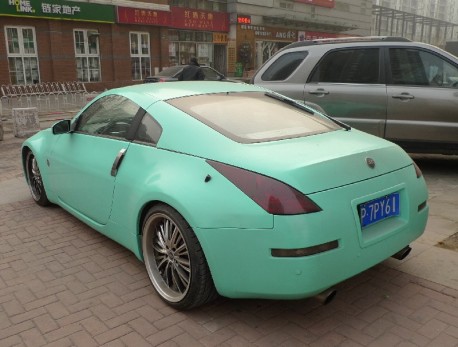 Dark red covers over rear lights very good.