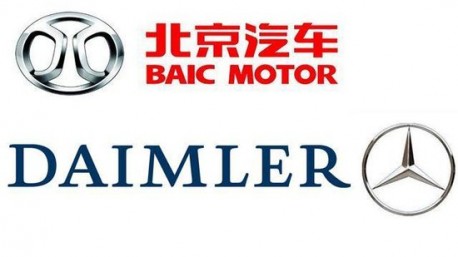 Chinese media are reporting, quoting "informed sources", that the Beijing Auto Industry Corporation (BAIC) and Daimler Benz will sign a 'strategic cooperation agreement' on February 1 in Germany. Details are scarce, but the sources say BAIC and Daimler will take an interest in each other, ranging somewhere from 10 to 20%.
In a directly related agreement: Daimler will sell 1% of its 50% share in the Beijing-Benz joint venture to BAIC. This clears the way for an IPO from BAIC on the Chinese stock market. Chinese regulations do not allow BAIC to count the joint venture as an asset if its stake is below 51%. The new equity-ratio will be 51%-49%. How much BAIC pays for the 1% is yet unclear.
In another related agreement: Beijing Auto, a subsidiary of BAIC, will be allowed the use the platform of the Mercedes-Benz E-class for a a furure Beijing Auto-branded luxury vehicle, which will very likely be based on the C90L Concept.  We heard the first rumors about this part of the story back in June last year.