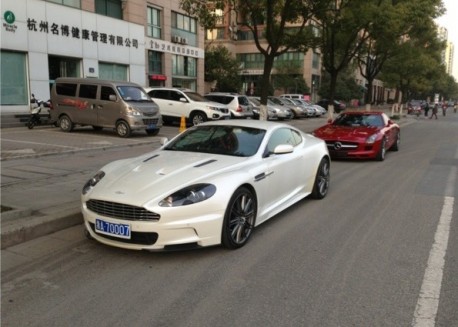 Here we have a very white Aston Martin DBS followed closely by a very red Mercedes-Benz SLS AMG. Vehicles are direct competitors in supercar land. The Aston still loox speedy, but a but too much like a whale loox fast. The SLS on the other hand seems a more agile and lighter car.
The Mercedes-Benz SLS AMG is a popular supercar in China. Price starts at a steep 3.62 million yuan or 583.000 USD. Power comes from a sweet 6.8 liter V8, good for 560hp and 650nm, top speed is 317km/h and 0-100 is gone in 3.8 seconds. Now for the Aston: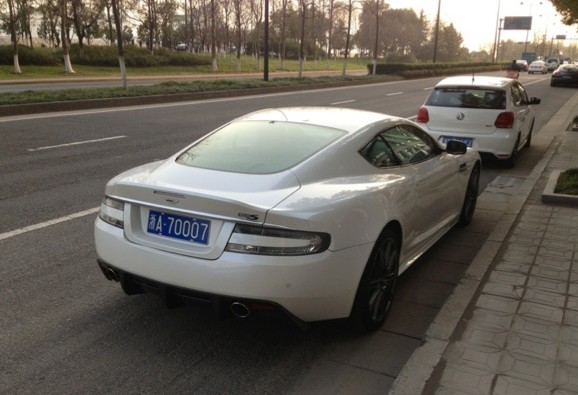 Check that license plate! A 70007. Brilliant. Price in China starts at 4.98 million yuan or 805.000 USD. How much? That's 222.000 USD more than the Benz! Power comes from an ancient 6.0 V12, good for 510hp and 570nm, top speed is 307km/h and 0-100 is gone in 4.3 seconds. Sound like a bad bargain compared with the SLS, but James Bond.
Time now for our Famous China Mercedes-Benz SLS Collection™: yellow or green, gold, with babe on bonnet, purple, pink, bag trousers, pink-silver, bling (scroll down), crash,  Mansory Cormeum, and one with extra head lights.
No collection for the DBS, this white example is the very first one we see in China.