A very beautiful matte black Beijing-Jeep Cherokee, seen in a faraway suburb in east Beijing. The good Jeep has been wrapped in a matte black wrap and was further sexed up by a bull bar, fog lights on that bull bar, black windows, a rood rack, large tires, and sporty 5-spoke alloys.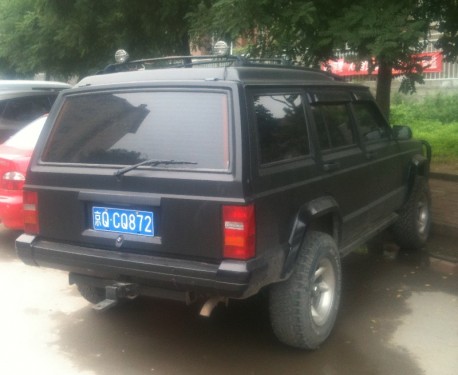 The vehicle has the China-only higher roof. Rear wind-screen wiper a rarity on the China-made Cherokee. The Cherokee XJ was made in China from 1984 until 2009 by the Beijing-Jeep joint venture. It was available with the 2.5 liter four-cylinder and the 4.0 six-in-line. After 2009 Beijing Auto continued production of the Cherokee XJ on its own, the Beijing Auto Works Knight S12 can still be bought new today, but it isn't as popular as the real Cherokee was.
The not-so-pretty new Cherokee will be made in China too, by the Guangzhou-Fiat joint venture.