A very red and very racy 6th generation Honda Civic EXi, seen in the great city of Chengdu in Sichuan Province. The small Honda sedan was tuned for the track with lowered suspension, low profile slick-like tires, and 6-spoke alloys in shiny black, which coincidentally contrast nicely with the fiery red bodywork.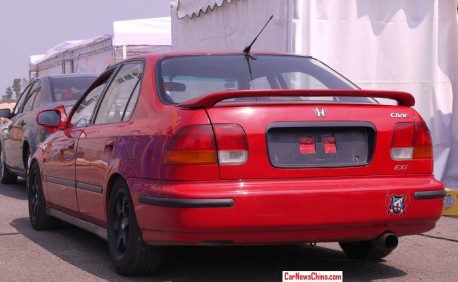 The fifth generation Honda Civic sedan was made from 1995 until 2000. It was never officially exported into China but some cars arrived via the gray market and other misty channels.Interestingly, the only other 6th I ever met in China lives in Chengdu too.
The Civic EXi was a sporty variant which was only sold in Asian markets. Power came from the famous B16A 1.6 liter VTEC engine which was good for 160hp in the EXi, 0-100 was gone in 11.5 seconds, incredibly fast for such a small sedan, in the 1990's!
Things however are even better in this little red racing machine which has the engine tuned up to 225hp by adding a large turbo and fiddling with the exhaust system. The owner is working to make it even faster and has apparently ordered a full blown nitro kit from Japan. We'll be watching when it all works…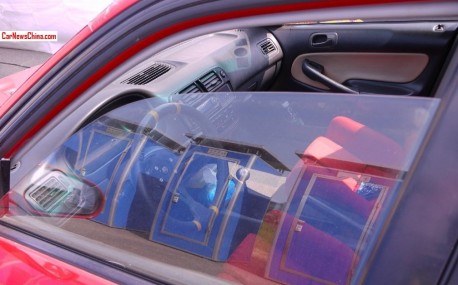 Racy 3-spoke steering wheel and red racing seats. Otherwise pretty much standard Civic here, but…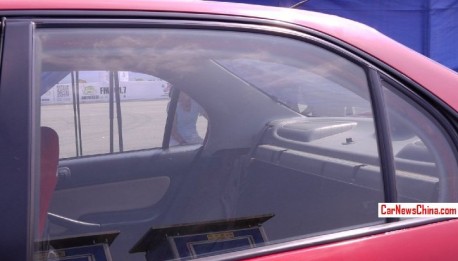 … not here! Rear bench deleted to save another 25kilo or so.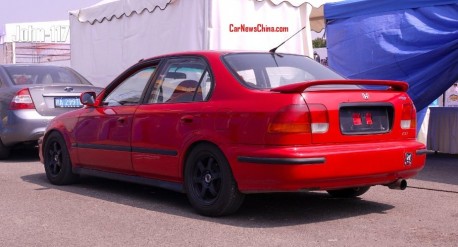 Speedy rear wing was standard on EXi. Racing EXi could do with something a bit bigger.