A giant golden Lincoln Town Car Signature Series sedan, seen on the Wufang Tianya Automobile Parts City in east Beijing where its front suspension was being repaired. The great American sled was in poor overall condition but the flashy paint was fortunately still shiny.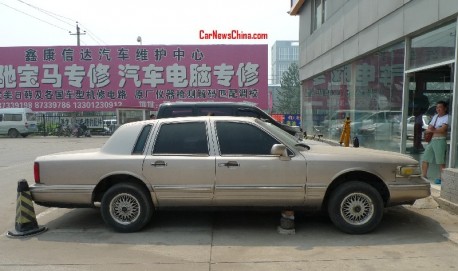 The Signature Series was an extra luxurious variant of the second generation Town Car that was made from 1990 until 1997. This particular car is based on the facelifted second generation Town Car that was made from 1995 until 1997. The Signature Series was the second-most luxurious Town Car after the opulent 'Cartier'.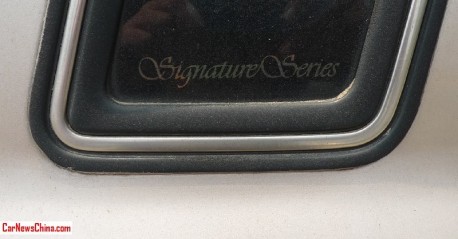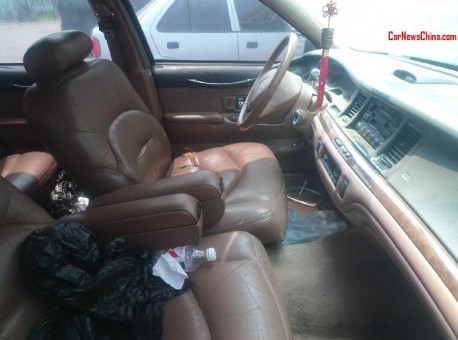 Interior needs a lot of work, the leather is just holding out and the plastics are dying. Note how low the seats sit in the car for the sofa-feeling that was so desired by American car buyers at the time. The Town Car was based on the famous Ford Panther platform and powered by a not-too-mighty 220hp 4.6 liter V8 that was mated to a 4-speed manual.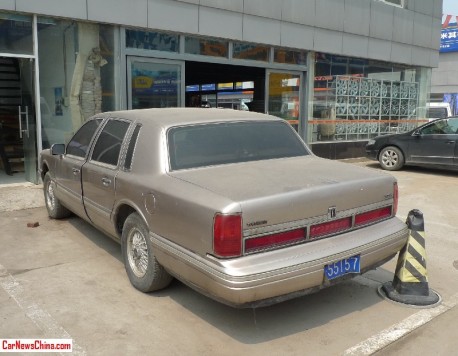 The second generation Lincoln Town Car was never officially imported into China, but many arrived via the gray market or other misty channels. Here is our Famous China-Lincoln Town Car collection™: stretched limousine, stretched on sale, bling-gold, silver limo, very stretched, super stretched,  stretched to the max, marriage, first-gen limo black, Hongqi CA7460 and orange.