The Koenigsegg One:1 will have a 450 km/h top speed and will accelerate from standstill to 400km/h in only 20 seconds. That is much faster than the Bugatti Veyron Super Sports which can do just  431 and needs 25 seconds to reach 400. The One:1 is a six-car limited edition China-special based on the Agera R, developed in corporation with FFF Autmobile, China's most famous super car broker and dealer for Koenigsegg.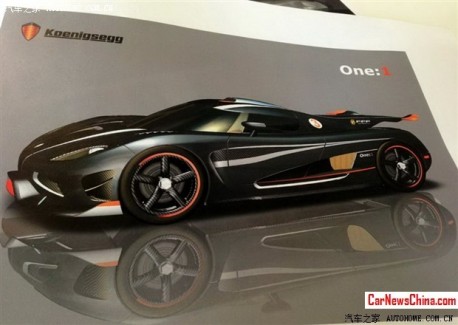 The One:1 is powered by a 1400hp variant of the mighty Koenigsegg 5.0 V8 engine. One:1 refers to the vehicle's power-to-weight ratio, weight so will be 1400kg.
The One:1 is expected to debut in China on the Guangzhou Auto Show in late November. The Guangzhou area is one of the richest in China and a supercar heaven. Many supercar makers, including Aston Martin and Ferrari, ship their first cars of a new model line to Guangzhou and not to Beijing or Shanghai. Price of the One:1 is rumored to be 12 million yuan or almost 2 million USD.
The One:1 will be the third China-only special edition after the one-off Agera Zijin, which came with a lots of real gold, and the unlucky Agera BLT.