A very flashy Porsche Panamera, seen near the Solona Mall in Beijing around sunset. The good Porsche was wrapped in a sun-killing shiny silver wrap, and further sexed up by a black rear wing, tinted windows, racy tires, and sporty multispoke alloys with a sliver rim. Bling!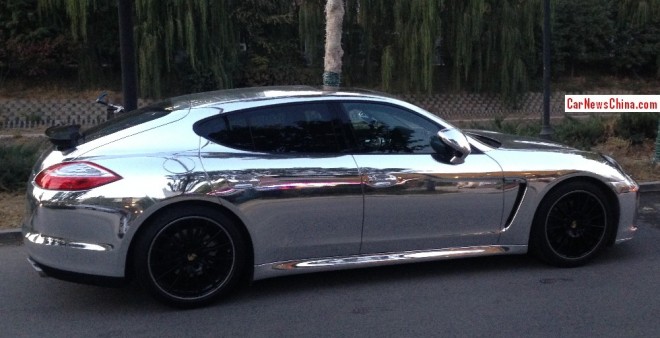 Bling mirrors the world. Bling takes the world. Bling is the world. The wrap seems to be of top quality and is neatly extended over the bumpers, side skirts, and mirrors. The whole window section, including the B-pillar, was left in black for extra contrast, which we think was a very good idea. The only dissonant is the mentioned rim on the alloys, which is silver, not shiny silver.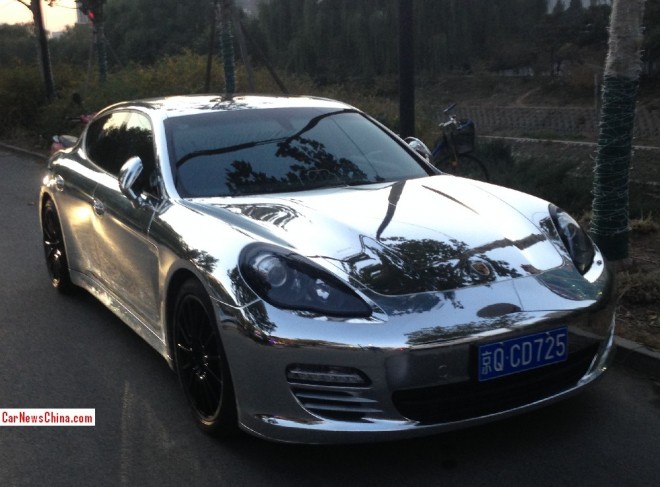 Perfect wrapping work there over the winglets in the front bumper.
The Porsche Panamera is the second most-popular Porsche in China after the Cayenne, and far in front of the 911, Cayman and Boxster. Price of the current Panamera starts at a steep 1.13 million yuan for the V6. This shiny example at Solana is an old 500hp Turbo which was priced at 1.04 million yuan when new. Everything is more expensive these days…
Time now, for our Famous China-Porsche Panamera Collection™: matte black, Bling gold, pink alloys, Mansory, all-Pink, wearing jeans, and the RUF XL.