A beautiful black Beijing-Jeep Cherokee 2500, Spotted in China on the streets of the great city of Shanghai by reader Chiprdan, thank you for the pictures! The good Cherokee was wrapped in a very fine matte black wrap, neatly covering the bumpers and mirrors. The giant grille is left in chrome for contrast.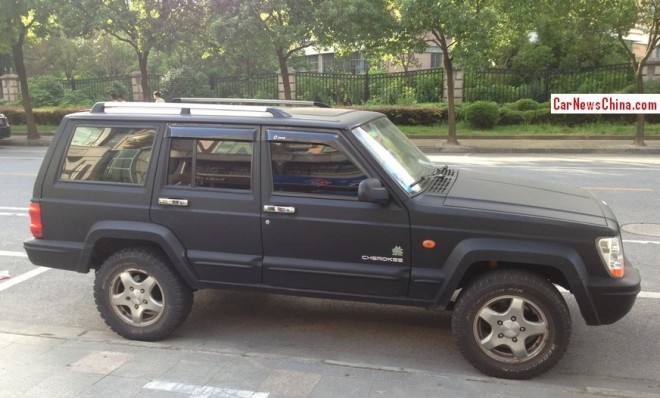 The Cherokee 2500 was a variant of the made-in-China Jeep Cherokee XJ, manufactured by the Beijing-Jeep joint venture. The Cherokee XJ was produced from 1984 until 2009, the Cherokee 2500 arrived in 2002 and left in 2006. The 2500 was an extra sporty version with mentioned giant grille, sporty 5-spoke alloys, and a heavily chromed roof rack. The chromed door handles on this example are a popular period after-market addition. The 2500 was powered by the standard 2.5 liter 4-cylinder petrol engine.
When Chrysler pulled out of the joint venture in 2009 Beijing Auto decided to continue production of the Cherokee alone, under the Beijing Auto Works brand name, and production is still going on today. The brand new 2014 Jeep Cherokee has been launched on the China car market earlier this month, local production at the Guangzhou-Fiat joint venture will start sometime in 2015.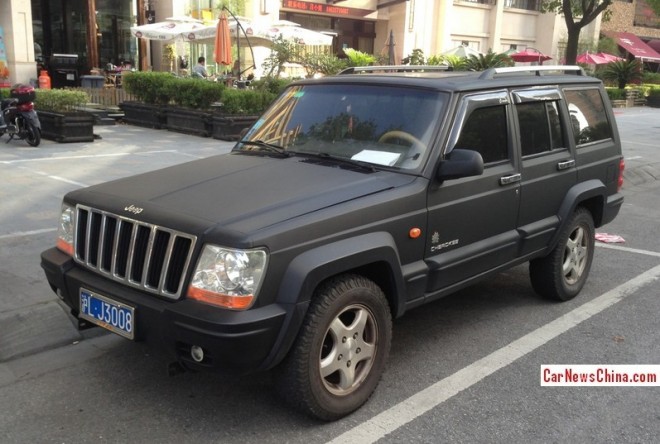 However, the new one doesn't look as good as this good old XJ, which looks even better in matte black.
---