A very beautiful BMW 5Li-Series sedan, Spotted in China just east of the eastern section of the Fourth Ring Road in Beijing. The good Bimmer is wrapped in an eye-murdering shiny blue wrap, and sexed up to the max with Pink air vents in the bonnet, Pink mirrors, Pink door handle beds, black door handles, a black grille, black fourteen-spoke alloys, and a BMW M-style body kit that seems very similar to one we saw in Suzhou.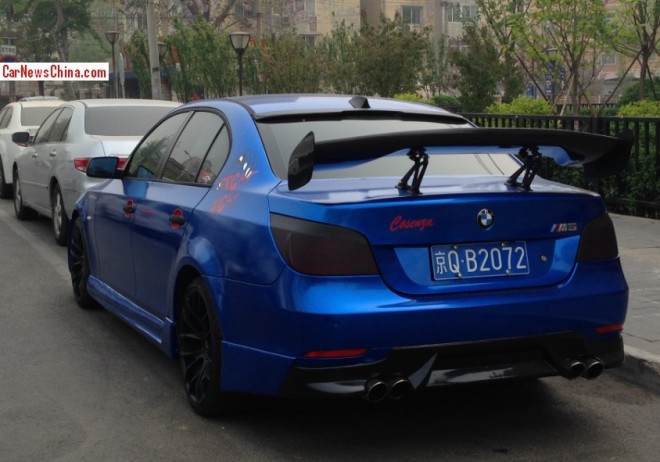 More pretty at the back with a giant DTM wing, black rear lights, Pink stickers, and four exhaust pipes with the right couple hanging lower than the right. The E60 BMW 5Li was a China-only stretched variant of the E60 BMW 5-Series, manufactured in China by the Brilliance-BMW joint venture.
Time now, for our famous China China-made Brilliance-BMW E60 5-Series Collection™: body kit, matte black, shiny blue, baby blue, and Pink.
---