A very sweet Suzuki Vitara JX 2-door hardtop, Spotted in China on the Wufang Tianya Automobile Parts City in Beijing, still looking rather hip with its wide wheel arches and straight up standing greenhouse.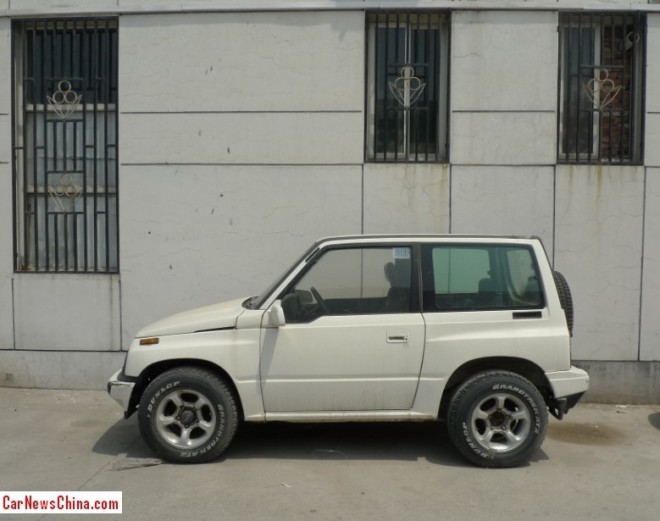 The good Suz' was in a surprisingly good shape and appeared to be 100% period-original up to the Dunlop GrandTrek AT2 tires, and that is a very rare thing. Only the paint was fading a little, it had a few scratches here and there, and the left-rear hubcap was missing. Otherwise perfect.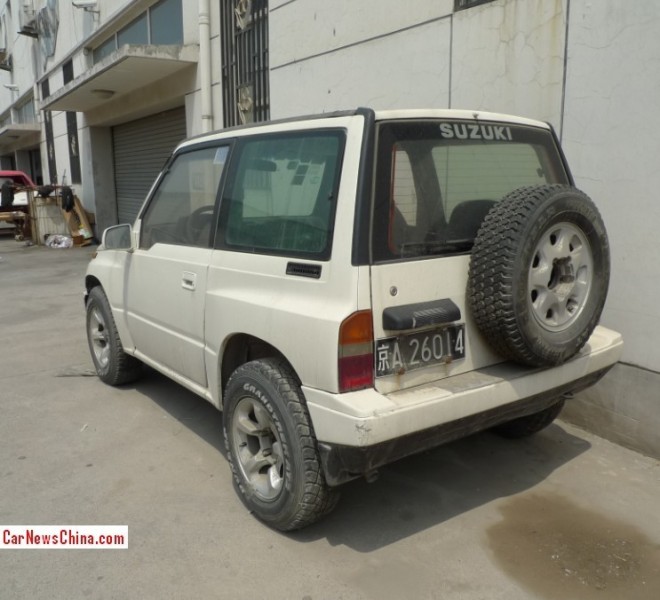 Spare wheel without hubcap too.
The first generation Suzuki Vitara, also known as the Suzuki Escudo or Suzuki Sidekick, was manufactured from 1988 until 1998. It was never officially exported to China but some arrived via the gray market or other misty channels. Earlier on we met a pimpy white example and a yellow bird.
The Vitara was available with a long list of petrol and diesel engines. The smallest engine was a 55hp 1.0 liter four-cylinder petrol, and the largest engine a rather advanced 134hp 2.0 V6 petrol. The best engine, considering weight and power, was probably the 95hp 1.6 four-cylinder petrol. This pretty white example in Beijing had a 80hp 1.6 petrol under the bonnet.
Great Suzuki! May she rumble up in the mountains and down town traffic jams for a many years coming.