The latest Spy shots of the Citroen CX3-R SUV in China, seen near the factory with at least two more examples nearby. The Citroen C3-XR debuted as the C-XR concept on the 2014 Beijing Auto Show in April. Debut of the production version is expected for the Chengdu Auto Show in September with a launch on the China car market in Q4.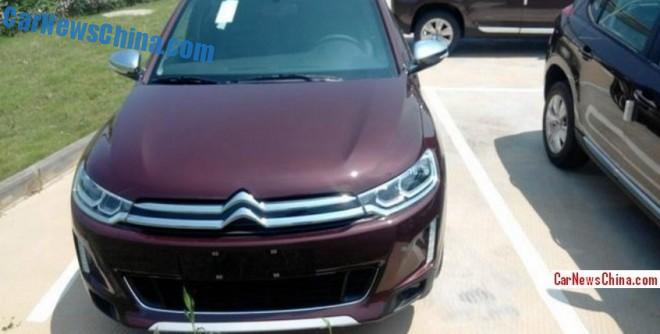 Spectacular front with a wide black hole and an odd chrome strip below.
The Citroen C3-XR will be manufactured in China by the Dongfeng-PSA joint venture. There will be two engines available: engines will be: a 163hp 1.6 turbo and a 1.8 with a yet unknown output. The 1.8 will be the base model. Transmission: 6-speed manual or 6-speed automatic, sending power to the front wheels.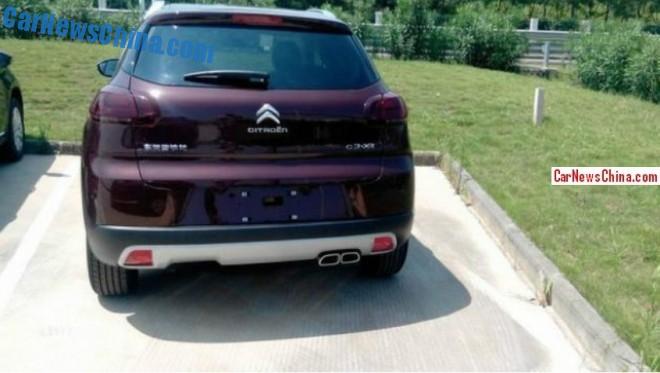 A bit odd at the back as well. There seems to be a place-holder in the bumper for another twin-exhaust pipe. Might that mean that Citroen is working on a super wild sporty version? And that they had no money to design a different bumper-section for the normal cars? Strange…
The exact origin of the platform is still misty, with some Chinese media saying it is based on the same platform as the Citroen DS WR SUV, and other saying it is based on the same platform as the Peugeot 2008 SUV. We know the length and wheelbase of all three vehicles, so let's compare:
C3-XR:   4260, 2655.
DS WR:  4553, 2732.
2008:    4180, 2540.
The C3-XR seems to sit in the middle.