A very sweet Audi A7, Spotted in China with half a girl in the great city of Shenzhen in Guangdong Province, where I was traveling. The good Audi is wrapped in an eye pleasing mustard-yellow-gold wrap, and further Audaa'd up by an extra shiny chrome grille, glittered license plate place holders, darkened windows, sporty seven-spoke gray chrome alloys, alu-style mirrors, and best of all; a four-line black racing stripe racing from the grille to the roof and all the way to the rear Audi logo.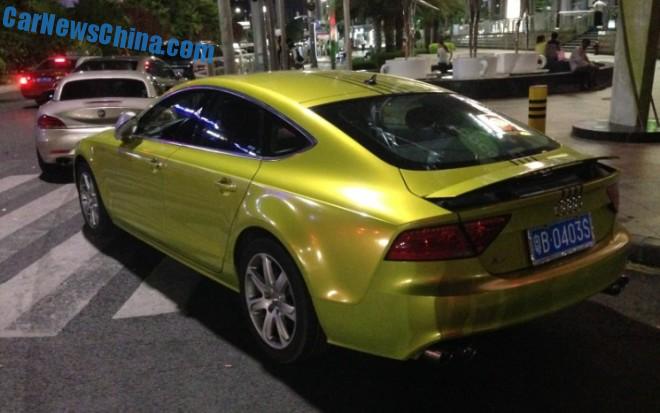 Spoiler is up, so she has been speedy. Bad girl… Double exhaust pipes indicates this is a 4.0 TFSI with a fine 414hp and 420nm, good for an unlimited top speed of 267 km/h and a 0-100 in 4.9 seconds. Speedy mustard-yellow-gold Audi!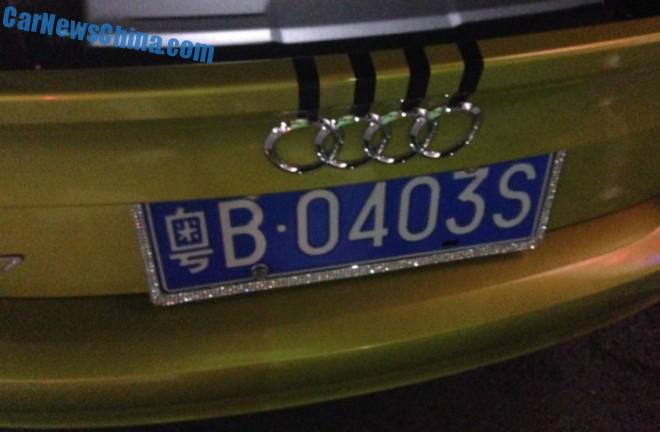 Four black racing stripes end up stylishly in four Audi rings. Below that the license plate with the glittered license plate place holder.