A very happy Mercedes-Benz C-Class sedan, Spotted in China in far east Beijing. The good Benz is wrapped in an eye watering shiny purple wrap, and further benzee'd up with a AMG-style body kit, and extra shiny grille, sleek LED-like fog lights in plastic chrome, darkened front lights, black windows, a black rood, and super racy multispoke matte gray alloys.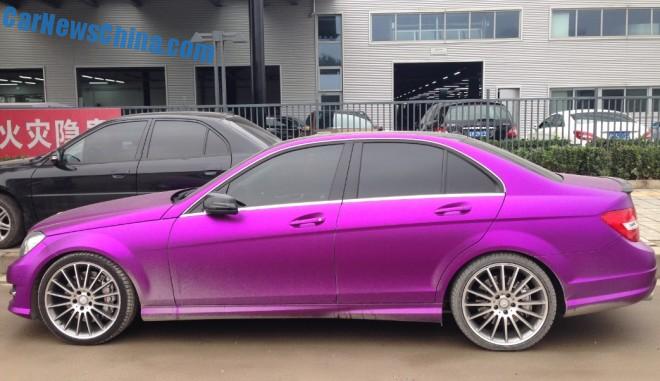 Body kit goes extra wide from B-pillar until rear wheel. The wrap is of good quality and neatly covers the bumpers and the door handles. The mirrors however are left in standard black, likely to match with the black windows. That doesn't really work here, because the chrome strip under the windows functions as a border between the black windows and shiny purple body, and the mirror sits in front of that.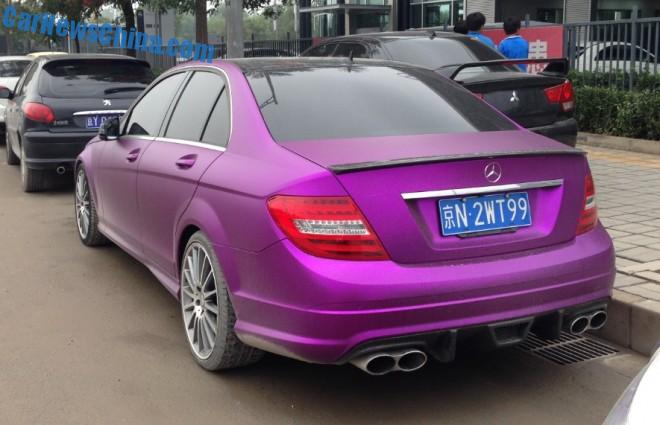 Subtle rear wing in matte black works much better, matching with black window and spectacular matte black diffuser, which is flanked by to mean looking twin-tube exhaust pipes. Chrome strip above the license plate goes with strip under the side windows; some great thinking done there!
The W204 C-Class was manufactured in China by the Beijing-Benz joint venture. It has since been replaced by a stretched variant of the new W205. We rarely see them modified; we have Pink, matte white, and orange.