The first Spy Shots of the upcoming Cowin Auto CX3 SUV, the first SUV under the Chery's new Cowin Auto brand. The Cowin CX3 will debut on the Shanghai Auto Show in April 2015 and launch on the Chinese car market around the same time. Cowin Auto is focused on making cheap vehicles for young car buyers living in third and fourth tier cities, a booming new market in China with a vast potential for zillions of sales. Cowin Auto will develop new vehicles from scratch and they will inherit several vehicles that are now sold under the Chery name.
The Cowin CX3 is basically a rebadged Cherry Tiggo 3, seen here at a Chery dealer in Guangzhou with a tiger on the roof. Price starts at 73.900 yuan and ends at 95.900 yuan. Power comes from a 126hp 1.6 mated to a 5-speed manual or a CVT.
The Cowin CX3 will have the same engine but it will be cheaper, with a price expected to start around 65.000 yuan. Whether the Chery Tiggo 3 will continue is yet unsure. It would make sense if it didn't, but Chery being Chery they will likely keep it running.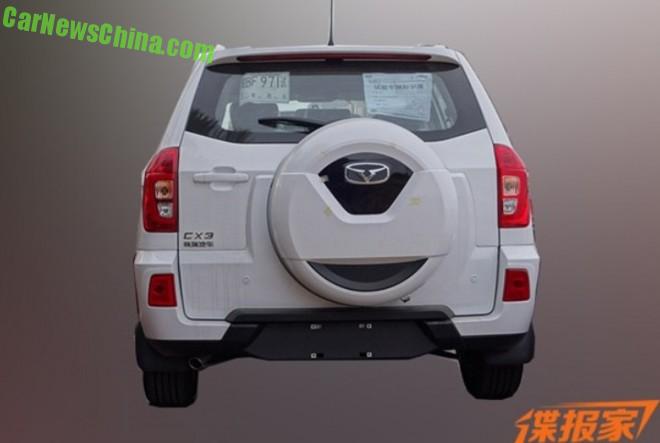 Cowing badge and CX3 name. Otherwise exactly a Tiggo 3.