A beautiful blue Hongqi CA7180A2E sedan, Spotted in China in the Fangzhuang residential area in Beijing. Blue was a factory color but it is very rare, 99.9% of the Hongi buyers went for black. This indeed, is the very first blue Hongqi CA7180A2E I have ever seen on the road in the ten long years I live in the capital. She made my day.
Hey!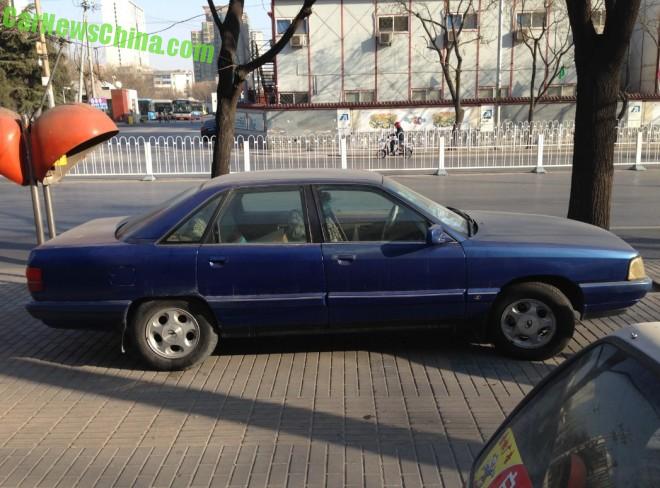 Sporty five-spoke alloys were standard. The vehicle was in reasonable shape. Dirty and dusty, and loads of dents and scratches. But nothing seriously broken and all parts were original. And best of all; it was clearly still used as a daily driver!
The Hongqi CA7180A2E is based on the Audi 100 that was manufactured in China by the FAW-Volkswagen joint venture. FAW, or First Auto Works, is also the owner of the Hongqi (Red Flag) brand. The CA7180A2E had a short run, it was only made from 2001 until 2003. There was also a stretched variant which was called the Hongqi CA7180 A2EL1. Power came from an Audi 1.8 liter four-cylinder petrol with 93hp, mated to a five-speed manual transmission.
Price for the CA 7180 A2E in 2001: starting at 158.000 yuan and ending on 169.800 yuan. The are really cheap second hand these days but that is mostly because they can't legally drive inside Beijing anymore due to the ever stricter environmental regulations. Still, some still manage to keep these great classic sedans on the road, and fortunately so.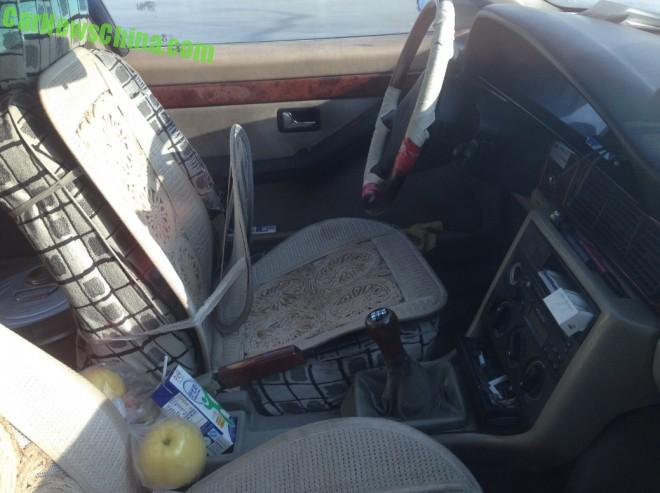 The interior looked a bit messy, mostly due to the double set of seat covers all around and the ugly steering wheel cover. The fake-wooden handbrake handle, the fake-wooden gear-knob, and all other fake wood was standard on the tops-sped versions. The owner of the vehicle, apparently a heavy smoker, forgot his apple.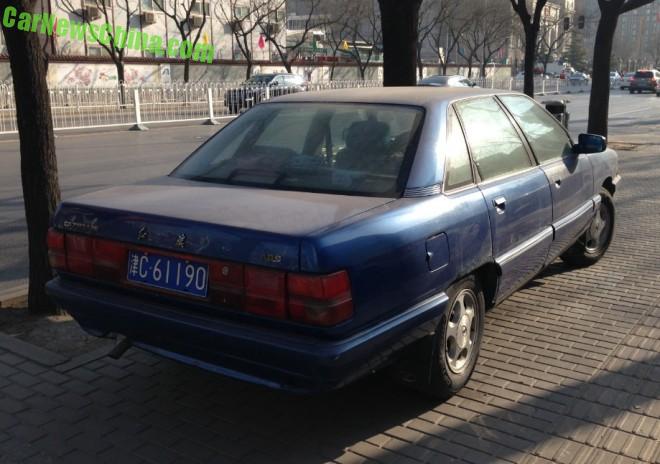 What is she beautiful in blue. Tianjin license plate.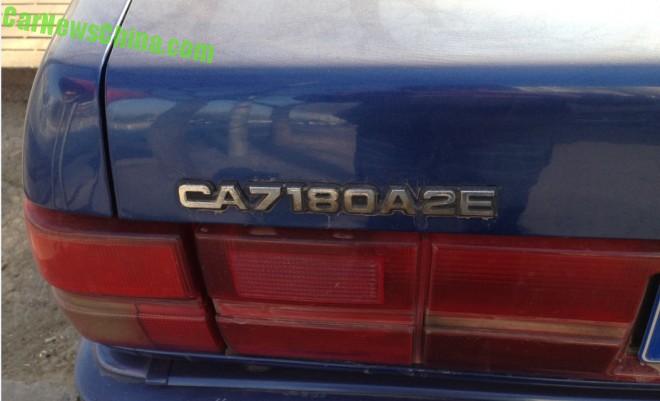 The CA7180A2E.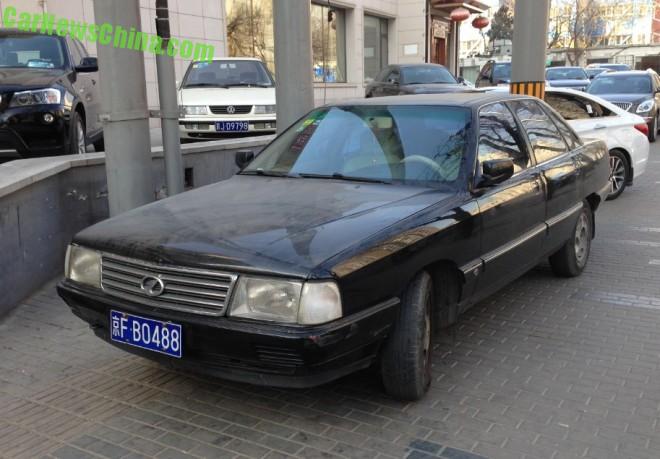 Coincidentally I also met a black CA7180A2E, just minutes later on the very same street. It was my lucky day. Very old license plate with an interesting sequence. Four is the most unlucky number in Chinese culture, so usually drivers try very hard to avoid a four on their license. Eight however is the most lucky number, standing for wealth and prosperity, and drivers try very hard to get one. Two eights should be able to beat the single four…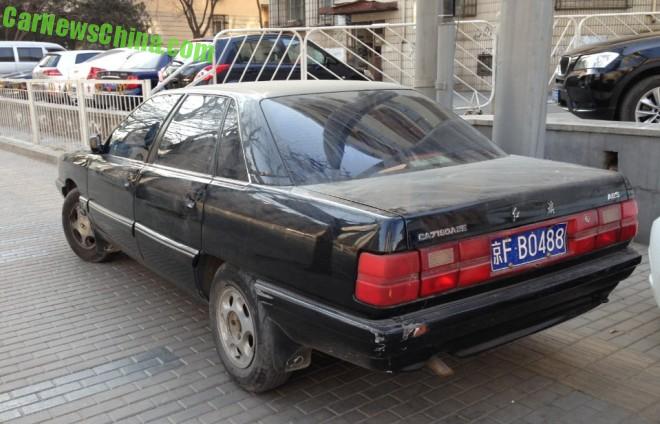 Shape similar to the blue car. Left-rear wheel hub is missing.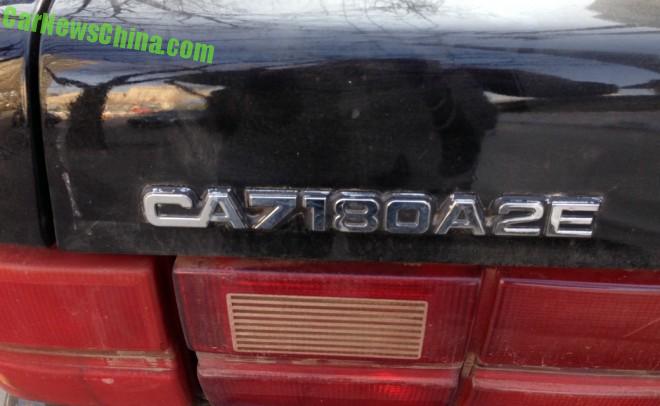 The CA7180A2E.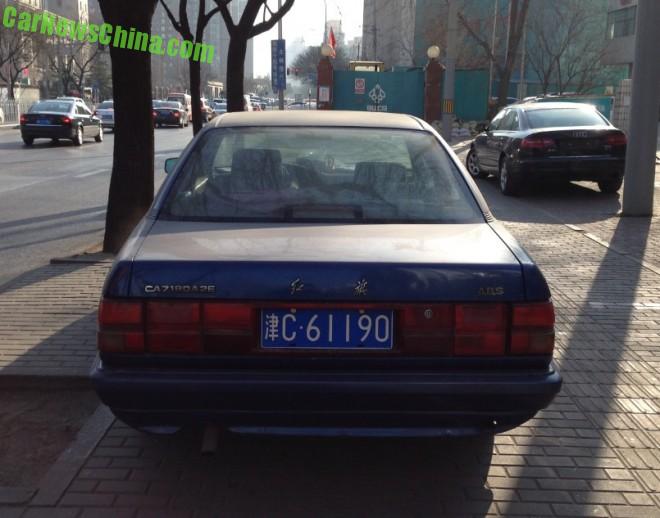 Ending with blue.