This is the Qianli Sea Turtle mini EV, Spotted in China in the wild east Dongba area. The Sea Turtle is a tiny electric car from China, looking rather interesting with its streamlined body, giant windscreen, wide wheel arches in Beetle style, and perfectly round headlights. Flower power stickers are an addition by the owner.
The Sea Turtle sports a 1+1 tandem seat configuration, the rear seat is much higher because the battery pack sits right below. The vehicle is equipped with large doors for easy access and entry. Lower-window line swoops up to the roof. The Sea Turtle is manufactured by a company called Shandong Qianli New Energy Technology Corporation (web), based in the great city of Yucheng in Shandong Province. The company makes all sorts of fuzzy mini EV's, including a mini minivan, a mini mini MPV, a larger hatch based on the body of the BYD F0, and a sportscar (!).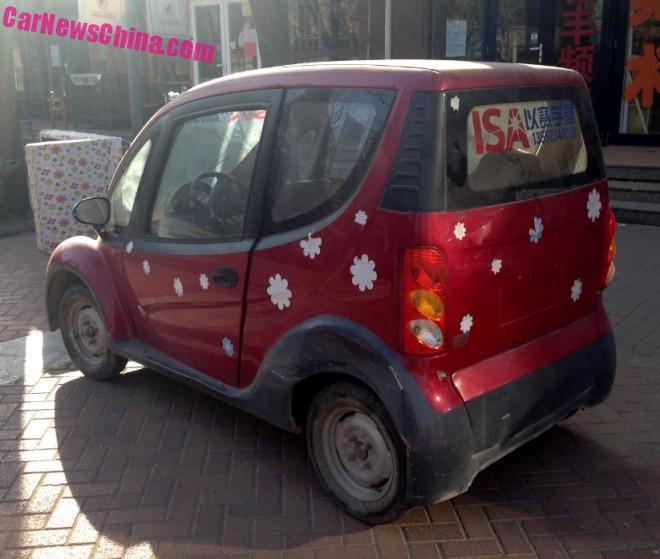 The Sea Turtle however is the coolest of all. Power comes from a tiny electric motor with an output of three (3) horsepower, mated to a lead-acid battery. The Sea Turtle is made of plastic and thus relatively light, curb weight is 550 kilo. Top speed is a surprisingly fast 35 kilometer per hour and range is a decent 90 kilometer. Size: 2600/1350/1600. The Sea Turtle is equipped with a music player that can play MP3 files via a USB slot. Price for all this pretty starts at 23.450 yuan or 3754 USD.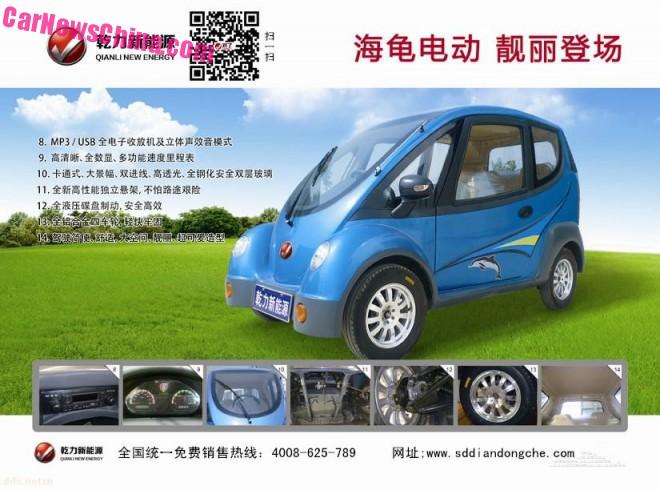 A lot of money maybe? But the red car I saw is kinda old. When new the Sea Turtle comes with proper badges, sporty alloys, and dolphin decals, on a Sea Turtle. Can't beat that for the cash!