A fiery red Oldsmobile Cutlass Supreme, Spotted in China on a tuning show in Beijing. The old Olds' was in perfect condition, paint as shiny as new, black window frames all in shape and place, no rust or missing parts, and the wheel covers are period original! What then was it doing on a tuning show?, it was indeed showing off the decal on the bonnet, depicting a hellish fire with yellow and red flames topped by black smoke. They called it art.
The 'smoke' continued over the roof and the rear deck. And see that brilliantly crafted rear window!
The fifth generation Oldsmobile Cutlass Supreme was manufactured from 1988 until 1997, it came as a two-door convertible, a two-door coupe, and a four-door sedan. The Cutlass Supreme was based on the GM-10 W-body platform that also underpinned the third generation Buick Regal, the first generation Chevrolet Lumina, and fifth generation Pontiac Gran Prix. The platform had a transverse front-engine front-wheel drive layout, championed by GM at the time for the extra space in the interior it created.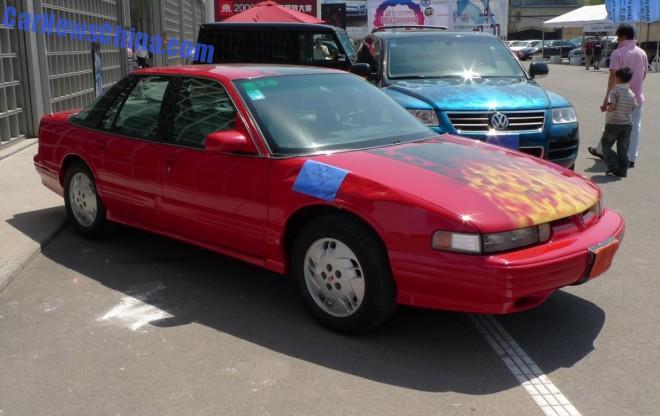 The Cutlass Supreme was available with four engines: a 2.3 four, a 2.8 V6, a 3.1 V6, and a 3.4 V6, mated to a five-speed manual or a four-speed automatic. This red Beijing car had the 160hp 3.1 V6 under the long flaming bonnet. The Cutlass Supreme was never officially imported into China, and neither was any other Oldsmobile, but a very few arrived via diplomatic channels or the gray market. This Supreme is only the second Oldsmobile we have ever met in country, after a blue 98 in Chengdu two years ago. May there be more.