This is the super speedy Minglong Deluxe EV, a new low-speed electric vehicle (LSEV) from China, seen earlier this week on the Shandong EV Expo  (intro). The Minglong Deluxe was one of the very few sporty LSEV's on the show, featuring a giant hungry grille, aggressive headlights, a cab-forward greenhouse design, sharply cut mirrors, a single windshield wiper, two tone paint, and shiny multispoke alloys.
The two-seat Minglong Deluxe comes with an interior very special for an LSEV. They really tried, and partly succeeded, to make something special here. A racy steering wheel, a digital dial, blue buttons for the aircon controls, a sturdy gearstick for the drive selector, fake wood on the center console and around said gearstick, red speakers, and a giant red panic button behind the handbrake. Best however are the three additional digital dials above the center console.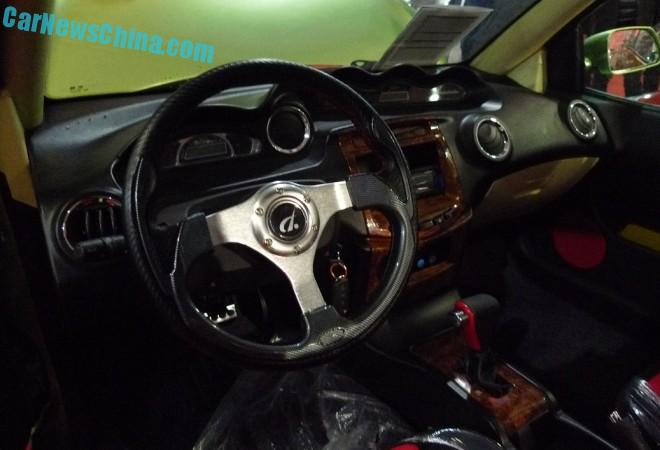 Another look for another cool. Alu rims around the air vents. Red plastic and a large shiny button on the left side of the gearstick.
The Minglong Deluxe is manufactured by a company called Linhai Minglong Electric Vehicle Technology Corporation (web), based in the great city of Linhai near Taizhou in Zhejiang Province. The Minglong Deluxe is currently the company's only product. We are very curious about whatever comes next…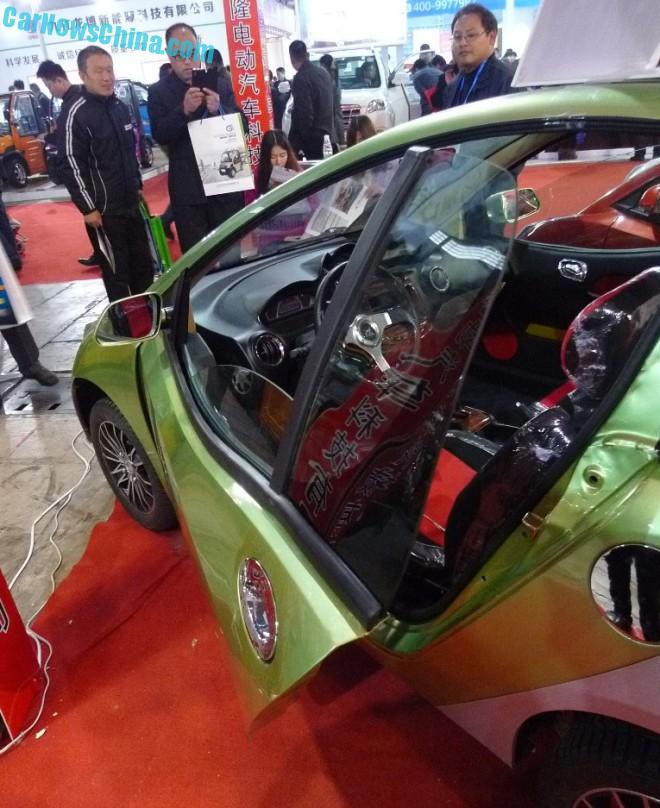 Pillar-less doors, racy red seats, and a shiny silver plastic door handle. The company had three Deluxe's on the stand, in red, green, and black. The Minlong Deluxe is powered by a 3.5 Kw electric motor mated to a lead-acid battery. Top speed is 55 kilometer per hour, fast for an LSEV, and range is 120 kilometer. However fast, big it is not: 2670/1530/1350, wheelbase is 1870 and curb weigh is 650 kilo.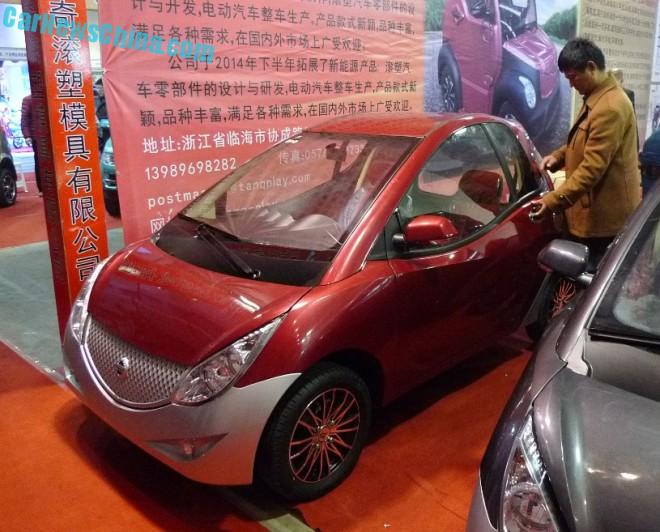 Than a man got up to the red car…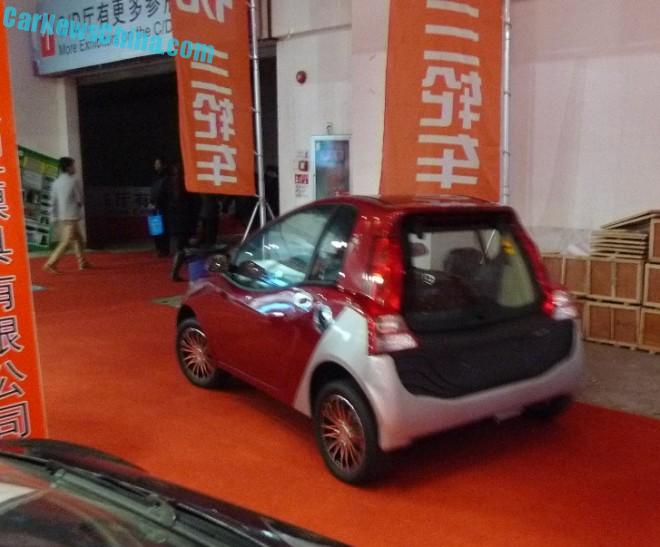 … and drove away…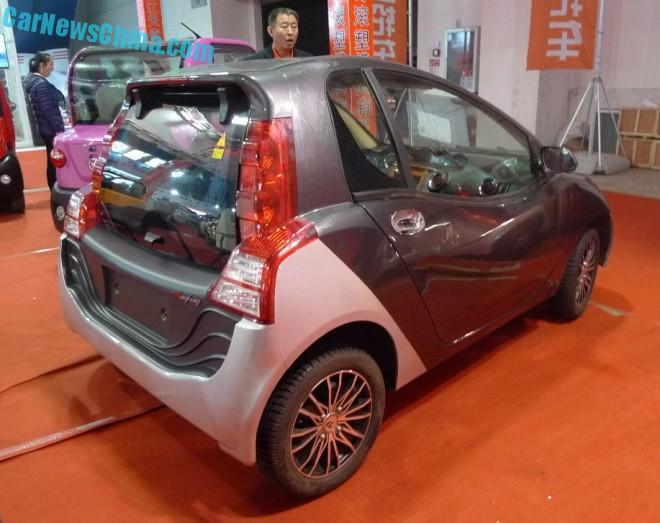 …. which gave me a good opportunity to study the back of thee black car, with a Volvo 480-like rear window, massive light units, and integrated wing on top of the window, and aerodynamic lines on the bumper. All this pretty comes for a rather steep price of 28.500 yuan or 4587 USD.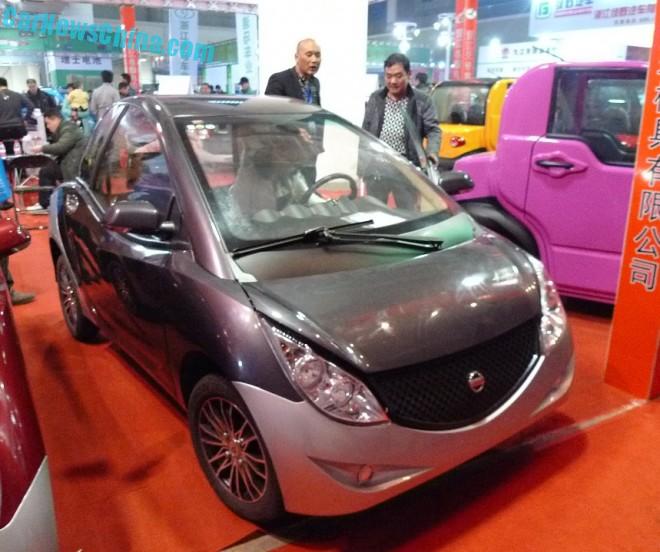 That wiper is big enough for a truck. Visibility in the rain won't be compromised in the Minglong Deluxe EV.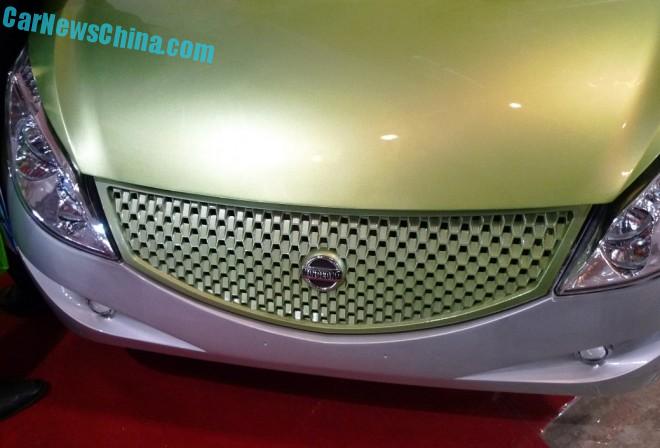 The green car had a green grille.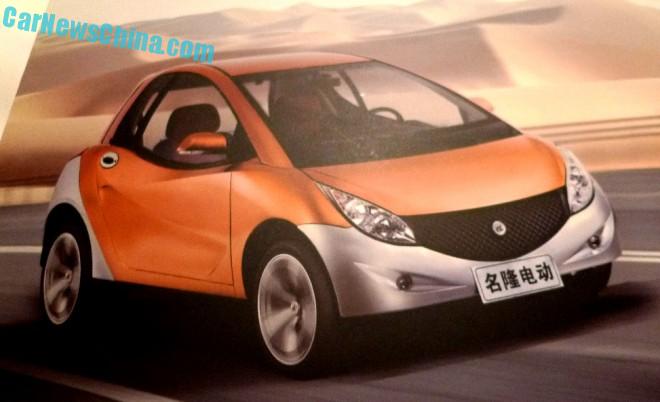 This is from the brochure I got. Orange car with black grille on a highway, without a driver. Autonomous, maybe..?