This is the fiery red Shifeng D303, a new low-speed electric vehicle (LSEV) from China, seen last week on the Shandong EV Expo  (intro). The Shifeng D303 was one of the smallest vehicles on the show, featuring s streamlined design with some Smart influences, a smiling grille, and side bars.
Smart-like panel on the far side of the cabin. Wide wheel arches for a sporty stance. Roof spoiler is and add-on, not integrated. Doors are large with equally large door handles. Alloys are shaped like turbine wheels with a blue dot in the center.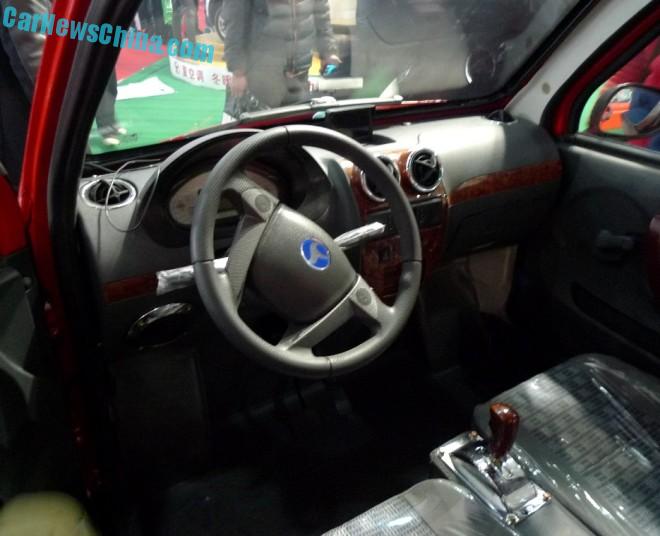 Dash dressed up with fake wood and large round air vents. Dial is completely digital. The gear selector comes with a fake wooden knob and sits in a shiny silver panel. The Shifeng D303 is powered by a tiny electric motor with 1.5Kw, mated to a lead-acid battery. Top speed is 45 kilometer per hour. Range is a bit fuzzy; by normal use range is 65 kilometer. By 'economical use', with a 30 km/h average speed, range goes up to 125 kilometer. All specs as claimed by the manufacturer.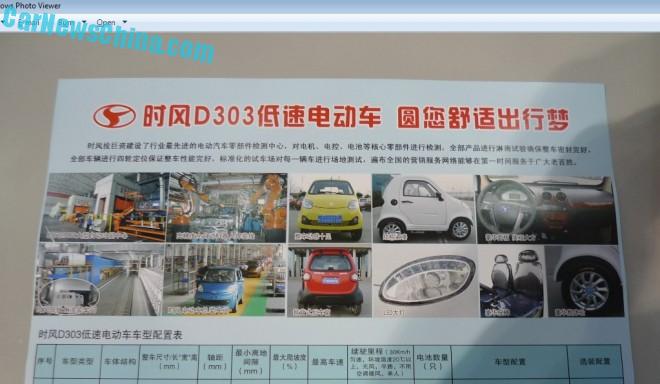 The brochure had some photos of the factory, showing a very clean hall. And also a white D303 without the black Smart panels. The Shifeng D303 is manufactured by a company called Shifeng Electric Vehicles (web), a subsidiary of the Shifeng Group (web), which is a large automotive conglomerate making commercial vehicles, engines, and agricultural machinery. Back all the way in 2010 we met a then-rare Shifeng GD04B electric car in Beijing. Amazingly, it is still in production today.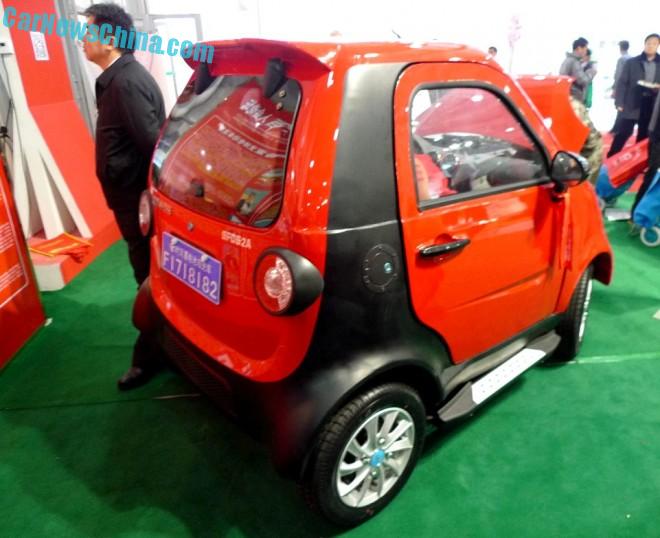 SH052a is the internal factory code for the D303. It is still very common in China to have badges with the brand name, the car name, and the factory code, all together on the back of a car. And sometimes things can get even more fuzzy when they also add the name of the parent company.
For a new Mercedes C-class it would look like this: Daimler A.G. Mercedes-Benz W205 C350. Busy? Well, China is big…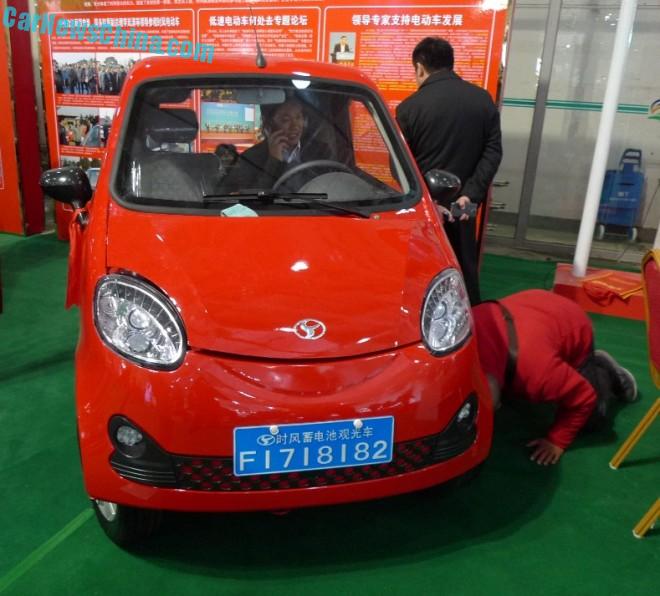 Who is he calling?! What is he looking for?! The dynamics on the Shifeng stand.