Time now for the Dafenghe Lotto, a new low-speed electric vehicle (LSEV) from China, seen last week on the Shandong EV Expo  (intro) in Jinan City. They had a pole dance platform on the booth, with a pretty pole dance lady with red hair and fake-leather fishing boots.
They had two speakers blaring Chinese techno-pop. The pole dance girl was enjoying herself pretty well, and me, giving a fine show with quite impressive acrobatics. And as I was the only one watching, I felt a connection.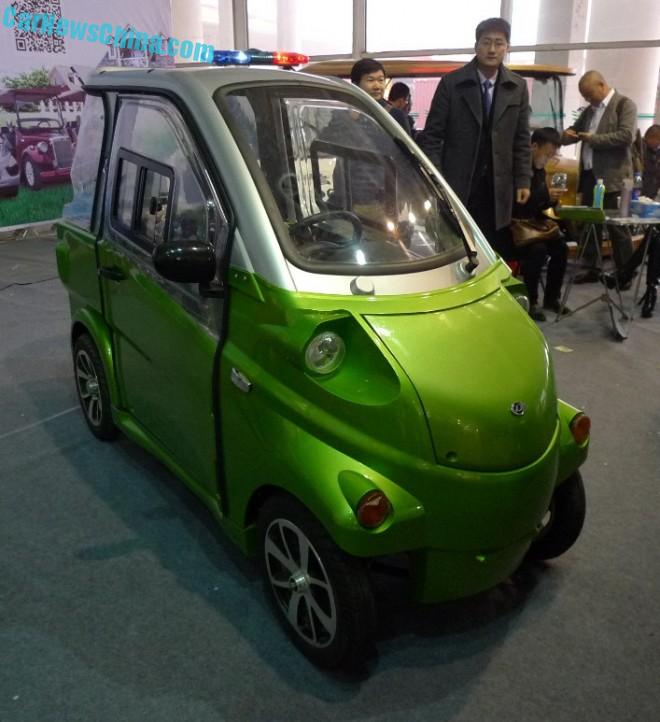 To the car now. The man on the right is the owner of the outfit, one of the very few executives on the show wearing a tie. The Dafenghe Lotto is a miniscule electric car with a 1+1 seat configuration. They make various variants; with doors, without doors, with rear window, without rear window, with a tiny bench in the back that can seat 1.5, an a police version.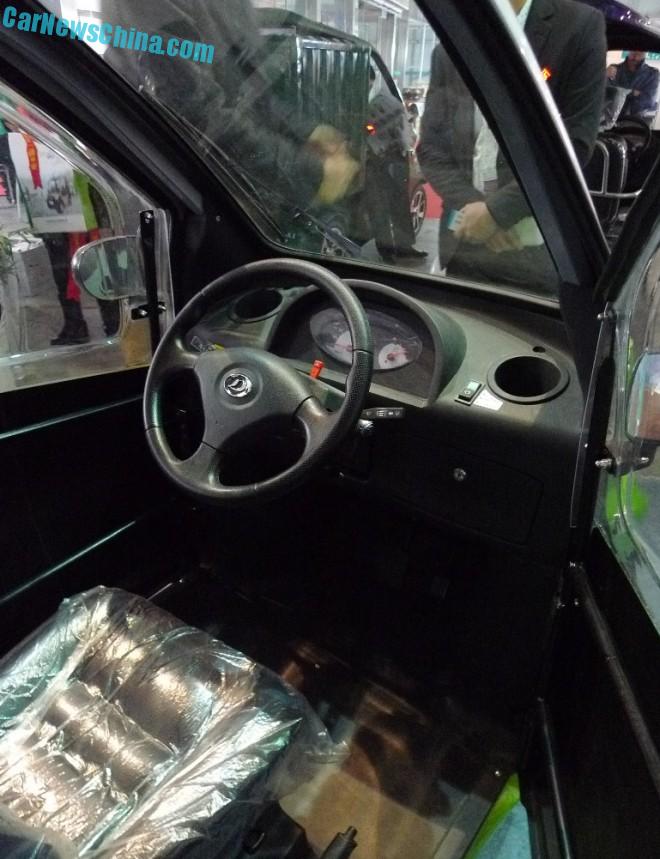 The set-up of the seats and the position of the handbrake are very tricycle, but the Lotto has a real car-like steering wheel. Dash is very basic and without a radio. The black holes can be used to store stuff or as cup holders.
The Lotto is powered by a tiny electric motor with 1.2 Kw, mated to a lead-acid battery. Top speed is 40 kilometer per hour and range is 120 kilometer. Size: 2288/1143/1557. Curb weight is 300 kilo and max load is 160 kilo. All specs as claimed by the manufacturer. Price starts at a modest 16.800 yuan or $2701.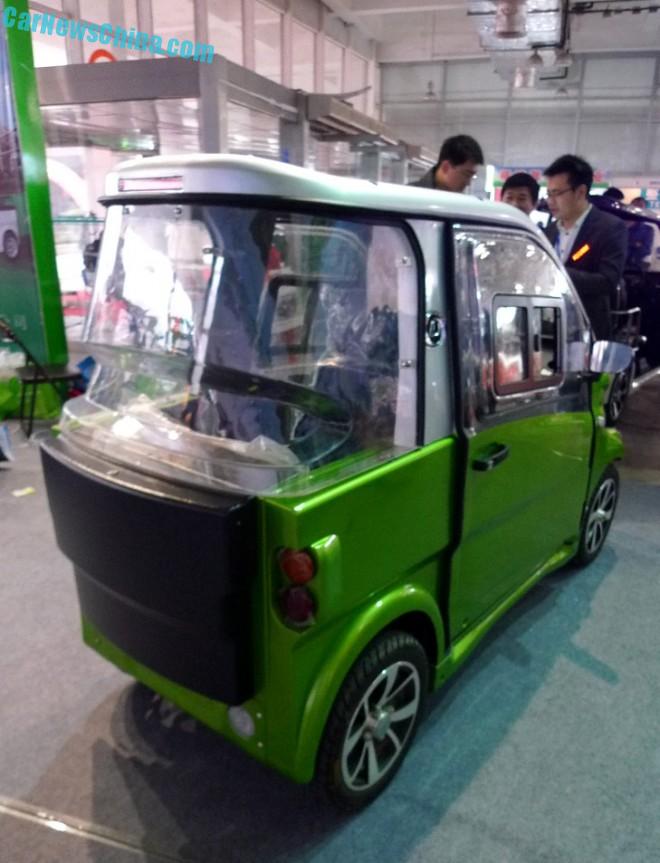 The whole vehicle is made out of plastic, including the windows. Alloys are sporty and shiny. A subtle wing is integrated in the roof.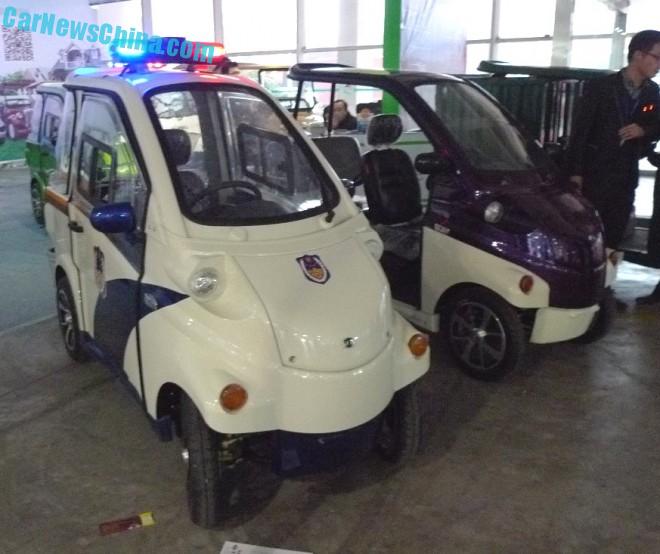 The police version in police colors with police lights on the roof. Police in China is indeed using more and more of this kind of vehicles for patrolling busy streets and public parks, but this Lotto just seems a tad too small for the coppers. Next to the police car a variant without doors, for beach resorts and such, in purple.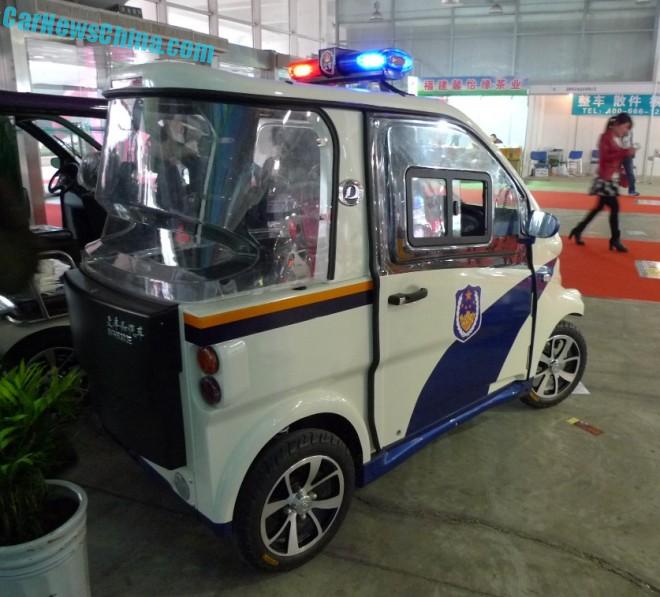 Dafenghe badge on the B-pillar a nice touch.
The Dafenghe Lotto is manufactured by a company called Dafenghe Electric Car, based in the great city of Loudi in Hunan Province. The company makes a range of small and medium sized electric cars, including various 'old-style' sightseeing vehicles, mini buses, and extra cool police cars.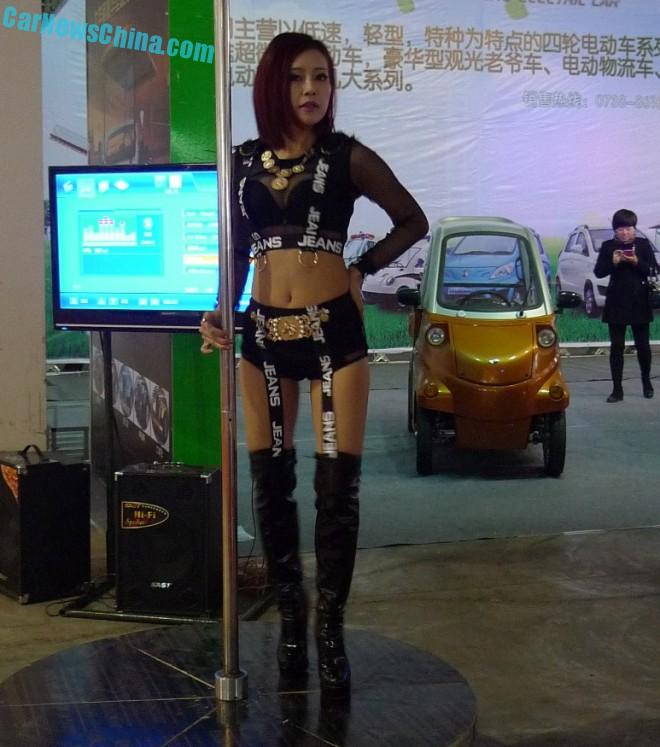 It was time to go. Goodbye, my red haired lady.