This is the beautiful Xuanyu Xuanlai, a new low-speed electric vehicle (LSEV) from China, seen last month on the Shandong EV Expo (intro) in Jinan City. The Xuanyu Xuanlai is a four-wheel four-door electric mini car, featuring a very shiny Aston Martin Cygnet-style grille, bright burning fog lights, a large blue logo on the bonnet, a huge windscreen with a single wiper, speedy decals on the sides, mirrors bigger than a truck's, and sporty six-spoke alloys.
The interior is basic and beige, with a simple black steering wheel, a single digital dial, and a black center console with two large vents and a radio with USB connectivity, which comes in handy for the little black LCD screen that plays MP4 video.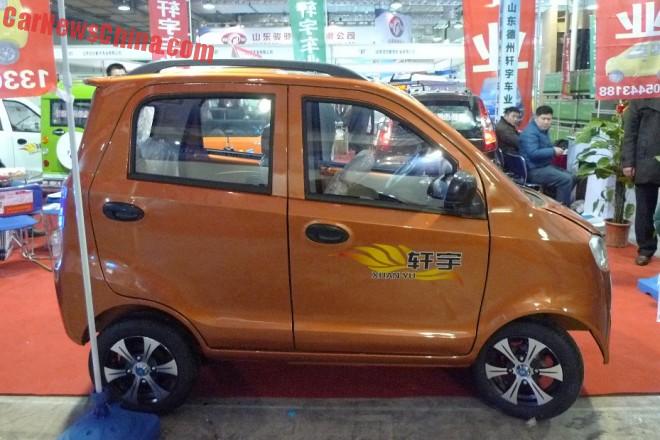 Rear door almost reaches the rear. Usable roof rails.
The Xuanyu Xuanlai is powered by a tiny electric motor with 2.5 Kw mated to a lead-acid battery. Top speed is 45 kilometer per hour and range is 110 kilometer. Charging takes eight hours on 220 volt. The Cygnet is bigger: 2800/1350/1500, wheelbase is 1240 and weight is 450 kilo. All specs as claimed by the manufacturer.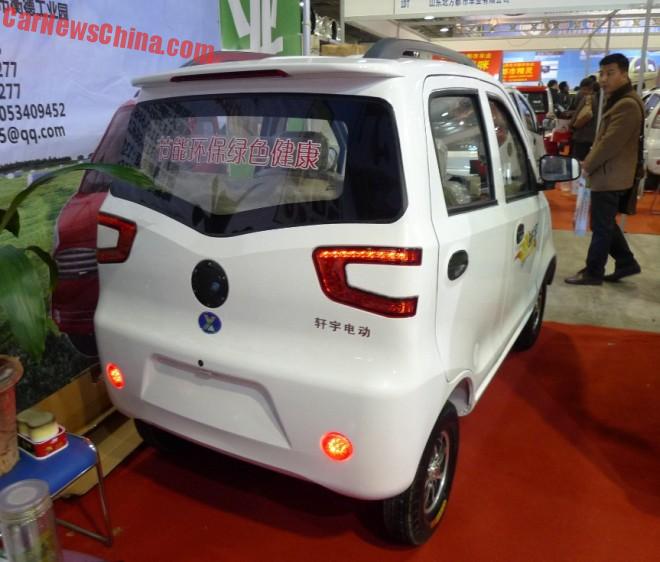 Fuzzily shaped rear window, but taillights are incredible cool.
The Xuanyu Xuanlai is manufactured by a company called Shandong Dezhou Xuanyu Vehicle Technology Corporation (web), based in the great city of Dezhou in Shandong Province. The company makes a wide range of small electric cars, including one called the '206' looking like an old Peugeot 206, a funky green tricycle, a Baoma (Chinese name for BMW), and a sporty four-door with bull bars.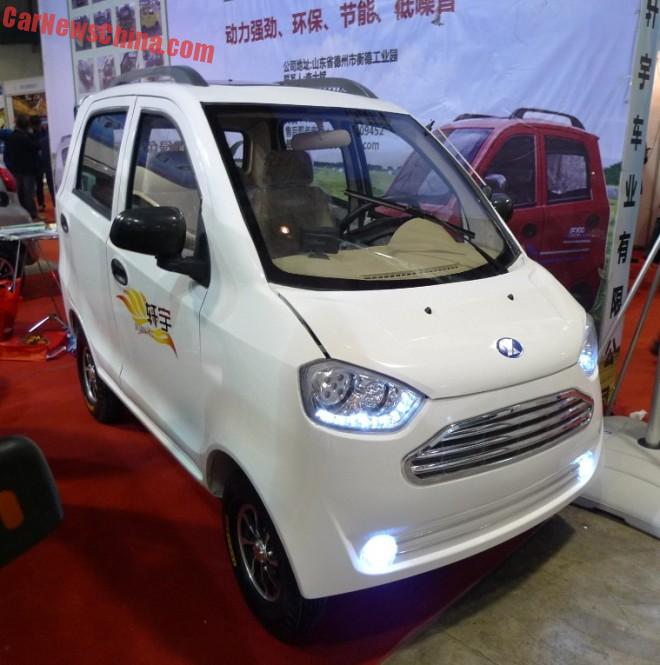 They also had a white example on the booth. Looking very sleek but the grille goes better with darker colors.
A look inside the body shop, with zillions of vehicles ready for final assembly. The LSEV market is huge, and it will be much bigger still.