A giant Teddy bear on the roof of a Jaguar XJL sedan, Spotted in China in the great city of Hangzhou in Zhejiang Province. The bear is beige with white feet soles and brown tows. The animal's legs completely obscure the rear window.
The XJL is a very fast car, even with the 3.0 V6 and a bear on the roof. Teddy bears of this size are not very unusual in China. They are often offered as prizes in amusement parks and such and similar. But seeing one on the roof of a vehicle is rather special, although there seems to be no other way to get the bear home.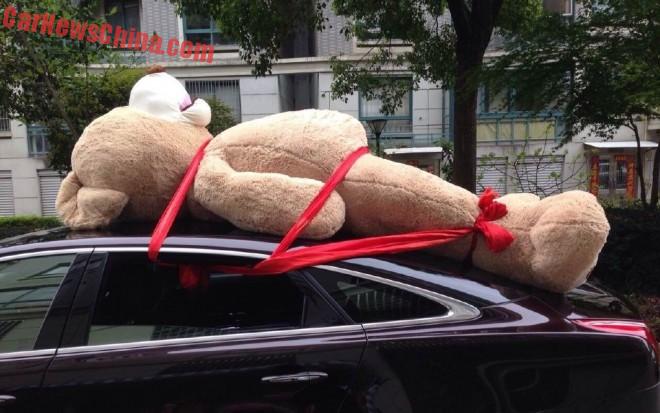 The back of the bear covers the roof from the B-pillar to the rear deck. Estimated length is two meters and a bit. The bear is kept in place by a red ribbon, unkindly tied over the poor bear's throat. The bear has a white face, a brown nose, and a Pink tongue. No claws.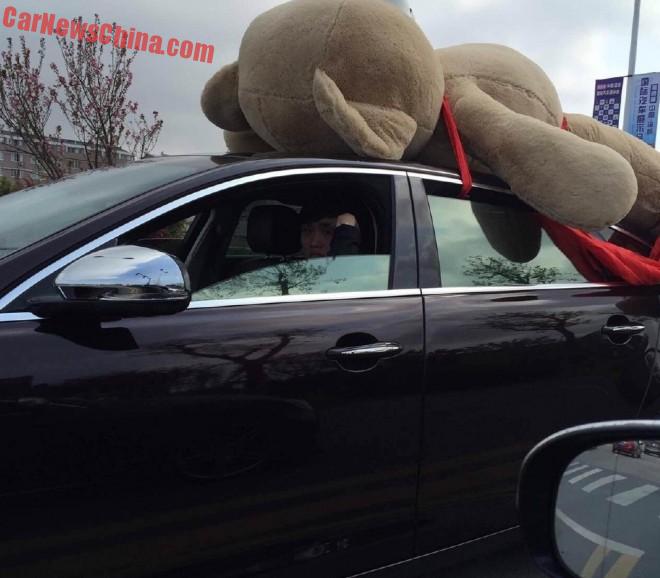 Man in car does not appears to be very happy. How can he not, with such a giant bear? The wife will love it, yez, just like my wife always says she loves all the shit I bring back home. May us bear be safe!