The first live shots of the all-new Hongi P540 SUV, it will debut on Monday on the Shanghai Auto Show but we cannot wait that long! The P540 (likely a code name) is the first SUV for the iconic Hongqi brand, owned by First Auto Works (FAW). Hongqi started tinkering about an SUV in 2009 and production was finally confirmed in 2012.
This is the production version, looking extremely impressive and a bit like the second generation Range Rover (P38), but surely not too much. The Hongqi P504 SUV will be launched on the Chinese car market in the second half of the year to compete with cars such as the Porsche Cayenne, BMW X5, and Mercedes-Benz M-Class. It is a huge car: 5198/2098/1890, wheelbase is 3060, and that makes it bigger then the wale of the wales; than the outgoing Audi Q7. Weight is 2850kg.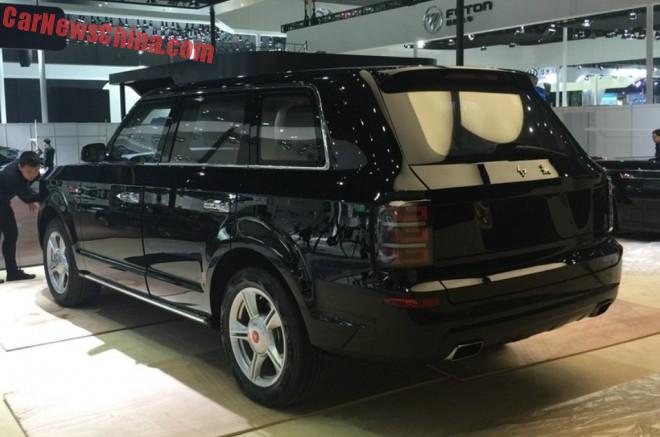 Beautiful at the rear, but it needs bigger wheels, and classier alloys.
Power comes from a brand new twin-turbocharged V8 engine with 381hp and 530nm, mated to an eight-speed tiptronic gearbox sending power to all four wheels. Top speed is claimed to be 220km/h and 0-100 is claimed to be gone in 8.1 seconds.
As far as we know FAW has never developed its own V8 engine, let alone a twin-turbocharged variant, so we are very curious where they got it from. It doesn't seem to be a very high-tech machine as 381 horses isn't that impressive for a twin-turbo. An old Audi unit, maybe?